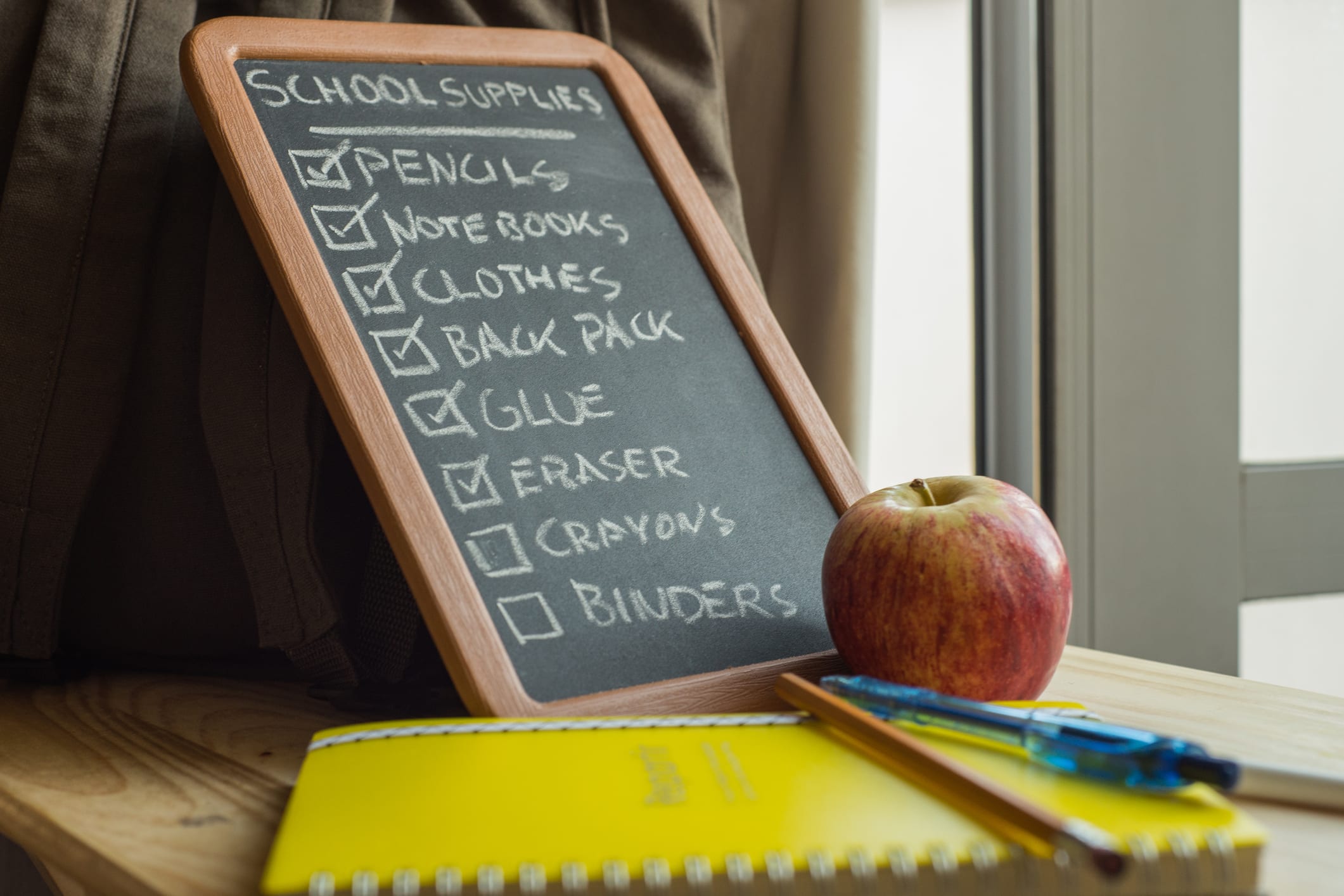 Have you started shopping for your kid's school supplies? If not, you may be wondering what to put on your list. And with so many items to choose from, it's easy to walk into a store, get overwhelmed, and end up overspending.
Don't fret! We'll help you narrow down your choices with our list of 10 items you shouldn't buy for back to school, and their alternatives.
10 Back-to-School Supplies You Shouldn't Buy
Office Supplies
The office supply section of many stores has every stationery item you can imagine. While some may seem beneficial to your children, you'll end up wasting money if you buy things they won't need in the classroom.
A Better Alternative: Stick strictly to the gear on the supply list provided by your child's school. You can usually access the list online weeks before school starts.
SEE ALSO: 9 Ways to Avoid Falling for Back-to-School Shopping Tricks
Colorful Gel Pens
You probably recall the days when brightly colored gel pens were the "it" writing utensil. The only problem is that teachers may not accept assignments if students use anything beyond blue or black ink.
A Better Alternative: Gel pens are fine, but only buy black, blue, and red (if requested).
Mechanical Pencils
Many mechanical pencils come in cool colors, and some even have a little cushion for your middle finger. But what happens if the pencil runs out of lead in the middle of an exam? Talk about a major distraction! Plus, they're a bit more expensive than regular pencils.
A Better Alternative: Traditional No. 2 pencils work just as well. And you'll spend a fraction of what you'd pay to keep replacing pencils and lead.
Trapper Keepers
These retro, oversize binders still fly off the shelves during back-to-school shopping season. But they're not really worth the investment.
A Better Alternative: You can buy a three-ring binder for a fraction of the cost. What's more, not having the ability to stuff items inside a zippered binder could help your student stay organized.
Book Covers
Most book covers start at a few bucks and go up from there depending on the size, material, and pattern of the fabric. You can save your dough on fancy book covers by making your own in less than 30 minutes.
A Better Alternative: Head over to Pinterest to see countless DIY ideas for book covers. Your student can make their own, or you can join in the crafty fun. Either way, you'll save a few bucks.
SEE ALSO: 5 Smart Ways to Shop Without Google Shopping
Wite-Out
When your child can't adequately express their thoughts the first time around, Wite-Out gives them another shot. Unfortunately, some teachers prohibit the use of this correctional fluid because they prefer to see a student's train of thought.
A Better Alternative: Leave it on the store shelf unless it's on the school supply list.
Graphing Calculators
Many math classes (as well as many standardized tests) outright forbid the use of graphing or scientific calculators. Unless your kid's teacher specifically says they've got to have one, you can save yourself $100 and skip it.
A Better Alternative: Again, consult your school supply list. Your child may not be allowed to have a calculator at all.
Laptops or Tablets
Laptops and tablets take the hassle out of note-taking. They also make it easier for your student to conduct research and access documents. But if they aren't allowed in the classroom, you'll be wasting your money.
A Better Alternative: Consult with the school about its electronics policy. It may prefer that students use on-campus computer labs instead. Should you decide to buy, avoid fancy laptops and tablets in case of theft.
Bleeding Edge Smartphones
Is your son or daughter begging for the latest iPhone or Android handset? Kindly deny their request and propose a more cost-efficient option.
A Better Alternative: Consider purchasing an older smartphone. You'll avoid the steep monthly lease and insurance payments, and you'll save hundreds if the phone breaks or vanishes into thin air.
SEE ALSO: 10 Things to Buy in August (Including the Best of Back to School!)
Rolling Backpacks
They may seem like a better way for your student to haul things around, but rolling backpacks can become a nuisance in crowded hallways.
A Better Alternative: Keep it simple with a backpack your student can stow away in their classroom or locker.
3 Back-to-School Supplies to Buy Later
Over-the-Counter Drugs
Once school's in session, it's only a matter of time before germs start circulating. However, you can't just stock up on over-the-counter cold medication and send it to school with your child. You'll need to request a prescription from your pediatrician and file the appropriate documents with your school nurse first.
Jeans
The warm weather should linger for a bit longer, so there's no need to stock up on jeans yet. Wait until October when retailers will have deep discounts on denim.
Software Programs
Contact the school before buying any software, such as Microsoft Office. They may be able to provide a discount code, or your student may even be able to use the software free of charge.
Readers, do you agree with our list? What back-to-school items do you feel are worth skipping? Let us know in the comments below!
---