The 10 Best Products to Sell Online in March 2023
Spring cleaning and travel could provide good sales opportunities, but this is also a good month to focus on health items, tools, and kitchen products.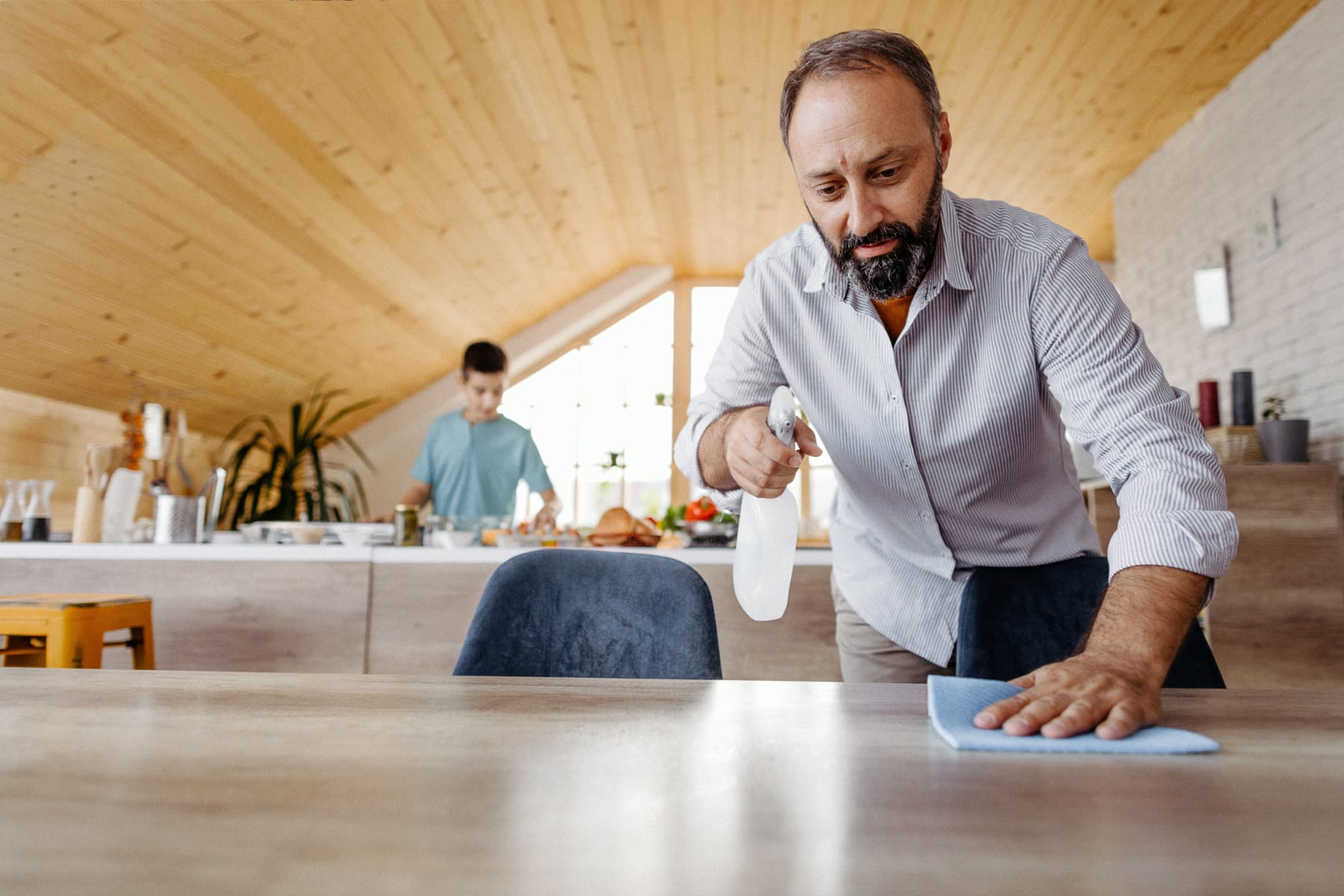 It's hard to call March a big shopping month, but as a Marketplace seller, that means it could be a good time to focus on the core products in your lineup. When we looked at the shopping trends of DealNews readers from March 2022, we found that many of the popular categories during the month were ones that resonate throughout the year.
So what are those categories, exactly, and what products within them are good things to sell online in March 2023? Keep reading to find out!
The 10 Best Products to Sell Online in March 2023
The below infographic shows five of the top things to sell online during March. Check it out, then read about all the categories our readers were drawn to in March 2022.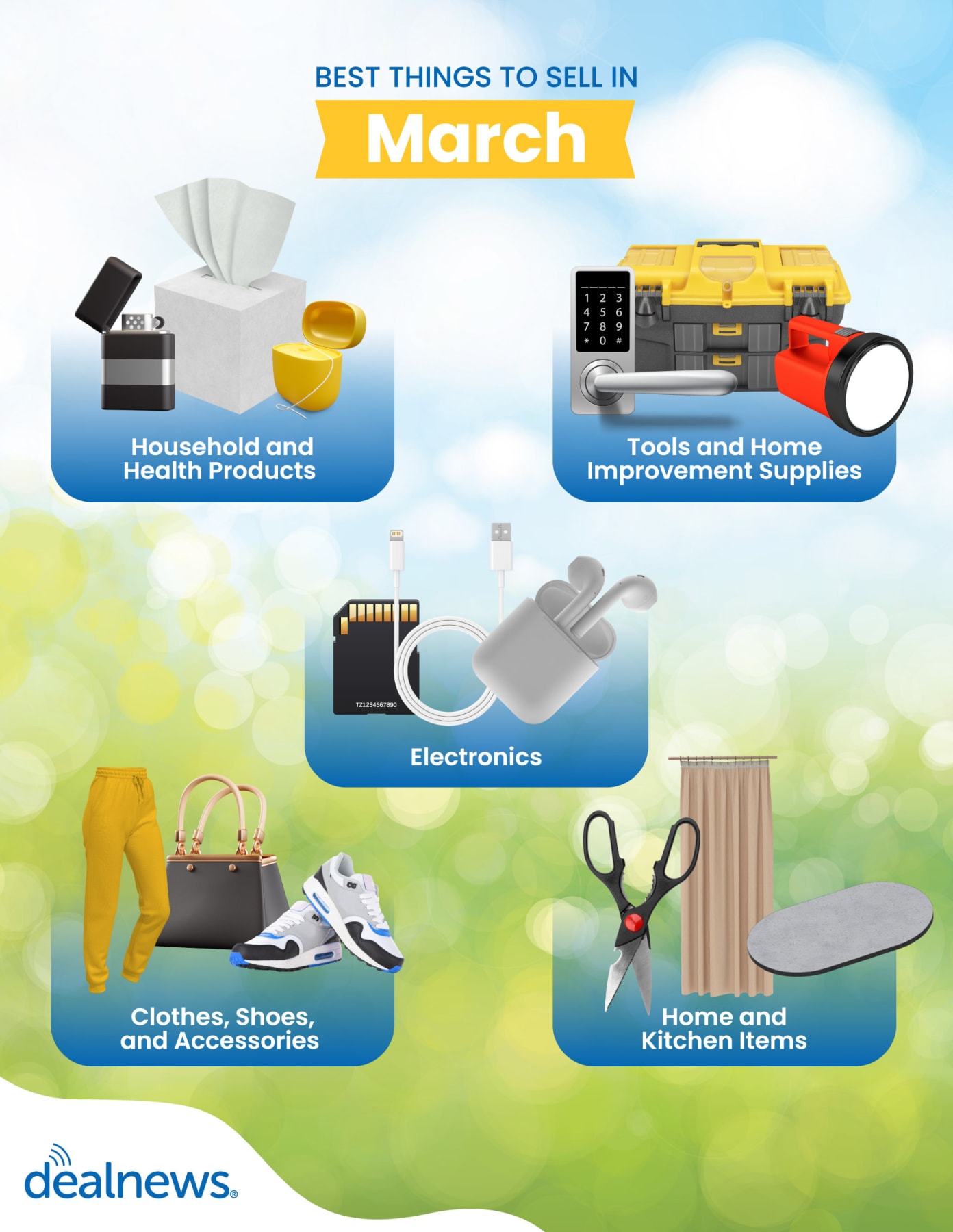 Health-Related and Household Products
People pick up health and household items throughout the year. If you're selling products on the health side in March, though, you may want to look into those related to dental care and COVID-19. During that month in 2022, our readers gravitated toward 50-count packages of dental picks, 90-count packages of floss picks, plus waxed dental floss itself.
If you're going to sell health-related products in March, you may want to look into dental care items like floss and picks.
As for COVID-19 items? Multiple types of face masks were popular last March, especially disposable ones that came in 50-packs. Readers were also drawn to reimbursement-eligible test kits for COVID-19. While the popularity of these masks and test kits may vary depending on the prevalence of COVID-19 infections at a particular time, this disease doesn't seem to be going anywhere anytime soon. So you can expect consumers to be purchasing these items for the foreseeable future.
If you'd rather lean toward the household end of this category, you have options there, too. Last March, our readers were drawn to lighters in waterproof cases, 4-packs of facial tissues with 92 tissues per box, 10-packs of lithium batteries, and automated aerosol air care systems. That last item was also popular last February.
Tools and Home Improvement Supplies
Products involving lights tend to consistently resonate among our readers, so if you're looking for items to sell in the tools and home improvement supplies category, those could be good contenders. In March 2022, trending lighting products included mini and midsize LED flashlights, along with solar motion-sensor lights.
Prefer to sell other items in March? Our readers also gravitated toward the following tools and home improvement supplies during that month last year:
6-in-1 multitool pens
3-in-1 caulk tools
Magnetic post levels
18V 2-tool combo kits
Plasterboard fixing tools
1,700-piece hardware assortment kits
Smart deadbolt locks
Interior/exterior spackling compound
Electronics
Behold another consistently popular category among our readers: electronics! Like tools and home improvement items, electronics encompass a wide variety of products, so it helps to know which items consumers are drawn to in a certain month.
SEE ALSO: These Are the Best Products to Sell Online Each Month in 2023
A few groups that appeared to stand out to readers last March were charging items, Apple products, and computers and accessories. So if you want to sell electronics in March, you could have good luck with 2-packs of 6-foot iPhone charging cables; USB wall chargers; Apple Watches, AirPods, and iPads; 15.6" Dell laptops with Intel Core i7 processors; and drives and memory cards.
Clothes, Shoes, and Accessories
March bridges both winter and spring, so it could be a good opportunity to sell clothes, shoes, and accessories that work in one or both seasons. On the clothes side, consider items like 6- and 12-packs of men's crew T-shirts, hooded puffer jackets, and cozy apparel such as men's velour hoodies and fleece joggers.
If you're leaning toward shoes instead, know that our readers were drawn to big-name brands last March. Trending items included Nike Air Max shoes, adidas and Hoka running shoes, and men's boots by Merrell. As for accessories, popular products included discounted designer handbags from a variety of brands.
Home and Kitchen Items
March may kick off the spring cleaning season — more on that below! — but don't expect all the popular home items this month to relate to that endeavor. In March 2022, our readers also gravitated toward products like 17"-by-27" bath mats and indoor/outdoor UV protectant curtains. On the kitchen side, consider listing 10.5" microwave splatter covers, stainless steel kitchen shears, paper liners for air fryers, and single-serve coffee burr grinders.
The Rest of the Best
Want more ideas of what to sell online in March? Consider the following products, too, which were also trending among DealNews readers in March 2022.
Rice and snacks, like 15-pound bags of basmati rice, 20-ounce containers of plantain chips, 8-count boxes of peanut butter sandwich crackers, 7.5-ounce barrels of barbecue-flavored pork rinds, 12-can packages of Pringles potato crisps, and 110-piece bags of holiday chocolate candy.
Automotive supplies, such as 12-ounce containers of fuel injector cleaner, portable tire inflators, 18" tire knockers, windshield wiper blades, and small-vehicle garage floor mats.
Gaming and toy items, including gaming consoles, drones with HD cameras, funny coloring books, and 31" bread-shaped pillows.
Sports and outdoor items, including 4-paddle Pickleball sets, solar outdoor cookers, and personal defense keys.
Patio, lawn, and garden products, such as folding picnic tables, vertical outdoor storage sheds, and 50-gallon rain barrels.
What Are the Big Sales Opportunities in March?
March 17 is St. Patrick's Day, but overall, the month isn't a big one for holiday sales. Instead, think of spring when figuring out your March promotions. First up is spring cleaning. According to 2021 data from YouGov, 77% of Americans planned to participate in spring cleaning that year, with March being the most popular month for it. That means it could be an ideal time for discounts and other promotions around cleaning and home organization items. For example, relevant products that trended with our readers last March included 24-ounce containers of toilet bowl cleaner gel, 12-packs of 15-quart latch boxes, and discounted Dyson offerings.
March could be an ideal time for promotions around cleaning and home organization items.
Spring break presents another opportunity for seasonal promotions in March. You could have good luck selling luggage and related travel items. In March 2022, for instance, our readers gravitated toward 2-packs of combination luggage locks.
What NOT to Sell Online in March 2023
| Item | When to Sell | Why? |
| --- | --- | --- |
| Insect- and Lawn-Control Products | April | Once we get further into spring and people spend more time outside, products for controlling weeds and pests may get more popular. Last April, "weed and feed" products, wasp and hornet killer spray, and indoor/perimeter insect killer resonated with our readers. |
| Phones and Phone Accessories | April | Phones and related accessories seemed to be a bigger hit with our readers last April, as opposed to March. Among the popular products were refurbished Google Pixel smartphones, magnetic car mounts, and USB-C charging blocks. |
| Smart Devices | July | Smart devices won't necessarily be bad to sell before July, but expect a lot more interest that month, especially if Amazon's Prime Day sale takes place then. During July 2022, our readers were drawn to smart lightbulbs, speakers, displays, security cameras, and even robots for kids. |
---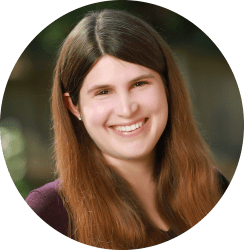 Blog Editor
Katie has more than a decade of experience in online and magazine publishing. She contributes regularly to the DealNews Marketplace Blog, and her work has also appeared on eMarketer and Retail Minded, as well as in Dogster Magazine, Milwaukee Magazine, and other publications. She's a fan of trivia, animals, and the Indiana Hoosiers.
DealNews may be compensated by companies mentioned in this article. Please note that, although prices sometimes fluctuate or expire unexpectedly, all products and deals mentioned in this feature were available at the lowest total price we could find at the time of publication (unless otherwise specified).