The 11 Best Products to Sell Online in March 2022
Consider listing electronics, clothes, and kitchen products this month, and look into sales opportunities around spring cleaning.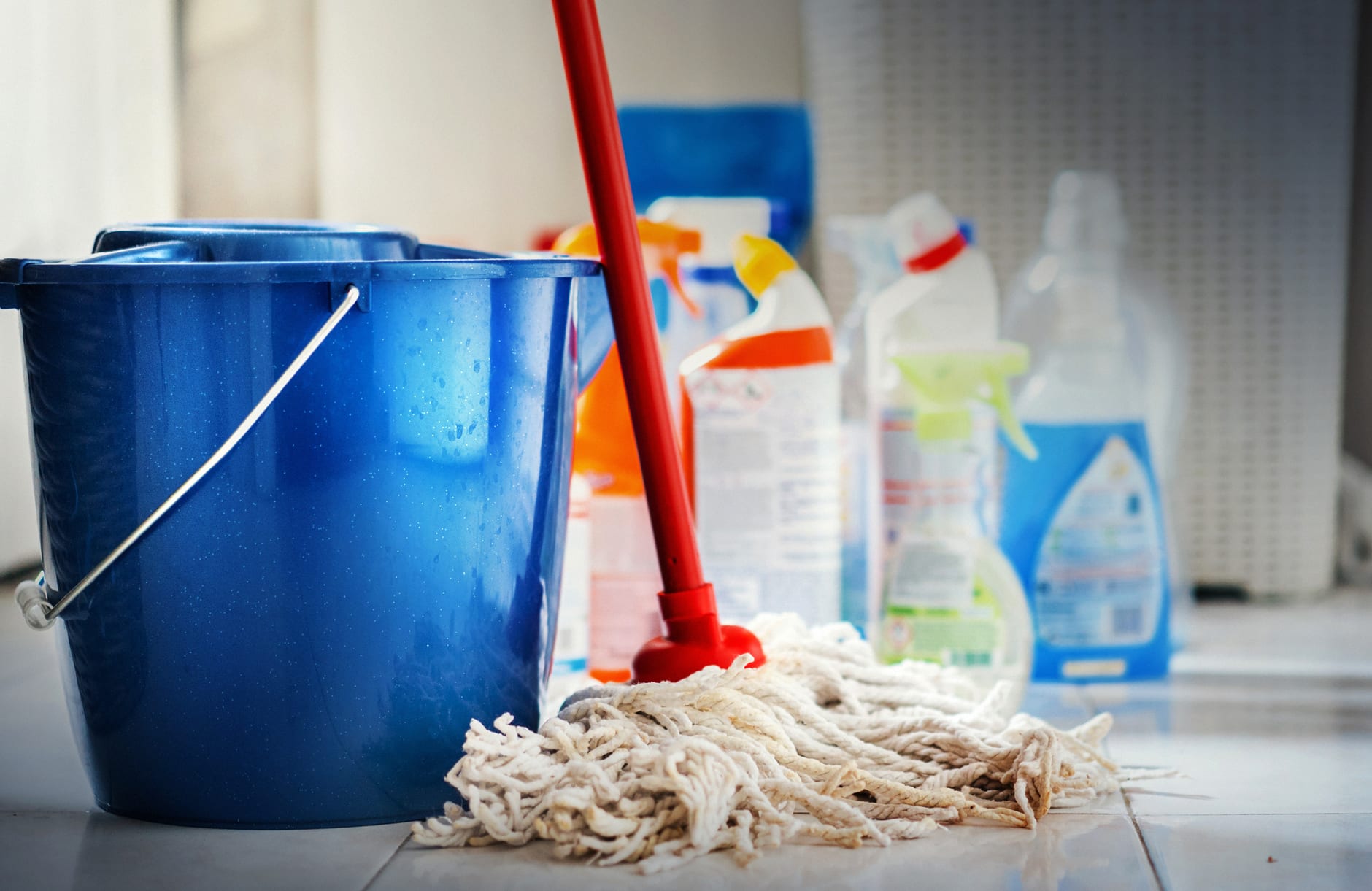 March heralds the beginning of spring, which is the season of new beginnings. If you're a Marketplace seller, maybe you're ready to start listing a new type of product this month, or perhaps you want to stick with items that perform reliably well. Either way, our guide to the best things to sell online in March can help.
We examined the shopping trends of DealNews readers to give you an in-depth look at what to sell online in March 2022. Besides offering a list of items, we tell you about the big sales opportunities happening in March, plus let you know about products that might be better to sell later.
The 11 Best Products to Sell Online in March 2022
Check out our infographic to see some of the top items to sell this March. Then read about specific products that resonated with DealNews readers, plus learn about other popular categories.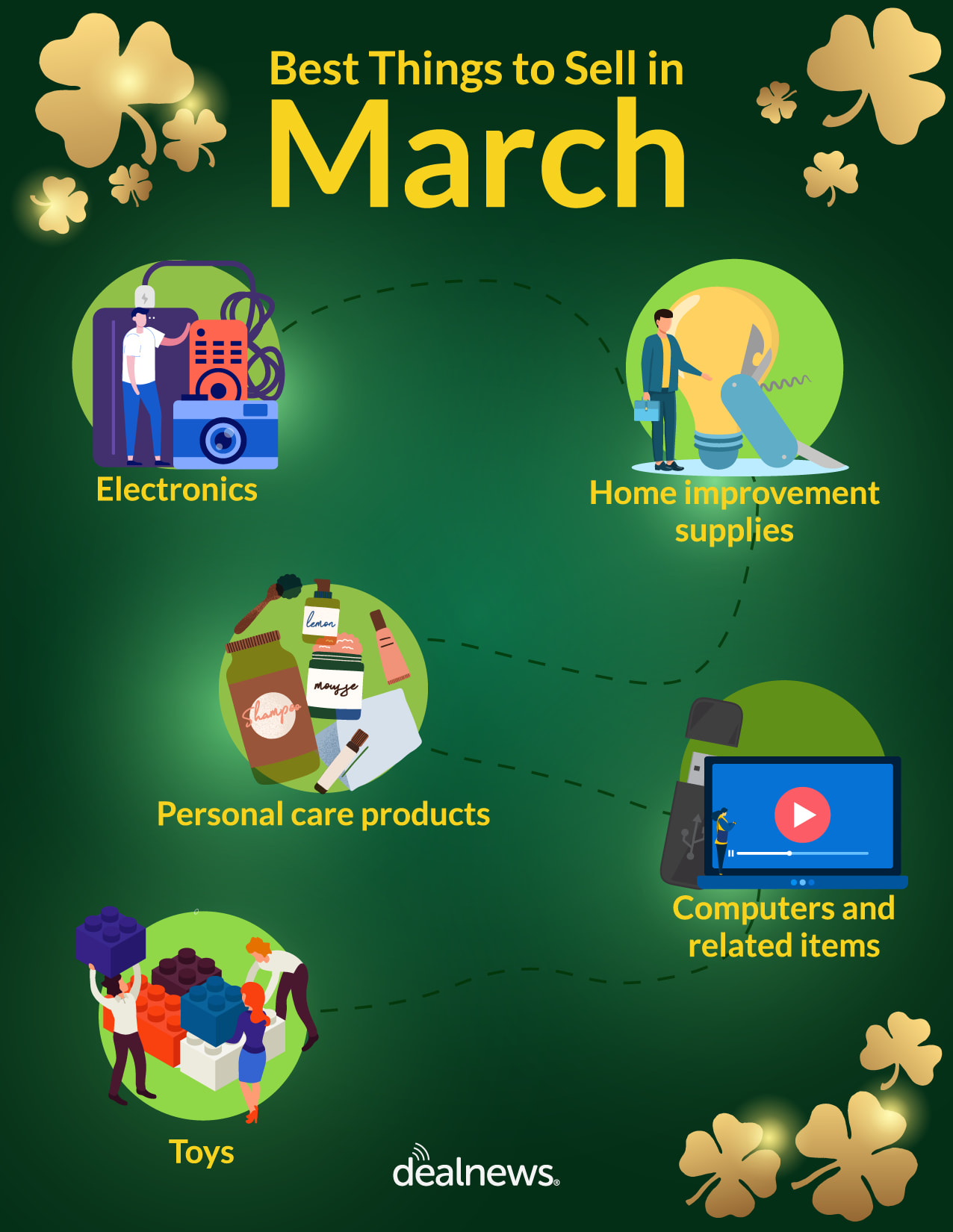 Electronics
We realize that lots of different products qualify as electronics, so let's dig into the types that could sell well in March. These include portable LED video lights for DSLR cameras, video conference lighting kits, HDMI cables and converters, 12-outlet surge protectors with USB charging ports, and smart bracelets.
SEE ALSO: Want to Increase Your Profit Margin on Amazon? Here's What NOT to Do
Don't forget the audio enthusiasts if you're thinking about selling electronics, either. In March 2021, other items that resonated with DealNews readers ranged from subwoofers and home theater systems, to wireless earbuds and stereo TV listening systems.
Tools and Home Improvement Supplies
Tools and home improvement is the rare category that makes our "what to sell" list every single month in one form or another; don't expect that trend to stop in March 2022. Last year, tools that our readers gravitated toward included Swiss army pocket knives and 8" wire strippers. Among the other items that could be popular again this year are the following:
Clear safety glasses
Electrical outlets and outlet extenders
Smart light switches
LED garage lights
LED spotlight flashlights
6-packs of dimmable LED bulbs
Plastic gutter guard
Ladder stabilizers
Customizable shelving
Shower door bottom seals
Personal Care Products
Personal care items is another "always seems to make the list" category, and it encompasses grooming, skin care, hair care, and dental products. Based on their popularity from last March, men's personal care items may be good to sell this year — think electric razors, bars of deodorant soap, and 30-count packs of razor blades. Other personal care products that trended with our readers last year were hand soap refills in various scents, body wash, cocoa butter bath bars, women's deodorant spray, waxed dental floss, and compact nail clippers.
Computers and Related Items
The percentage of families who own a computer is projected to reach 95.2% this year, according to the industry research company IBISWorld. If people aren't looking to buy one of these ubiquitous items, they may be looking for accessories or peripherals to go with the one they already own.
Tools and home improvement is the rare category that makes our "what to sell" list every single month in one form or another.
So what computer products might people be looking for in March 2022? Based on our reader trends from last year, popular items could include 64GB Apple iPad Air devices, 32GB iPad tablets, 256GB USB flash drives, sticky-note printers, 13" touchscreen laptops, and various types of new and refurbished computers.
Outside-the-Home Items
For this category, we're talking about products for your patio, yard, and even your driveway and sidewalks. In March, consider selling items like garden hose and tap connectors, outdoor power tools, portable power stations, laser attachments for insect-eradication devices, ice choppers, and devices for winterizing pool skimmers. These products were all popular with DealNews readers in March 2021.
Clothes and Accessories
March is one of those months when some people are still shopping for winter items, while others are going all-in on spring. That's evident when you consider the apparel and accessories our readers gravitated toward last March. For example, winter-friendly men's puffer vests were trending, though so were adidas "spring sale" items. Other items that resonated were men's athletic shoes, men's pattern dress pants, emerald jewelry, and college gear on clearance.
Smartphone Accessories
It seems hard to go wrong with phone-charging products these days — as long as those products work well, of course! According to WIRED, "a smartphone battery typically remains working at optimal capacity for about two to three years"; it's easy to assume that a person will need to charge their phone more as the battery degrades.
What does this mean for Marketplace sellers? Well, if you're wanting to sell smartphone accessories, look into items like 2-packs and 3-packs of 6' lightning cables, which people can use to charge their iPhones. These items were popular with DealNews readers in March 2021, as were gimbal stabilizers for smartphones.
Kitchen Products
When trying to decide on kitchen products to sell in March, think of these three C's: cleaning, coffee, and cookware. Items that trended with our readers last March included 2-tier dish-drying racks — for use after cleaning dishes, of course — as well as stovetop coffee makers and All-Clad cookware.
Household Supplies
Household items are another one of the regulars in our monthly selling guides. If you want to base the items you sell in March off of last year's popular products, consider going with 80-count packs of disinfecting wipes, 36-packs of AAA batteries, and 2-packs of toilet bowl cleaner.
When trying to decide on kitchen products to sell in March, think of these three C's: cleaning, coffee, and cookware.
Office Supplies
Want to cater to the at-home workers of the world? Then consider selling office products in March. Items that resonated with our readers last year included the following:
6-roll packs of heavy-duty packaging tape
48"-by-36" office chair mats
Open-box Herman Miller chairs
Toys
If you're hoping to sell toys in March, why not go straight for the world's No. 1 toy brand? That's LEGO, unsurprisingly, which boasted more than three times the value of the No. 2 brand in 2021, according to the consultancy company Brand Finance. (Bandai Namco got the No. 2 spot, for those who are curious.)
Last March, trending toys among our readers included LEGO sets, such as Speed Champions and BrickHeadz kits. Also popular was the classic metal Slinky toy.
What Are the Big Sales Opportunities in March?
March tends to be pretty light on holidays, but it does have St. Patrick's Day on March 17. Some retailers have sales on the holiday, and if you want to get into the promotional spirit, this is an opportunity to do so. Last year, St. Patrick's Day sales that resonated with DealNews readers included those discounting emerald jewelry, plus refurbished computers and related items.
SEE ALSO: 7 Smart Ways to Reduce Shipping Costs as a Marketplace Seller
March also brings the start of spring, which begins on March 20 in 2022. With people in the spring-cleaning mood, perhaps this is a good month to offer deals on items that can help them tidy up or organize their homes. Popular cleaning products last March included disinfecting wipes and 2-packs of toilet bowl cleaner.
What NOT to Sell Online in March 2022
| Item | When to Sell | Why? |
| --- | --- | --- |
| Automotive Products | April | If last year's trend repeats, DealNews readers will likely tend to their vehicles more in April than in March. Expect popular items to include portable tire inflators, headrest hooks, and car vacuum cleaners. |
| Groceries | April | You may want to wait to sell food-and-drink items like tins of Danish butter cookies, bags of almonds with a wasabi and soy sauce flavor, and variety packs of sparkling juice. These items resonated with our readers last April. |
| Fitness Items | April | Our readers seemed to up their focus on fitness in April. Trending items last April included adjustable weight benches, pulley systems for weight training, and 21-speed electric mountain bikes. |
---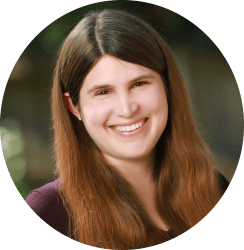 Blog Editor
Katie has more than a decade of experience in online and magazine publishing. She contributes regularly to the DealNews Marketplace Blog, and her work has also appeared on eMarketer and Retail Minded, as well as in Dogster Magazine, Milwaukee Magazine, and other publications. She's a fan of trivia, animals, and the Indiana Hoosiers.
DealNews may be compensated by companies mentioned in this article. Please note that, although prices sometimes fluctuate or expire unexpectedly, all products and deals mentioned in this feature were available at the lowest total price we could find at the time of publication (unless otherwise specified).