What to Look for When Buying a Fan
You can get a basic fan that beats the heat for as little as $10. But it helps to know the type of fan you need, when and where to buy, and the features to consider.
When you were partying, we studied the blades. Of fans. For pricing data. Okay, we looked at spreadsheets. Now we're here to give you guidance on how to buy a fan, from the best place to get one to what exactly makes a good fan.
So what's the best fan to buy? That depends on what you're looking for (and even then, you'll probably have plenty of wiggle room between categories). See a brief overview of your choices below.
Types of Fans to Choose From
Desk or Personal Fans
If you're just looking for a short-range directional breeze, these fans are more cost- and space-efficient than full pedestal fans. You'll find the most basic models starting around $10. And even as you move up in size, you shouldn't have to spend much more than $15, unless you're very serious about the quality of wind in your face.
Stand or Pedestal Fans
For a more roomwide effect, a pedestal fan will work best — you can choose between oscillating and non-oscillating models, depending on how much space needs cooling. You'll find prices start from $15 here, and while some of the more industrial models or fancy silenced fans can tick over $100, you're looking at spending $40 or less for everyday use.
Window Fans
Window fans don't just circulate the air in the room — they actually draw in fresh air, or if you reverse the flow, pull stale air out. They don't cool that air, though, so if you pull in muggy air, you'll feel it. We've seen many deals on window fans that cost $15 or so, but if you're looking for a best-in-class option, you'll likely end up spending over $50.
Tower Fans
Tower fans' place in the market has been almost entirely usurped by their bladeless counterparts (to the point where Wirecutter doesn't even have a recommended model anymore). But that means if you're a smart shopper, you can get a great price on these fans. As recently as January, we saw one for just $22, and we're unlikely to list one for over $50 these days. (If you want to spend more than that, move on to the bladeless category.)
SEE ALSO: The Best Home Office Setup Ideas to Try Today
Bladeless Fans
We could very likely do everyone a favor and just call these "Dyson fans" — you know the sci-fi-looking style we're talking about. (Especially since they're not really bladeless, apparently. The blades are just cleverly hidden rather than eliminated altogether.) These come in two main categories:
Bladeless Desk or Pedestal Fans
These are probably what you're picturing, and you'll be pleased to know that they've started to see significant reductions in price. (Surprisingly, we've seen better discounts on the larger pedestal models than the smaller desk fans.) In March, we saw a Dyson pedestal fan going for just $136 — a Staff Pick, record-low price for this style of fan.
That was part of a trend, where good prices have become great prices thanks to a coupon at a store like Rakuten, or factored-in store credit like Kohl's Cash. While you won't always be able to get these prices, with a little luck or a bit of patience, you should be able to get this type of bladeless fan for less than $200.
Bladeless Fans With Purifiers
If you're facing the twin enemies of heat and pollen (or whatever other allergen you care to name), a combination fan and purifier could make things a little more bearable. You'll pay for the privilege of a decent model, though: even the best Black Friday discounts we saw last year only dropped new ones to $200, and it's not surprising to see them closer to — or even breaking — the $400 mark.
Ceiling Fans
Consider these more-permanent additions to your home wisely before purchasing, taking into account everything from price to size to features. A typical small bedroom should have a 36" to 42" ceiling fan; a standard master bedroom requires a 44" fan; and living rooms or other large spaces need a fan in the 50" to 54" range.
We've seen 42" ceiling fans priced as low as $23, and 52" ones that cost less than $30.
We've seen 42" fans for as little as $23 quite often, but this is a category where the prices vary considerably depending on size and style. Though we've seen 52" fans drop below $30, we've also seen 54" fans for $75 that were discounted heavily enough to be Staff Pick deals. (If you don't have room for a ceiling fan, a wall-mounted fan might suit you better!)
Where to Buy a Fan
Now that you hopefully have a better idea of what style you're looking for, you're probably wondering, "Where can I buy a fan?" Starting with the most expensive kinds, your best bet for the pricey Dysons is a marketplace like Rakuten or eBay. There you'll often find discounts from Dyson's own storefronts that stack with extra coupons or store credits.
For ceiling fans, we most consistently see discounts from Home Depot — almost 40% of the ceiling fan deals we've seen in the last two years have come from them. For the more standard desk and pedestal fans, you won't find many stores offering better prices than the big hitters like Amazon and Walmart provide.
When to Buy a Fan
The bulk of the very best prices come, unsurprisingly, after the summer heat, from September through Black Friday and Christmas. That doesn't mean you won't see fantastic deals year-round, though. And unless discounts are dependent on a coupon or credit offer that's expiring, many tend to stick around for a few weeks. (And obviously, throw any predictions for this year out the window for now.)
SEE ALSO: Here's How to Buy Space-Saving Furniture for Your Apartment
Features to Look for When Buying a Fan
Now to the important questions of what, and who, makes a good fan. There are several features to look out for (not all of which will be important for you, or even for each kind of fan). They include the following:
Airflow and Range
The strength with which a fan moves air around, and the range it covers, is going to be a large factor in the price you pay. A desk fan doesn't need to be strong enough to cool an entire room, and a pedestal fan that doesn't reach the people on the opposite side of the room won't be of much use.
Noise
We like to keep cool, but we also like to keep our cool, and few things are more irritating than the constant whir of a noisy fan. Your tolerance will obviously vary, but the ideal is a fan that stays reasonably quiet even at its highest speeds.
Reliability or a Warranty
We've all bought electronics that seem perfectly fine but fail right as they fall out of warranty. Read user reviews to catch any red flags, and make sure you're getting a warranty to match whatever price point you decide on. (If a $10 desk fan survives a summer of heavy use, that's probably a job well done, but your ceiling fan should last considerably longer.)
Ease of Cleaning
No one wants a fan that's covered in dust and grime and various things that fell off your body. That becomes a less likely outcome if the workings of your fan are easily accessible for a good wipe-down every so often. But!
Safety
It shouldn't be so accessible that young, vulnerable fingers can meet spinning fan blades. The hazards of a full-speed fan, or the unsteadiness of a naturally top-heavy pedestal fan, are things to keep in mind if you have children or pets running around.
Miscellany
Depending on the utility of the fan, you may want features like oscillation, fine-grained speed control, a remote control, or adjustable heights and angles. For the brands to keep in mind, Wirecutter's picks weigh heavily in favor of Vornado and Dyson, as well as Westinghouse in the ceiling fan category. Other popular names are Holmes, Seville, and Hunter.
Readers, what features do you look for when buying a fan? Is there a brand you tend to favor? Let us know in the comments!
---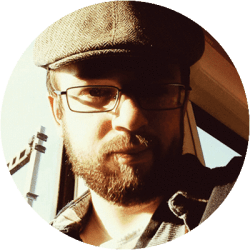 Editor
Alan was recently named "The New Face of DealNews™" by himself, which is a step up from his previous title, "The King of the Run-on Sentence", although this latter – equally unofficial – title clearly remains the more accurate by some distance. He's a Dublin-based editor for this very website.
DealNews may be compensated by companies mentioned in this article. Please note that, although prices sometimes fluctuate or expire unexpectedly, all products and deals mentioned in this feature were available at the lowest total price we could find at the time of publication (unless otherwise specified).