Your No-Sweat Guide to Buying a Fan
Whether you're shopping for a box, tower, or ceiling fan, we've got all the prices, features, and brands you need to know.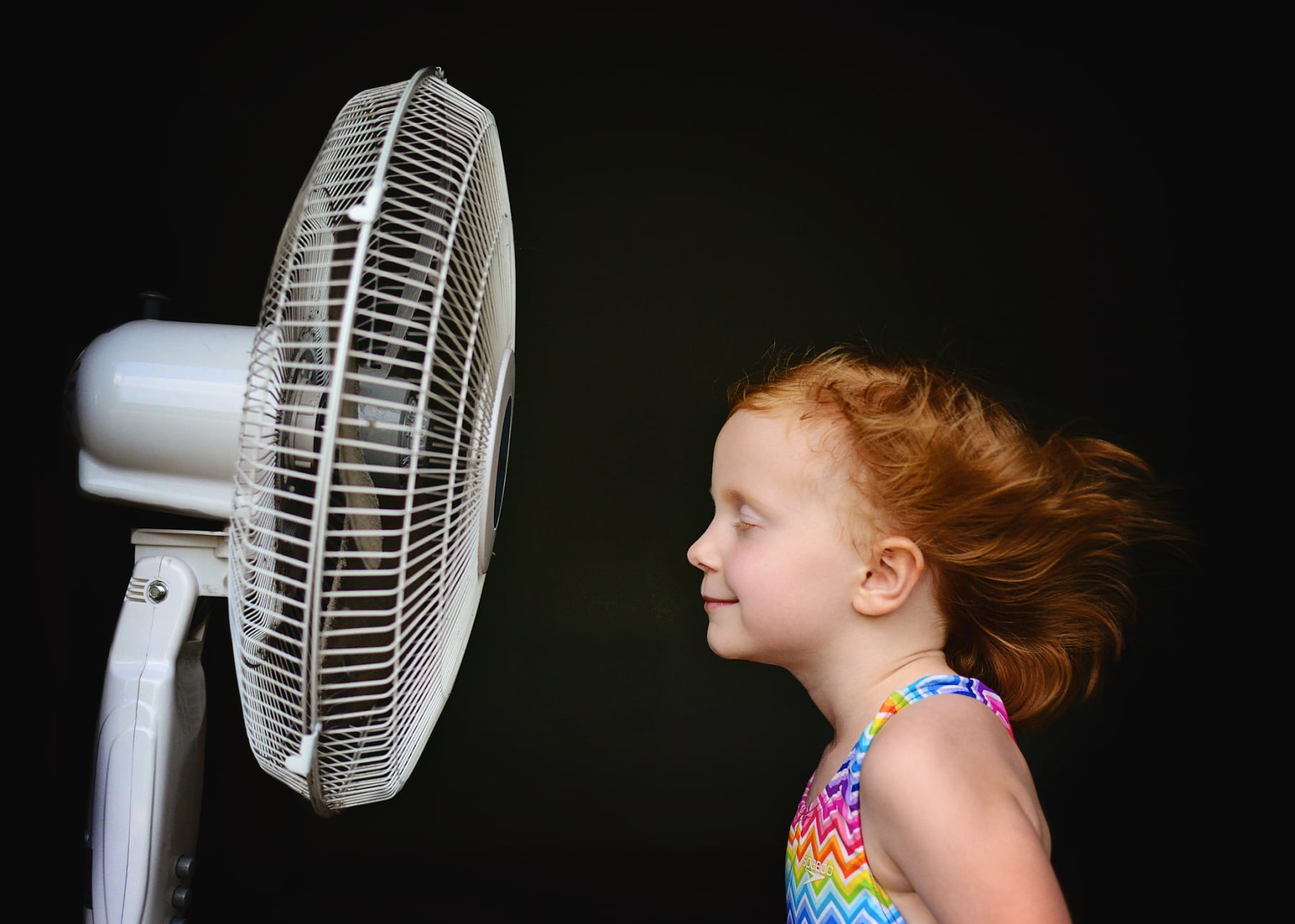 Want to shrink your air conditioning costs this summer? Invest in a good fan!
The average central air conditioner uses 3,500 watts of electricity, while the average ceiling fan uses only 75 watts — and smaller units use even less. If using a fan means running the A/C a little less every day, this can add up to noticeable savings over time.
While a fan doesn't cool down the air like an air conditioner, it does move warm air away from your skin to leave you feeling cooler. On top of that, if you're in a space that's already air-conditioned, a fan helps to circulate the cold air from the A/C to cool a room more quickly.
If you're fan shopping this summer, here's what you need to know about the different types, features, prices, and brands to look out for.
8 Fantastic Types of Fans
Not all fans are made alike. The type of fan you want will depend on what you're using it for: Do you want to keep your cubicle at work cool, or do you need to cool your entire living room? Typically, the larger the fan, the larger the space it will cool, so consider where yours will stay before you buy.
Box, Desk, Pedestal, and Wall-Mount Fans
These appliances are likely what you think of when you think of a fan. They have propeller-style blades that spin to circulate air, located behind a grate for safety. The different names simply refer to different sizes and case styles, each of which is better for a different use.
Box Fans
Box fans are large and square, with an open back that can help them pull air from one space to another — especially if you place them in a doorway or window. Their size can make them good choices for cooling large rooms, but they can be bulky.
Typical cost: $20 - $40
Desk Fans
Desk fans are just what they sound like: small appliances designed to sit on your desk. These low-power fans can keep you cool, but not much more. The smallest models may be powered by USB from your computer, though most have a standard power cord.
Typical cost: $15 - $30
Pedestal Fans
Pedestal fans are mounted on a pedestal, sometimes with an adjustable height and angle to let you point them where you need the air to go.
Typical cost: $25 - $50
Wall-Mount Fans
Designed to be mounted to the wall, this style is perfect for when you need a permanent fan but don't have the space for a ceiling unit. These can be good solutions for garages, workshops, and even patios.
Typical cost: $40 - $60
SEE ALSO: Don't Sweat It! 9 Tips for Getting Air Conditioning on a Budget
Tower Fans
These fans are tall and slim, with blades hidden away inside the tower. They're typically large enough to cool entire rooms. Plus, they take up less space than box fans, which makes them easy to leave out all summer long. Watch out, because some can be top-heavy and tip over easily.
Typical cost: $30 - $80
Bladeless Fans
The name is a bit of a misnomer because these fans actually do have blades, but they're hidden away inside the base. They're often powerful — even small bladeless fans can move a lot of air — but they're also the priciest fans you'll find. This category is dominated by the brand Dyson.
Typical cost: $250 - $400
Ceiling Fans
These fans are permanently mounted to the ceiling of rooms inside or outside of your home. (Before you buy a ceiling fan for outdoor use, confirm that it's rated for that.) They're the biggest fans you'll find, which makes them perfect for cooling large spaces, but sizing them right is important. A typical small bedroom should have a 36" to 42" unit; a typical master bedroom needs a 44" fan; and living rooms or other large spaces require something in the 50" to 54" range. Here, style and design affect price, too.
Typical cost: $50 - $200
Air Purifier/Fan Combos
For allergy sufferers, an air purifier that removes allergens and other potential irritants from the air can be a must-have — and some have built-in fans to circulate the air, thus doing double duty. However, whether these can serve as worthwhile fans varies greatly by brand and style. Furthermore, these appliances can be pricey. The Dyson Pure Cool Link line combines a bladeless fan with a high-end air purifier, but these models start at $400.
Typical cost: $100 - $550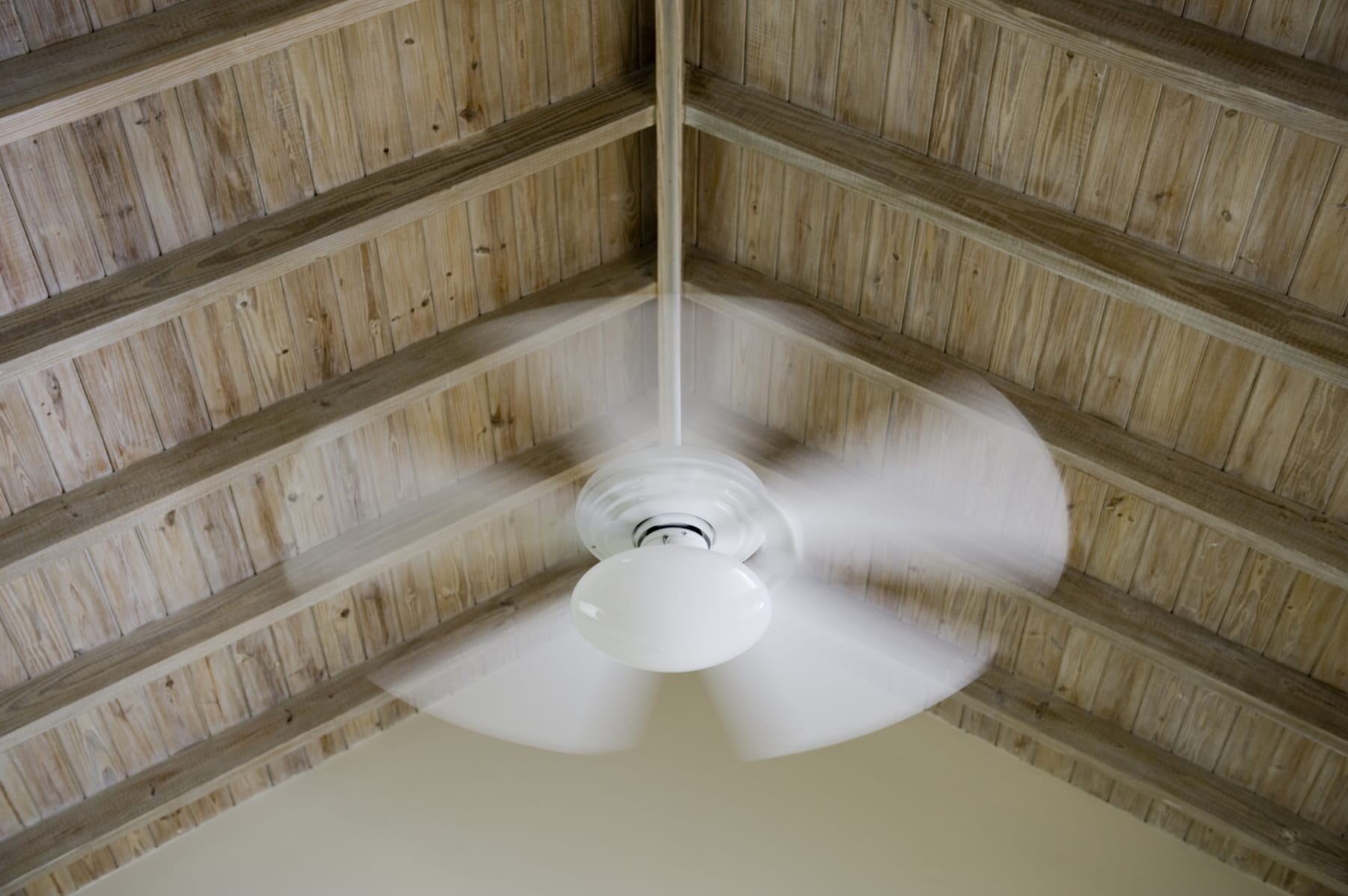 9 Fan Features to Look For
While you don't necessarily need all of these features, here are nine you should keep an eye out for when you're shopping.
CFM: Standing for "cubic feet per minute," this number gives you an estimate of how much air the fan circulates (though it won't always be advertised on packaging). A higher CFM means more air movement, which means a more powerful product.
Noise: How loud a fan is can have a big impact on how much you'll enjoy having it around. You don't want to buy a device that's so noisy it keeps you from falling asleep, or so loud that you have to crank up the TV. Unfortunately, most fans won't note how loud they are (usually measured in decibels), so it's best if you can check out your choices in a store to hear how they sound.
Safety: Is the fan easy to tip over? Could children reach the blades and hurt themselves? If you have kids or pets in the house, you'll want to buy something that won't be hazardous.
Cleanability: How easy is it to clean? You'll want to clean your fan regularly to keep it from blowing dust and dirt around the room. With some fans, getting to the blades and wiping them down is simple, while others make this process difficult.
Size: Is the fan powerful enough to circulate air in the space where you plan to put it? Will it fit in your room? You don't want a fan that's too big or too small.
Oscillation: Many fans have an oscillation mode, which is ideal for larger rooms with multiple people to cool. For a desk fan, this isn't very important. But if you have a tower fan in your living room, oscillation will help everyone feel the breeze.
Adjustability: Can you adjust the height, tilt, or other settings to aim the fan just where you want it? Does it have multiple power settings? How many options you need is up to you, though you want enough customization to create your perfect breeze.
Remote control: Many fans — even ceiling fans — offer remotes. Look for one if it's a feature you'll use, but expect at least a slight price increase for units with this perk.
Warranty: You may not care if your $20 desk fan doesn't have a warranty, but you'll want one for your $500 ceiling unit.
SEE ALSO: Your 9 Biggest Warranty Questions — Answered
7 Reliable Fan Brands
There's no single brand to watch out for in the fan category, but a number of them reliably produce good products:
Honeywell, Holmes, and Seville Classics: These general consumer brands make a variety of fans that typically have good build quality. They're rarely the very best products you can buy, but they're never the worst — and they're moderately priced.
Vornado: Vornado's fans are designed to be "whole room air circulators" that keep the air moving at an even temperature. They can be a little loud and expensive compared to other brands, but they do an excellent job and often come with an impressive 5-year warranty.
Dyson: Though they're expensive, we can't deny that Dyson's bladeless fans are quiet and powerful — and the Pure Cool Link is something allergy sufferers will be interested in, despite the price.
Hunter: The company has been manufacturing ceiling fans since 1886, and it continues to make solid products in a range of prices, from budget-friendly to luxury.
Hampton Bay: Home Depot's house brand, Hampton Bay makes good ceiling fans at reasonable prices.
Readers, what features do you look for when you're buying a fan? Is there a brand you always tend to go with? Let us know in the comments below!
---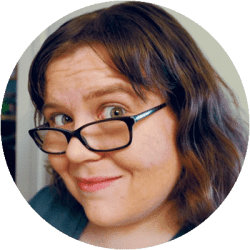 DealNews Contributing Writer
Originally working in IT, Elizabeth now writes on tech, gaming, and general consumer issues. Her articles have appeared in USA Today, Time, AOL, PriceGrabber, and more. She has been one of DealNews' most regular contributors since 2013, researching everything from vacuums to renters insurance to help consumers.
DealNews may be compensated by companies mentioned in this article. Please note that, although prices sometimes fluctuate or expire unexpectedly, all products and deals mentioned in this feature were available at the lowest total price we could find at the time of publication (unless otherwise specified).