Don't Get Taken for a Ride: How to Do Your Own Bike Tune-Up
Proper chain oiling, rust removal, and more can prolong the life of your bike and make your ride smoother. But some things should be left to pros at a repair shop.
When "new car smell" wears off, it's time to start minding those maintenance items that we blissfully ignored. And while a bike may not have a "new bike smell" (unless you sniff the tires really hard), the same analogy applies: It's not all that long a ride from break-in to upkeep.
If you're the kind of person who likes to change your own oil, you might also enjoy paying attention to bike tune-up details. And that can be quite a good idea: Tune-ups not only cost money (at least $75 in many markets), but there's also no guarantee the grease monkey on duty is going to look after your cycle quite the way you would.
Here we take a look at the tune-up and maintenance items you can tackle, while pointing out some areas that you'd better leave to the pros.
Tune-Up Timer: Got an Hour?
Experts say that a DIY biker can get their ride tuned up in about an hour, which is less time than it might take you to ride to work and back. Remember that one goal of a good tune-up is to clean your bike. That means starting out in a space that's dirt and dust free to begin with; if you're working in your garage or driveway, sweep up first. Of course, go after dirt in the obvious spots — especially if you've been riding in mud or puddles recently. But you'll want to start with the moving parts that make up your bike's heart.
Shifting Into Gear: The Chain and Drivetrain
You'd expect that a magazine like Popular Mechanics would cast an adoring gaze at a bike's moving parts — and you should, too. The magazine interviewed former White House bike mechanic Santiago "Pinkey" Gonzalez, who talks about the importance of wiping dirt from the chain and drivetrain. If parts of the chain are particularly rusty or sticky, a few sprays of WD40 or a similar degreaser will help. Use a fine brush to go between the links and heavy-duty magnets to pull away errant metal filings. You can also buy a chain cleaner kit for about $30 to $50, which comes with degreaser, magnets, and brushes.
A Well-Oiled Machine: The Lubrication Equation
Bikes that aren't lubed right will run into all sorts of predictable problems, from rough shifting to an overall uneven ride. But you can also overdo it; the right amount of lubrication should leave light residue that you can detect with a touch of a finger to the chain. Gonzalez recommends using extra-dry Teflon-based lube on the chain. It goes on wet but stays dry, and thus won't attract as much dirt and grime. We're also guessing that eggs don't stick to it, either.
Smooth Stopping: Time to Catch a Brake
If we need to stress the importance of this item, you need more than your brakes checked. First, look at the pads on your front and rear tires; even a novice can easily replace worn-out pads. If you see rough spots on your rims that look like wear-and-tear culprits, sand them down gently. A good test to see how much more work your brakes need is to squeeze the levers. If they hit the handlebar, it's a sign that the brake cables are loose. Tightening them can be tricky on your own; it's advisable to get a bike-savvy friend to help, or leave it to the gang at the cycle shop.
The Low Cost of Inflation: Checking Your Tires
Even with a mountain bike, it's amazing how little tread stands between your bike and the road. Check your tires for cracking in the sidewalls or uneven wear, and keep in mind that different bikes have different inflating needs. Bicycling magazine notes that road bike tires typically require 80 to 130 pounds per square inch; mountain tires 30 to 50 psi; and hybrid tires 50 to 70 psi.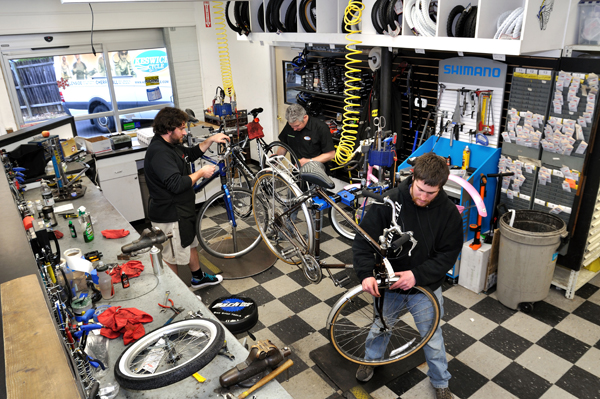 Tasks for the Pros
If your bike's been in an accident lately, don't assume a simple tune-up will do the trick: The bike could be damaged in ways you can't detect. Nor should you fix a crack in the frame with duct tape, much as that material can perform just about any miracle.
If your wheels and gears are misaligned, you can easily ruin your bike if you don't know exactly what you're doing. Taking off the rear wheel of a 24-speed bike is not for the faint of heart, and some jobs are just plain aggravating. Smoothing out shifting when your chain skips gears can be tough to fix on your own. Even some bike shops don't get it right all the time.
Before you Ride Off: Thoughts About Getting Help
Cycleries are just like auto repair joints: They can be staffed by masters or morons, first-rate pros or ripoff artists. Never take your bike to the first place you see; do your homework through ratings sites such as Yelp or via word of mouth. The best places will stand by their work, and do it again if anything's amiss. Even if you do most of your own tweaking, it helps to have a go-to shop where you can have the hardest jobs done, and learn from a cycling Jedi master.
If you're still not ready to tackle tune-up tasks, take heart. Just make sure that you always travel with a set of bike hex wrenches and tire patches for emergencies. (This Essential Tool Kit from Park Tool covers these bases.) And no matter what you do, remember the three rules every smart cyclist observes: Always wear a helmet, always wear a helmet, and always wear a helmet. No megawrench can screw your head back on, and besides: We all want to live to tune-up another day.
---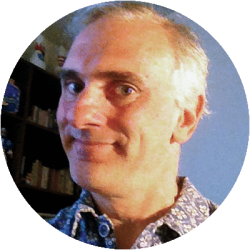 Contributing Writer
Lou Carlozo is a DealNews contributing writer. He covers personal finance for Reuters Wealth. Prior to that he was the Managing Editor of WalletPop.com, and a veteran columnist at the Chicago Tribune.
DealNews may be compensated by companies mentioned in this article. Please note that, although prices sometimes fluctuate or expire unexpectedly, all products and deals mentioned in this feature were available at the lowest total price we could find at the time of publication (unless otherwise specified).