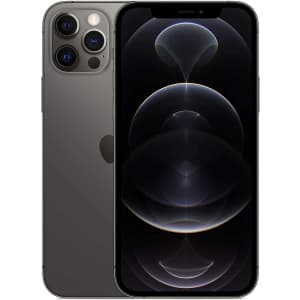 more
That's $300 less than Apple's direct price for a refurb. Apply coupon code "JOLLY15" to get this price. Buy Now at eBay
Tips
A 1-year Allstate warranty applies.
Features
A14 Bionic processor
6.7" 1284 x 2778 Retina display
Face ID
12 MP camera
iOS 14
Model: MGCN3LL/A
↑ less
Apple iPhones: The Basics
Shopping for iPhones doesn't mean breaking the bank, as long as you know how to find the best prices. Our team of experts routinely seek out the best iPhone deals to help you save time and money.
Check Out These Apple iPhone Related Blog Articles
Apple iPhone Subcategories
When you want to find a deal on a new Apple iOS app, you should check out the best offers here.
If you need a new iPhone case or set of AirPods, you'll find the best deals here.
Frequently Asked Questions
What iPhone is the best?
The best iPhone for you will be determined by what you need in a smartphone. Before deciding which of the four current iPhone models is right for you, here are six question to ask:
Do you need the latest tech?
The iPhone 11, iPhone 11 Pro, and iPhone 11 Pro Max are all the latest models released in 2019.
How big does your screen need to be?
Available iPhone models have anywhere from a 4.7" to 6.5" screen.
What kind of camera do you need?
You can choose from models with a single 12MP camera, dual 12MP wide and ultra wide cameras, or triple 12MP wide, ultra wide, and telephoto cameras.
What's your budget?
Apple iPhones are known for being expensive, but the current iPhone SE starts at only $399, while the iPhone XR starts at $599.
How much storage do you need?
Every Apple iPhone offers a number of storage options, from 64GB to 512GB on select models.
Do you need water resistance?
All iPhone models are splash, water, and dust resistant; they are either rated IP67 or IP68.
When do new iPhones come out?
New Apple iPhone models are typically released in September of each year.
Is there a new iPhone coming out in 2020?
Yes, Apple is expected to release the iPhone 12 lineup in September 2020.