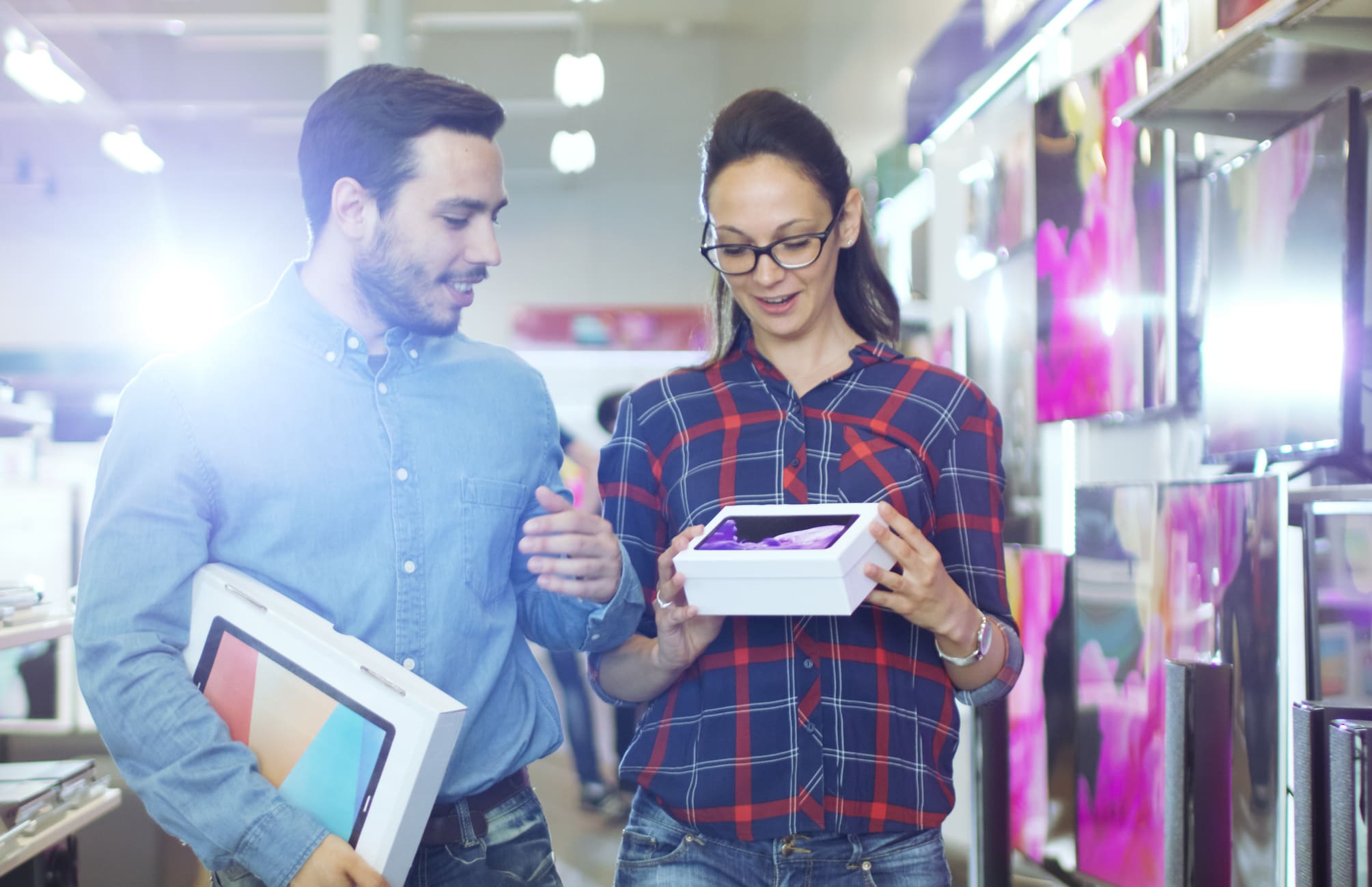 With 5G and even foldable handsets on the horizon, 2019 is shaping up to be an interesting year for the smartphone market.
Apple released three new smartphones last fall, but the rumor mill is already churning about the Silicon Valley tech giant's 2019 models. Samsung, Google, OnePlus, and Motorola will also refresh their lineups this year.
SEE ALSO: How to Sell Your Old iPhone to Pay for a New iPhone
Which begs the question: When's the best time to buy the most popular smartphones? To help you plan your next handset purchase, we've put together this handy guide to all the major smartphones expected to arrive this year. Read about the anticipated release dates, rumored specs, and the best time to buy.
When to Buy the Best Smartphones of 2019
Apple iPhones
Release Date: September 2019
When to Buy: November and December
Possibly called the iPhone XI or iPhone 11, Apple's 2019 flagship iPhone will probably feature an OLED display like the iPhone XS and X, with a smaller display cutout (aka notch) and an upgraded chip. As in previous years, there will likely be several new models at different sizes and prices.
Speculation includes the possibility of an all-OLED lineup (although we could see a cheaper LCD model in the mix), a triple-lens camera offering 3x optical zoom, and Apple Pencil support. These models probably won't feature 5G support, as it's expected Apple will wait until 2020 to add that technology.
November is a great time to pick up an iPhone. Last Black Friday, Walmart offered gift cards worth up to $400 with the purchase of an iPhone X.
Apple will likely stick to its usual schedule and release the new iPhones in September. At that time, last year's models — the iPhone XS, XS Max, and XR — will probably receive a $100 price cut. That's not a huge drop, but iPhones are always expensive so it shouldn't be a surprise. The XS Max starts at $1,099, the XS starts at $999, and the XR starts at $749; expect similar pricing on this year's models.
In general, August is a terrible time to buy an iPhone, as September will bring new models and price cuts on the previous year's handsets. Last year, carriers offered buy one, get one and trade-in offers on the iPhone XS and XS Max as soon as they became available. If you can hold out until the fall, you'll be in a much better position to snag a deal.
Specifically, November is a great time to pick up an iPhone. On Black Friday and Cyber Monday, retailers like Best Buy, Target, Walmart, Apple itself, and carriers all tend to offer iPhone promotions. Last year on Black Friday, Walmart offered gift cards worth up to $400 with the purchase of an iPhone X, and Verizon offered $400 off the iPhone X with no trade-in required.
Samsung Galaxy S10
Release Date: March 8, 2019
When to Buy: June, November, and December
Samsung is reportedly set to unveil its next-generation Galaxy S10 lineup on February 20, with release to come on March 8. Big changes are said to be in store for this generation, including optional 5G support, up to six cameras (a quad setup on the back and two front shooters), and an in-display fingerprint sensor. There will be several models to choose from, including an S10E, S10, and S10 Plus.
SEE ALSO: Everything You Need to Know About Buying Refurbished Electronics
The handset could see big price drops within three months, so if you buy it right away, you might wind up kicking yourself just 90 days down the line. Even better, if you can wait until November or December, you'll likely see even bigger discounts. Last year, Amazon offered $200 off the Galaxy S9 on Black Friday and Cyber Monday, bringing the base 64GB model down to $520.
Samsung Galaxy Note 10
Release Date: Early August 2019
When to Buy: November and December
Samsung's Note phablets include the S Pen stylus and other premium features — along with premium prices. The Galaxy Note 10, code-named Da Vinci, will reportedly feature an in-display fingerprint sensor and a massive 6.66" screen, which is even larger than the iPhone XS Max's 6.5" display.
The Galaxy Note 9 was released on August 24 last year, starting at $1,000. At the end of November, it dropped to $650 on eBay, a $350 discount. Then in December, multiple carriers offered it for $699, or $300 off. So, if history repeats itself, about three to four months after the Galaxy Note 10 is released, you might find it for a few hundred off.
Google Pixel 4
Release Date: October 2019
When to Buy: December
Pixel 4 and Pixel 4 XL rumors are scant at the moment, but we're hearing that the handset will feature an edge-to-edge display and dual cameras on the rear. It'll likely run Android 10.0 Q, which should itself arrive in August. It's also plausible that it'll feature the new Qualcomm Snapdragon 855 chip, and that could mean 5G support. Storage and RAM increases are also likely.
In December, be on the lookout for big discounts on the Pixel 4.
If last year is any indication, we could see big discounts on the Pixel 4 just two months after its release. The Pixel 3 hit the market on October 18, and we can expect similar timing for this year's model. By December, less than two months after its release, Google had already dropped the price of the Pixel 3 by $200, to $599, and the XL variant to $699. That beat the Pixel 3 deals we saw on Black Friday and Cyber Monday.
OnePlus 7
Release Date: May or June 2019
When to Buy: November and December
Rumor has it the OnePlus 7 will include a Snapdragon 855 chip, and a variant of the smartphone could offer 5G support. In terms of launch timing, it could be either May or June. The OnePlus 6 arrived in May 2018, while the OnePlus 5 and OnePlus 3 made their debuts in June 2017 and 2016, respectively.
With premium features and a more affordable starting price than Samsung flagships, OnePlus phones are a great option for budget-conscious Android fans. Originally priced at $529, the OnePlus 6 dropped as low as $380 on Black Friday and $390 on Cyber Monday. Expect to see similar deals on the OnePlus 7 during the retail holidays this November and December.
Motorola Moto G7
Release Date: March to May 2019
When to Buy: Starting in October
If you're on a budget, the Moto G line is a solid option. Case renders indicate the Moto G7 will feature a teardrop notch on the display, dual cameras and a fingerprint sensor on the back, and a headphone jack. Other rumored features include USB-C charging, a 3,500 mAh battery, and Qualcomm's Snapdragon 660 processor. Expect G7 Plus and G7 Play variants as well. The Moto G7 is expected to arrive in the first half of the year.
SEE ALSO: Are Unlimited Data Plans Ever Worth It?
The Moto G6 arrived in the U.S. on May 23, 2018, with the low starting price of $250. In October 2018, five months after its release, the Moto G6 dropped to just $200 at Fry's. At press time, you could get the G6 on Motorola's website for $200. Amazon was offering the unlocked version as a Prime Exclusive phone — meaning it was only available to Prime members — for the discounted price of $200, as well.
When in Doubt, Shop Black Friday
Black Friday (which falls on November 29 this year) and Cyber Monday (December 2) will be great opportunities to score smartphone deals, especially on rarely discounted iPhones.
But with some flagship smartphones starting at $1,000 these days, it's a good idea to hold on to your current handset for as long as possible. Continuing to use your device after it's paid off saves you money every month.
Readers, what smartphone models are you most excited about this year? Are you planning to buy a new handset in 2019 or stick with your current one? Let us know in the comments below!
---