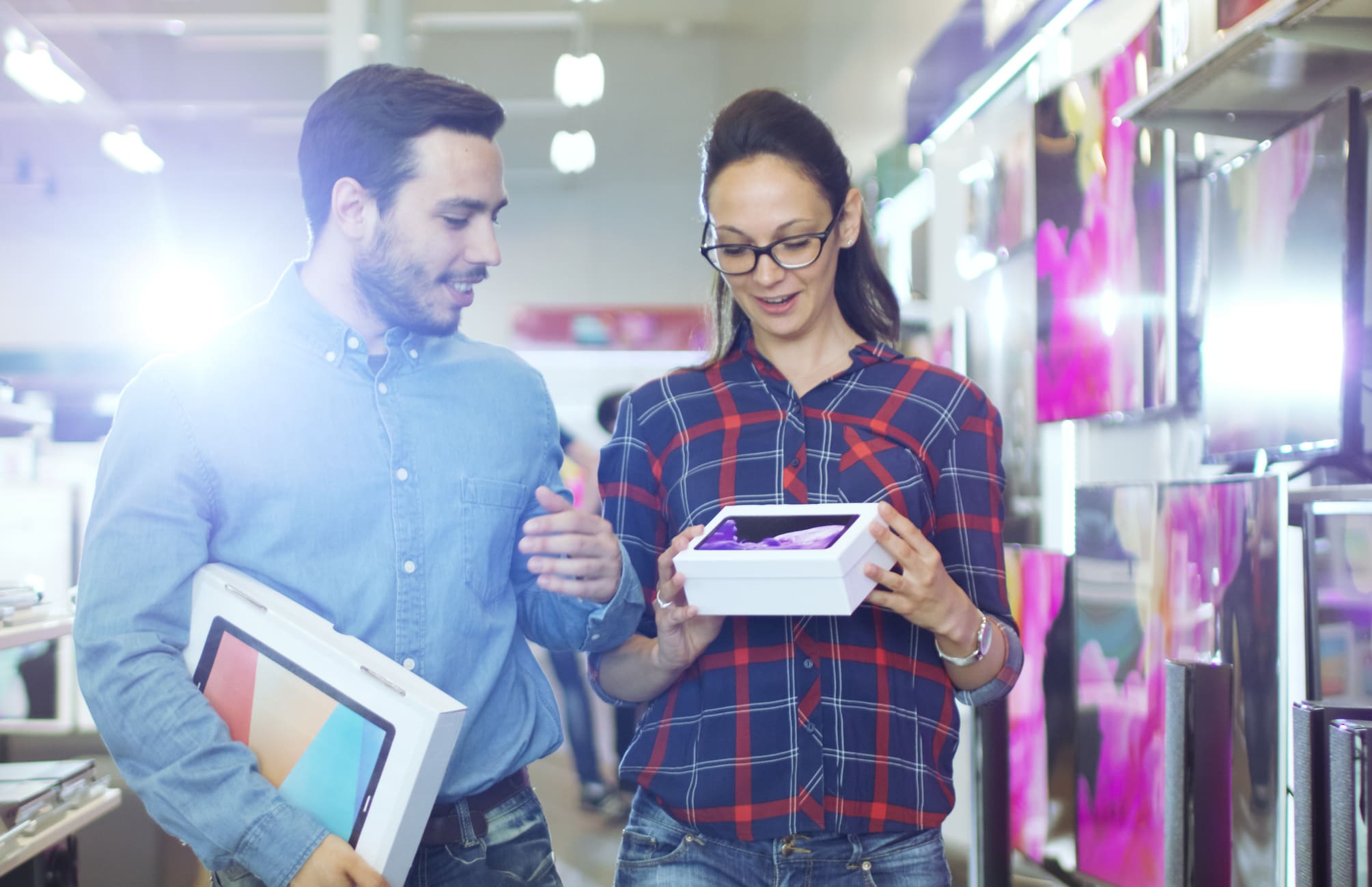 With the launch of 5G and the foldable phone fiascoes, 2019 has already been an interesting year for smartphones.
And there's still more to come. Apple is releasing three new iPhones this year, and rumors are still swirling about Samsung's Galaxy Note10 and Google's Pixel 4.
Which begs the question: When is the best time to buy a new phone? To help you plan your next handset purchase, we've put together this handy guide to all the major smartphones arriving this year. Read about the anticipated release dates, rumored specs, and the best time to buy.
The Best Time to Buy the Latest Smartphones
Apple iPhone 11, iPhone 11 Pro, and iPhone 11 Pro Max
Release Date: September 20, 2019
Best Time to Buy: November and December
Apple has finally announced its latest iPhone line! The Apple iPhone 11, iPhone 11 Pro, and iPhone 11 Pro Max have all made their debut. The company is saying goodbye to the iPhone 7, iPhone XS, and iPhone XS Max, though.
The iPhone 11 is the latest "affordable" handset from Apple, occupying the base model slot previously held by iPhone XR. The iPhone 11 starts at $699. Compare that with iPhone XR, which was introduced at $749 last year. For what it's worth, iPhone XR now sports a starting price of $599. Further, the iPhone 8 is now priced from $449.
The iPhone 11 Pro and iPhone 11 Pro Max are the new top-tier phones introduced for 2019. With starting prices of $999 and $1,099, respectively, there's no real sticker shock; these are the same starting prices we saw for the flagships last year.
All the new iPhone 11 models come with the A13 Bionic chip, which is, according to Apple, "the fastest CPU ever in a smartphone."
Now that we know the Apple iPhone XS and iPhone XS Max have been discontinued, watch for carriers to offer them as part of "buy one, get one free" deals. Additionally, we expect modest discounts on those previous-gen iPhones to pop up soon. Watch for refurbished models to be priced around $770, for instance. If you can, hold off on buying any iPhone until Black Friday. We're sure to see better deals then, especially on unlocked models.
Samsung Galaxy S10
Release Date: March 8, 2019
Best Time to Buy: November and December
Samsung unveiled its latest-generation Galaxy S10 lineup on February 20, and released the devices on March 8. The Samsung Galaxy S10 phone boasts an Infinity-O display, which features a "punch-hole" for the camera and an in-display fingerprint sensor, plus there's a triple-lens camera on the back. There are a few models to choose from, including an S10e, S10, and S10 Plus. The Samsung Galaxy S10 Plus is very similar to the S10, though it does have its own perks — and a higher price tag to go with the bigger body.
If you can wait until November or December, you'll likely see bigger discounts than any that might have appeared early on. Last year, Amazon offered $200 off the Galaxy S9 on Black Friday and Cyber Monday, bringing the base 64GB model down to $520.
Samsung Galaxy Note10
Release Date: August 23, 2019
Best Time to Buy: November and December
Samsung's Note phablets include the S Pen stylus and other premium features — along with premium prices. The latest Samsung Galaxy Note, the Galaxy Note10, will reportedly come in three variants, including the Note10, Note10 Plus, and a 5G version. It's also rumored to have an in-display fingerprint sensor and a massive 6.66" screen, which is even larger than the iPhone XS Max's 6.5" display.
It's due for an August 7 launch, "with the phone actually going on the market and available at retail stores by August 23," according to Andrew Schrage, co-owner of Money Crashers Personal Finance.
The Galaxy Note9 was released on August 24 last year, starting at $1,000. At the end of November, it dropped to $650 on eBay, a $350 discount. Then in December, multiple carriers offered it for $699, or $300 off. So, if history repeats itself, about three to four months after the Samsung Galaxy Note10 is released, you might find it for a few hundred off.
Google Pixel 3a
Release Date: May 7, 2019
Best Time to Buy: November
The Pixel 3a and 3a XL were both released earlier this year to serve as cheaper alternatives to the flagship Pixel 3 and 3 XL. A lower price means lower specs, though these are still solid phones. Both variants of the latest Google phone feature a Qualcomm Snapdragon 670 processor, 4GB RAM, and 64GB internal storage. The differences between the new Google Pixel 3a and the 3a XL are minimal, with the XL having a larger display and body, as well as a bigger battery.
Come Black Friday, we expect discounts of at least $100 on the Pixel 3a models.
Considering the 3a is already cheaper than the Google Pixel 3 — it starts at $399, while the 3a XL starts at $479 — we weren't expecting hefty discounts. We've seen prices as low as $11 per month and $14 per month for the 3a and 3a XL, respectively. But both of those offers required sign-ups on Sprint's Flex 18-month plan.
For unlocked models, July's Prime Day seemed to have the best deals thus far. Amazon offered the Google Pixel 3a XL at the full price of $479, but bundled it with a $100 gift card. Best Buy, meanwhile, has knocked up to $100 off both versions of the phone with the purchase of an unlocked model. With the release of the Pixel 4 slated for October, we expect discounts of at least $100 on the 3a models come Black Friday.
Google Pixel 4
Release Date: October 2019
Best Time to Buy: December
The Pixel 4 and Pixel 4 XL won't be out for another few months at least, but we're hearing that the handsets will feature a square camera module, and could include in-screen fingerprint sensors. They'll likely run Android 10.0 Q, which should itself arrive soon. It's also plausible that they'll feature the new Qualcomm Snapdragon 855 chip, and that could mean 5G support. Storage and RAM increases are also likely.
If last year is any indication, we could see big discounts on the Pixel 4 just two months after its release. The Pixel 3 hit the market on October 18, and we can expect similar timing for this year's model. By December, less than two months after its release, Google had already dropped the price of the Pixel 3 by $200, to $599, and the XL variant to $699. That beat the Pixel 3 deals we saw on Black Friday and Cyber Monday.
Motorola Moto G7
Release Date: February 7, 2019
Best Time to Buy: Starting in October
If you're on a budget, the Moto G line is a solid option. The Moto G7 features a teardrop notch on the display, dual cameras, and a fingerprint sensor on the back. Other features include a 3,000 mAh battery and Qualcomm's Snapdragon 632 processor.
SEE ALSO: Will Amazon Trade-In Give You a Fair Price?
The Moto G6 arrived in the U.S. on May 23, 2018, with the low starting price of $250. In October 2018, five months after its release, the Moto G6 dropped to just $200 at Fry's. At press time, you could get the G6 on Motorola's website for $160. Amazon was offering the unlocked version as a Prime Exclusive phone — meaning it was only available to Prime members — for the discounted price of $140, as well.
Foldable Phones
Release Date: Varies
Best Time to Buy: Black Friday at the earliest
Foldable phones aren't meant to be confused with the flip phones of the early '00s — rather, they're smartphones with foldable displays. There's only a couple of examples of this new technology so far, including the Samsung Galaxy Fold and the Huawei Mate X.
You might remember the scandal with the Samsung Galaxy Fold from earlier this year. Reviewers were able to test the new tech before release, and the complaints were pretty big — big enough that Samsung decided to delay the Galaxy Fold launch until September. Now, Samsung says it's worked out the issues, which include problems with the Fold's screen protector and hinge. But the damage is done, as T-Mobile won't be selling the Fold when it's rereleased.
Not only are foldable phones expensive, but the tech still has wrinkles that need ironing out.
Huawei is also planning to release its own foldable phone, the Mate X, in September. Earlier this year, Huawei was effectively banned from being sold in the U.S.; however, there's recently been talk of easing some of those restrictions. How this will affect the release and sales of the Mate X remains to be seen.
With so much uncertainty, should you even consider grabbing one of these devices? "Foldable phones seem to be all the rage right now, but that doesn't necessarily mean that you should go out and buy one," Schrage says.
In addition to these phones being expensive — the Fold is priced at just under $2,000 and the Mate X is expected to start around $2,500 — the tech still has wrinkles that need ironing out. As Schrage points out, there are a lot of unknowns with these phones: "If the phone breaks down, what will the repair cost be? Remember, it's basically brand-new technology. Also, the reliability of these types of phones have yet to even be tested, so there's another risk."
And if you're set on having one right away? Schrage says not to count on discounts. "It's unlikely that you'll see deals on foldable phones at all; however, you might see some minor discounts during the pre-order stage." If you're going to jump on board now, he recommends waiting until November. "Black Friday is just around the corner so there very well could be some discounts available, although that is hard to predict."
When in Doubt, Get a New Phone on Black Friday
Black Friday (which falls on November 29 this year) and Cyber Monday (December 2) will be great opportunities to score smartphone deals, especially on rarely discounted iPhones. As Schrage notes, "Black Friday can always potentially be the best time to buy a smartphone or really any other electronic device, but it's certainly not across the board as retailers will often choose one or two phones to promote that are new to the market." Fortunately, it seems the latest iPhone tends to fall in that category.
SEE ALSO: Get the Best Discounts Every Month in 2019!
But with some flagship smartphones starting at $1,000 these days, it's a good idea to hold on to your current handset for as long as possible. Continuing to use your device after it's paid off saves you money every month.
Readers, what smartphone models are you most excited about this year? Are you planning to buy a new handset in 2019 or stick with your current one? Let us know in the comments below!
---