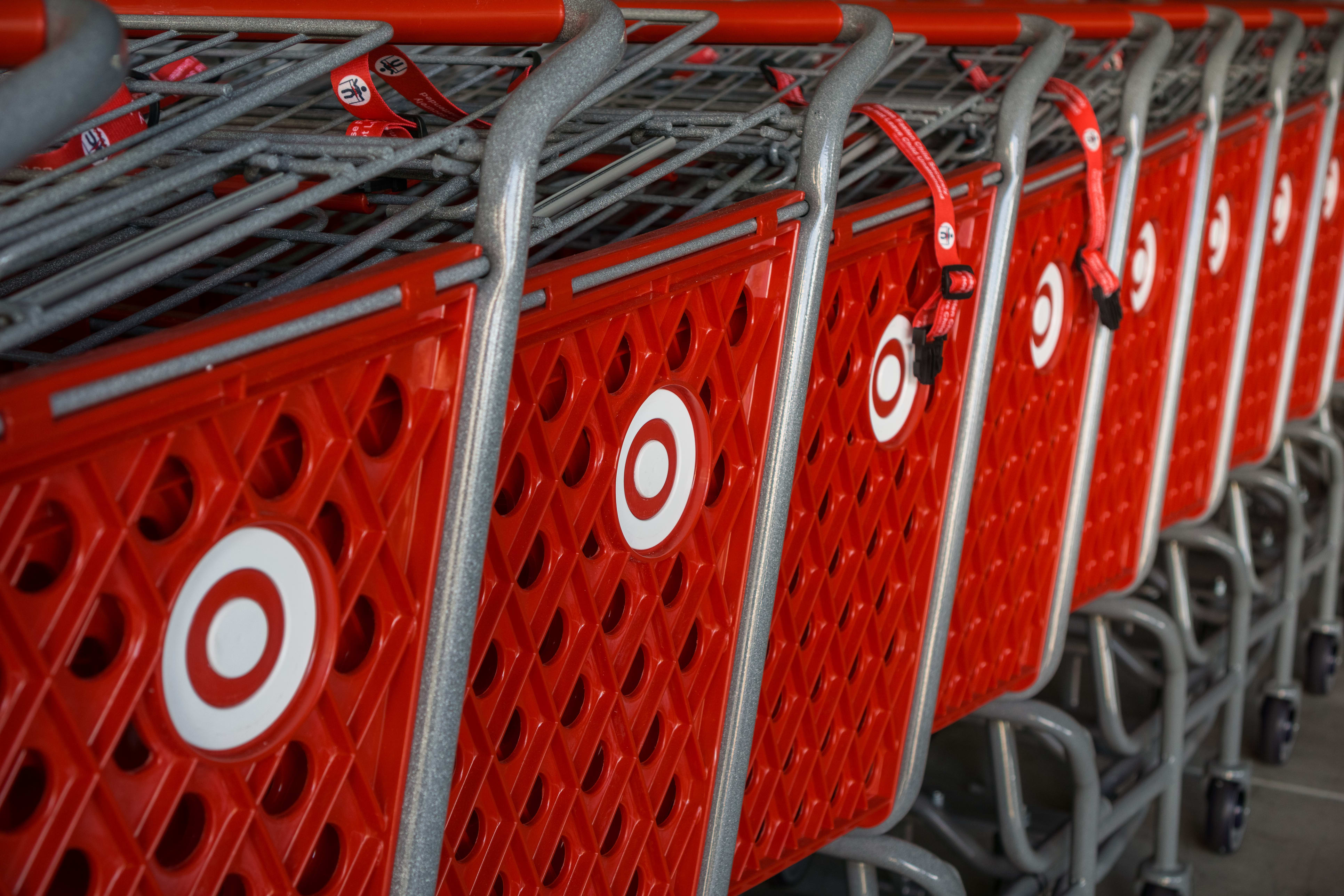 There's a number of reasons why Target has such a devoted following of shoppers. In addition to lots of weekly deals, the retailer also boasts a bevy of in-house brands, such as Good & Gather. And of course there's the Dollar Spot, which is a perfect place to snag seasonal items.
As great as the bull's-eye retailer can be, it's important to make sure you're getting the most benefits you can when shopping there. Below we've highlighted five Target hacks and shopping tips to help you shop like a pro, but be sure to check out our other Target guides, as well. You'll find the top categories to shop, why you should buy bedding at Target, and more.
5 Tips for Shopping at Target
1. Join Target Circle
Target Circle is the retailer's loyalty program, and it's a must for any regular bull's-eye shopper. You'll earn 1% when you shop at the store — you can redeem that amount at a future date — plus you get the opportunity to shop special deals every week. Additionally, Target will have special offers designed just for you and your shopping habits. You'll also receive a birthday gift in the form of 5% off a shopping trip.
2. Download the Target App
Another way to get more out of your Target experience is to download the app. Not only can you access your Target Circle offers when you sign in there, but you can also set up payment within the app and scan it at checkout, rather than having to worry about pulling out another card. Additionally, the app tells you about special Target online deals going on, and provides a simple way to browse the latest store ad.
The Target app will tell you if items are in stock at your preferred store, and in what aisle you can find them.
Perhaps one of the best features of the app is that when you set your preferred store, the app will tell you if items are in stock and in what aisle you can find them — no more roaming around blindly trying to track something down!
3. Stock Up at the Right Times
Every week, Target has a few offers that let you earn an extra perk for stocking up on certain items. For instance, at the time of this writing, shoppers could score a $5 gift card when they purchased $20 worth of select beauty and personal care items.
As long as you need the products and are planning to stock up anyway, why not take advantage when this type of perk is available? It's not always related to practical items either — we also saw an offer for a $10 gift card with a $50 purchase of LEGO building sets at the time of this writing.
4. Use Pickup Services
Target offers a couple of methods of pickup, including in-store and drive-up services. With in-store pickup, you simply shop online at Target and place your order, and you'll receive a notification when it's ready to be picked up. Then you can head to your preferred store's service desk and grab your items.
SHOPPING NOW? Check out all the current Target deals!
Even better (in this writer's opinion) is the Drive Up option, which is Target's version of curbside pickup. You'll definitely need the app in this case, but once again, you do your Target shopping online and place your order, select Drive Up, and then wait for the notification that your order is ready. Once it is, you can use the app to let the store know you're on your way.
When you arrive, you'll be able to to let the store know you're there via the app, as well as provide details about your vehicle (style, color) so that the associate knows what to look for. A code will pop up on your screen that you'll have to show the associate, so they know they're delivering to the correct car. But the good news is you don't even have to lower your window — Target has made the process completely contactless. Once the associate confirms the code is right, they'll place your items in the backseat or trunk of your car, and that's it!
5. Buy With Your RedCard
Target's store card, called the RedCard, is a helpful bonus for any frequent bull's-eye shopper. You can opt to apply for credit or debit, and the differences between the two types of cards are minor. Either way, using the RedCard means you get 5% off purchases in-store and when doing your Target.com shopping, enjoy no annual fee, earn free 2-day shipping on thousands of items, and score more return time for purchases. You'll also receive access to RedCard exclusive extras, including special gifts, items, and offers. You could also earn early access to sales just by being a RedCard holder!
You'll get 5% off purchases in-store and online when you use your Target RedCard.
The only differences between the credit and debit options are that the latter will be linked to your existing checking account, and you'll also be able to withdraw up to $40 cash at checkout.

Whether your kids need uniforms or can wear whatever they want to school, Target has you covered with its in-house brands. They have styles to suit every kid's taste, at prices that are hard to beat. Our guide features
helpful info on shopping Target kidswear
, including these brands:
Cat & Jack


Art Class


More than Magic
Target has a number of in-house kidswear brands, which offer clothes made for toddlers through tweens.

Back to School season can be stressful for parents and kids. But Target can make it easier, thanks to its extensive selection of
school supplies
.
Check out our guide to
the best Target school supplies to buy
, whether you do your shopping long before the sales begin or during Target's Back to School 2021 event.
SHOPPING NOW?
Check out all the current Target deals!

Once you furnish your backyard with comfy
patio furniture
, you can spend long hours outside relaxing and entertaining. Plus, adding other items lets you round out your oasis and create a laid-back atmosphere you can enjoy year-round. You don't want to have to spend a fortune outfitting this space, though, and that's where Target comes in. Our guide offers
tips for shopping all kinds of backyard items
, including:
Patio furniture and fire pits


Grills


Gardening supplies
You don't want to have to spend a fortune on your outdoor space, and that's where Target comes in.

If you aren't visiting the electronics section at your local Target store, you might be missing out. That's especially the case if you're a regular user of
Apple products
.
Whether you'd like to get a new iPhone from Target, an iPad, or an Apple Watch, check out our guide on
how to shop Apple at Target
. We go over the kinds of items you can find, the deals you can expect, and the best time of year to buy these products.
SHOPPING NOW?
Check out all the current Target deals!

It's easy to stop by Target for one or two things, then end up leaving with a cartful of items. With affordable prices, exclusive brands, and nearly anything you might need, the bull's-eye retailer is an easy 1-stop shop. But while it can be tempting to stock up on everything, there are some
items you absolutely shouldn't miss
. Our guide goes over these must-haves, including:
Online health and beauty brands


Good & Gather food


Dollar Spot items
Target already has excellent prices on bedding — prices that get even better when sales roll around.

Bedding is another item to land on our list of must-buy products at Target. It's because the retailer offers such a huge variety of sizes, patterns, materials, and colors.
While waiting for
white sales
in January can be a good way to find discounted bedding, Target is always a good bet. The bull's-eye retailer already has
excellent prices on bedding
— prices that get even better when Target online sales roll around. Check out our guide to learn more.
SHOPPING NOW?
Check out all the current Target deals!

Seasonal decorations
are always worth checking out at Target. And the store makes it easy, separating items both in-store and online into their own category. We usually recommend waiting until after the holiday to buy Christmas decorations, but if you shop at Target, you can stock up earlier. Check out
when Christmas decorations go on sale at Target
to see the best prices and kinds of items you can expect, including:
Prelit trees


Lights


Ornament kits