Should You Buy a Crib Mattress Pad?
They can help to protect against stains, but may not be safe for all babies.
Preparing for a new baby can be overwhelming, especially if it's your first. You likely have a checklist of things to buy, and won't think of others until the need for them actually arises. But one thing to make sure you consider early on is whether or not you want to buy a crib mattress pad.
Guidance can be split on these items, with some people stating that newborn babies should only have the bare minimum in their crib. But what about when your baby grows older? If you're thinking of buying a crib mattress pad but aren't sure where to begin, check out our guide below.
Should You Buy a Crib Mattress Pad?
It's important to note that crib mattress pads may go by several names. They can be called crib mattress protectors, crib mattress covers, crib mattress toppers, or a similar name. For simplicity's sake, we'll refer to them here as crib mattress pads.
Are Crib Mattress Pads Safe?
The guidance we found recommends that cribs for infants be equipped with only a firm mattress and tight sheet. It also states that plastic mattress pads should not be used at all, as they pose a risk of suffocation.
SEE ALSO: The Top 5 Best Mattresses for Babies
Some companies that sell mattress pads even advise against them in certain circumstances. For instance, Newton Baby mattresses are sometimes sold with crib mattress pads as part of a bundle. However, the company recommends that parents not use mattress pads for a baby's first 12 months.
So what does that mean? When in doubt, ask your pediatrician about whether or not it's safe or appropriate to use a crib mattress pad.
What Are Crib Pads Used For?
Crib mattress pads are typically just a protector for the mattress, as well as the crib itself. They usually help ensure that any messes that happen are easily cleaned up, so they're especially useful when your child reaches potty training age.
Crib mattress pads help ensure that any messes that happen can be easily cleaned up.
In addition to protecting the mattress, crib mattress pads can create a more sanitary space. You can remove and wash them, which means messes can be cleaned up, rather than staining the mattress itself. And because you can remove crib mattress pads, cleaning is more convenient.
How Much Do Crib Mattress Pads Cost?
Prices vary based on brand and features, but in general, you can expect crib mattress pads to start around $15 or $16. However, stores like Target may offer them for as little as $12. And on the other end of the spectrum, you can find some for as much as $69 — if not even more. In fact, with some brands you can expect crib mattress pads to cost over $100.
To Buy or Not to Buy
If you're still on the fence about whether or not you should buy a crib mattress pad, we have a few things for you to consider.
SEE ALSO: 10 Sam's Club Items New Parents Need to Buy
You should buy a crib mattress pad if:
Your baby is older than a newborn
You're worried about stains on the mattress
Your pediatrician has okayed it
You should not buy a crib mattress pad if:
Your baby is a newborn and your pediatrician has advised against it
You're unable to find one that fits properly
What to Look for in a Crib Mattress Pad
If you've decided to shop for a crib mattress pad, keep the following things in mind.
The crib mattress pad should be waterproof. This is the entire purpose of a crib mattress pad, so if you don't buy one with this feature, it's kind of a waste. After all, these products are meant to protect mattresses from stains. The best way to do that is by ensuring nothing seeps through them in the first place.
Stores like Target may offer crib pads for as little as $12, but expect most to be closer to $20 and for some to cost over $100.
It should be firm and thin. Skip the plush pad, as it won't be safe for a newborn and could pose a suffocation risk. You may think a crib mattress feels uncomfortable — and to adults it probably is — but it's just what babies need.
It should be tight-fitting. There should be no risk of the crib mattress pad coming off, as that happening could cause your baby to become tangled and result in further dangers, as well. If a design like a fitted sheet will cause you to worry, consider buying one that's zippered; it should still be easy to put on and remove, but won't come loose randomly.
Ready to shop for new baby items? Check out all the best baby deals available right now!
---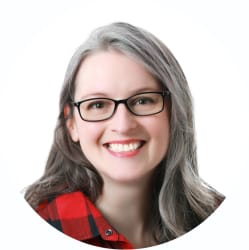 Senior Staff Writer/Consumer Analyst
Julie's work has been featured on CNBC, GoBankingRates, Kiplinger, Marketwatch, Money, The New York Times, Real Simple, US News, WaPo, WSJ, Yahoo!, and more. She's extolled the virtues of DealNews in interviews with Cheddar TV, GMA, various podcasts, and affiliates across the United States, plus one in Canada.
DealNews may be compensated by companies mentioned in this article. Please note that, although prices sometimes fluctuate or expire unexpectedly, all products and deals mentioned in this feature were available at the lowest total price we could find at the time of publication (unless otherwise specified).