Saturday (May 16) is National Barbecue Day, so we've rounded up five of the hottest (hoho!) barbecue deals from the last week. They include a huge, wide-ranging set of discounts at Walmart, as well as a couple of smokers for those who enjoy a flavorful meat.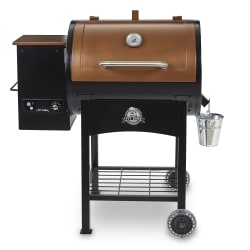 Grill discounts
Store: Walmart
Discount: Yup
Shipping:

$5.99 s&h,

or free shipping w/ $35

This is a one-stop shop for your next cook-out – discounts on grills, utensils and accessories, seating, tables, umbrellas, dinnerware, lighting, and even pest control (to keep that one unpopular neighbor away). My favorite items are the turkey fryers, which look incredibly dumpy, but will tear your face off with scalding oil if you so much as breathe incorrectly near it.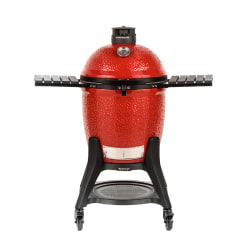 Kamado Joe Grills
Store: Atlanta Grill Company
Discount: Up to $500 off EXPIRED
Shipping: Free shipping
Expiration: May 26

Kamado Joe sounds like what a local low-budget independent wrestling company would call the guy trying to do a rip-off Samoa Joe gimmick, but instead it's a grill brand, and one on which you can save a lot of money right now. Each of the grills in this sale has a unique coupon code on its product page, which takes up to $500 off their not insignificant prices. Is Kamado Joe an actual person? We don't know. Did he name the grills after himself just so he'd have an excuse to make people spend thousands of dollars on things called "Kamado Joe Joe Jr." and "Big Joe"? It seems likely.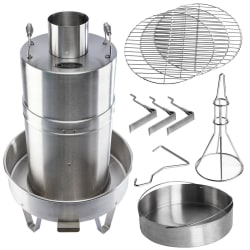 Orion Cooker Outdoor Convection Barbecue Smoker
Store: Home Depot
Price:

$193.79


Shipping:

Free shipping


Lowest By: $5

It's hard to explain exactly why smoked meat tastes so good – "mmm, tastes like hot dangerous combustion" – but dang it, it tastes so good. Add the satisfaction of doing it yourself to your next smoked meat extravaganza, whether it be a big ol' prime rib or a juicy ham (and then invite me around to your house to eat it, because c'mon, it was basically my idea), with this barbecue smoker. It looks vaguely like an alien sculptor was told what a candle looked like, then asked to recreate it in with sheet metal, but I choose to find that charming.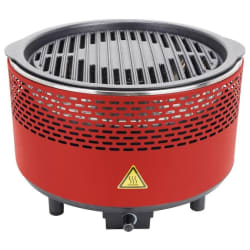 Brentwood BBF-21R Non-Stick Smokeless Portable BBQ
Store: Lowe's
Price:

$75.95


Shipping:

Free shipping


Lowest By: $14

We're aware that not everyone has a BBQ-friendly garden, and even if you do, not every cook-out will be in those comfortable confines. For BBQ fun of a more feasible, flexible size, this Brentwood portable BBQ should fit the bill. Despite its diminutive stature, it still boasts a 78.5 sq-in. cooking surface, and features a battery-operated temperature control fan.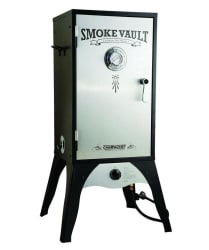 Camp Chef Smoke Vault 18" Propane Smoker
Store: Home Depot
Price:

$175.95


Shipping:

Free shipping


Lowest By: $95

Call this The Son of the Mask, because it's even more Smokin'. (But this probably has a higher Rotten Tomatoes than the Son of the Mask's 6%, despite not actually being a movie.) This smoker is almost $100 cheaper at Home Depot than you'd find elsewhere, and it features two adjustable smoking racks, a jerky smoking rack, removable water pan, removable porcelain base tray, three adjustable damper valves, door thermometer, and matchless snap-ignition.