When Do Grills Go On Sale?
Grill deals are available every month, but which ones are actually worth shopping?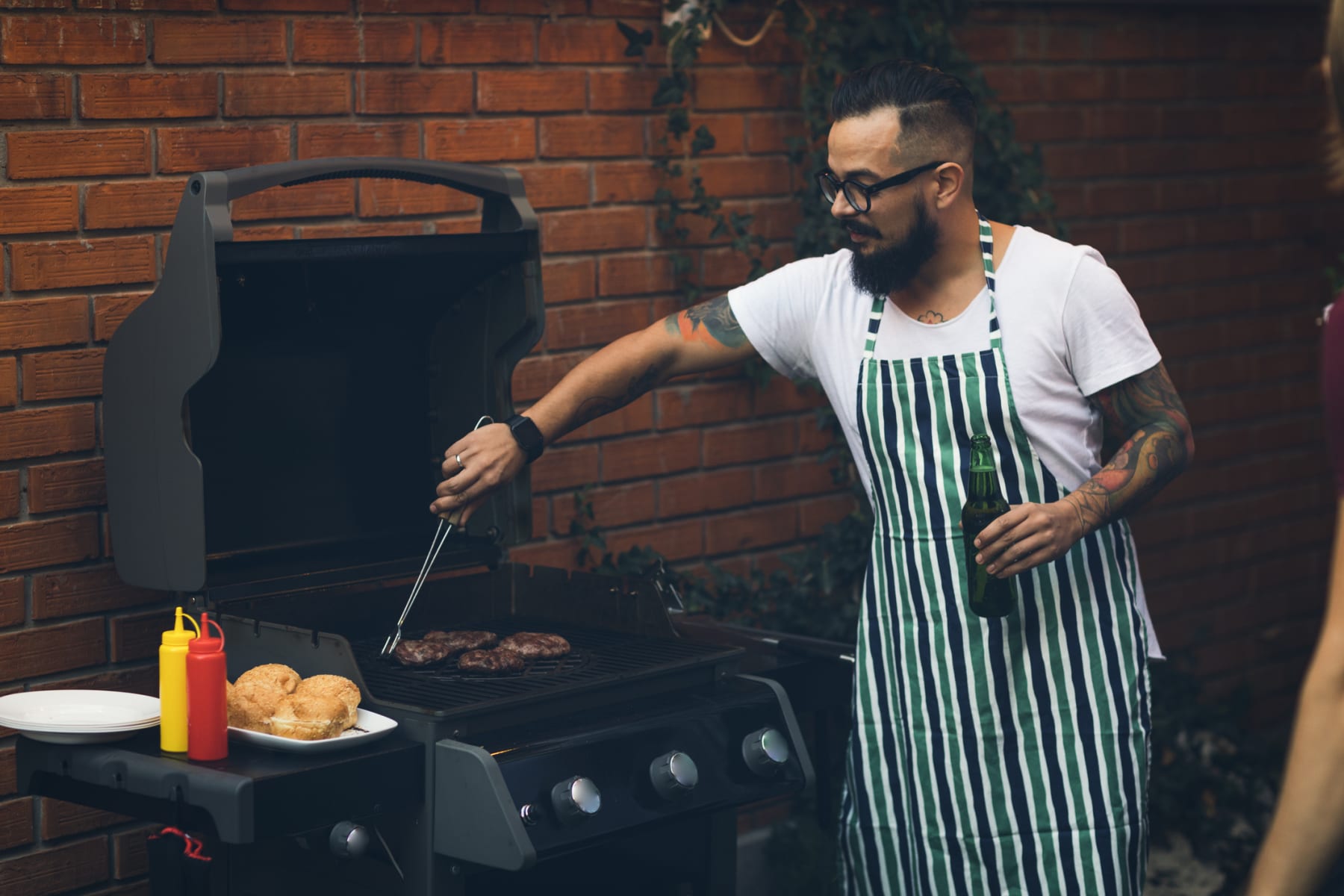 When temperatures start to rise for the summer, it's a solid sign that grilling season is finally here. But because the activity is so popular during that time, grills and grilling accessories are in high demand — and that can mean a lack of notable savings.
That doesn't mean summer is barren of grill deals, though. Often sales around Memorial Day and Father's Day have discounts, though they might not be noteworthy. And any excellent discounts around these holidays may apply to a smaller selection of products, rather than a full range of items. Fall is usually when more standout deals come into play.
Check out our full breakdown below on the best time to buy a grill, as well as tips for purchasing these big-ticket items.
When Do Grills Go On Sale?
We generally see some grill deals every month of the year. The downside is that there isn't always a huge selection to choose from, and the discounts may not be noteworthy. Still, saving something is better than saving nothing. So if you're in the market for a new grill and can't wait, then you may be able to find one to suit your needs.
But certain months of the year tend to have more and/or better grill deals than others. We give a rundown of those times in our infographic, then go into more detail below.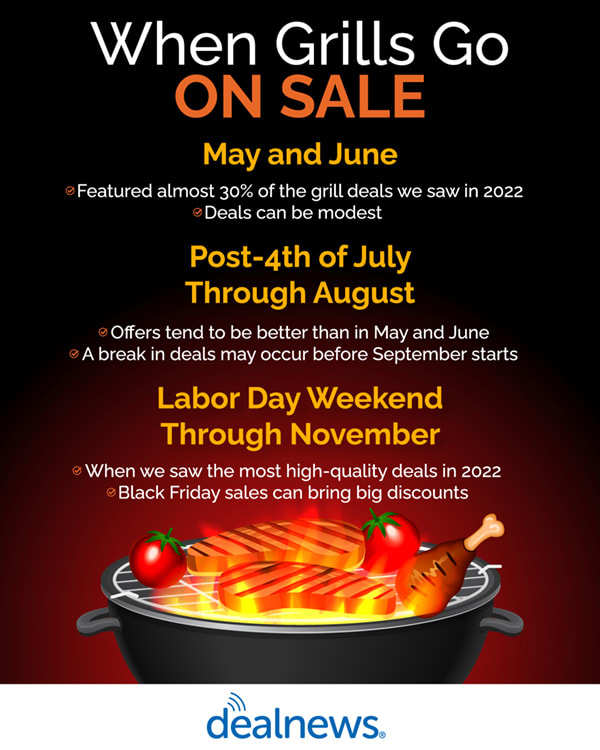 May and June Can Have Modest Deals
In 2022, we listed the most grill deals in May and June — 15.3% and 13.9% of the total for the year, respectively. But in October and November we listed more Staff Pick offers, which are the "best of the best" deals we see. In general, grill deals in May and June are more modest compared to what typically pops up later. The selection of discounted models can be smaller, too.
Post-4th of July Brings Better Offers
If you aren't in a hurry, you're better off waiting until right after the 4th of July to start your grill shopping. After Independence Day is when the demand for grills begins to decrease, so the offers are better than the ones available in May or June. If you're looking to shop during this time, know that we expect the sale period to run through at least part of August, with a brief break in deals before September begins.
SEE ALSO: What's the Best Time to Buy Power Tools?
Labor Day Weekend Through November Boasts Big Discounts
After the post-Independence Day sale period, the next time to expect discounts is during Labor Day weekend. Even better, this period of deals can be significantly longer, as the demand for grills is basically gone. That means Labor Day weekend kicks off the grill sales, but you can expect plenty of savings on tap through October and November. Because grilling season is mostly over by then, you can count on deep discounts during Black Friday sales, as well.
When Is the Best Time to Buy a Grill?
We start to see better-quality grill deals from September through November, when colder weather is looming. During that time in 2022, we saw a vertical charcoal smoker for just $51, gas griddles for as little as $73, and even propane turkey fryers for only $80 on Amazon. Essentially, if you're looking for one time of year to worry about buying a grill, it's best to start looking in August. But be prepared to shop no later than November.
Be prepared to shop no earlier than August and no later than November for new grills.
So even though retailers may offer a variety of grill deals throughout the year, that doesn't mean you should shop them at any time. As we've already noted, even during months like May and June when we may see more offers, that doesn't mean all — or even any — of them are worth adding to your cart.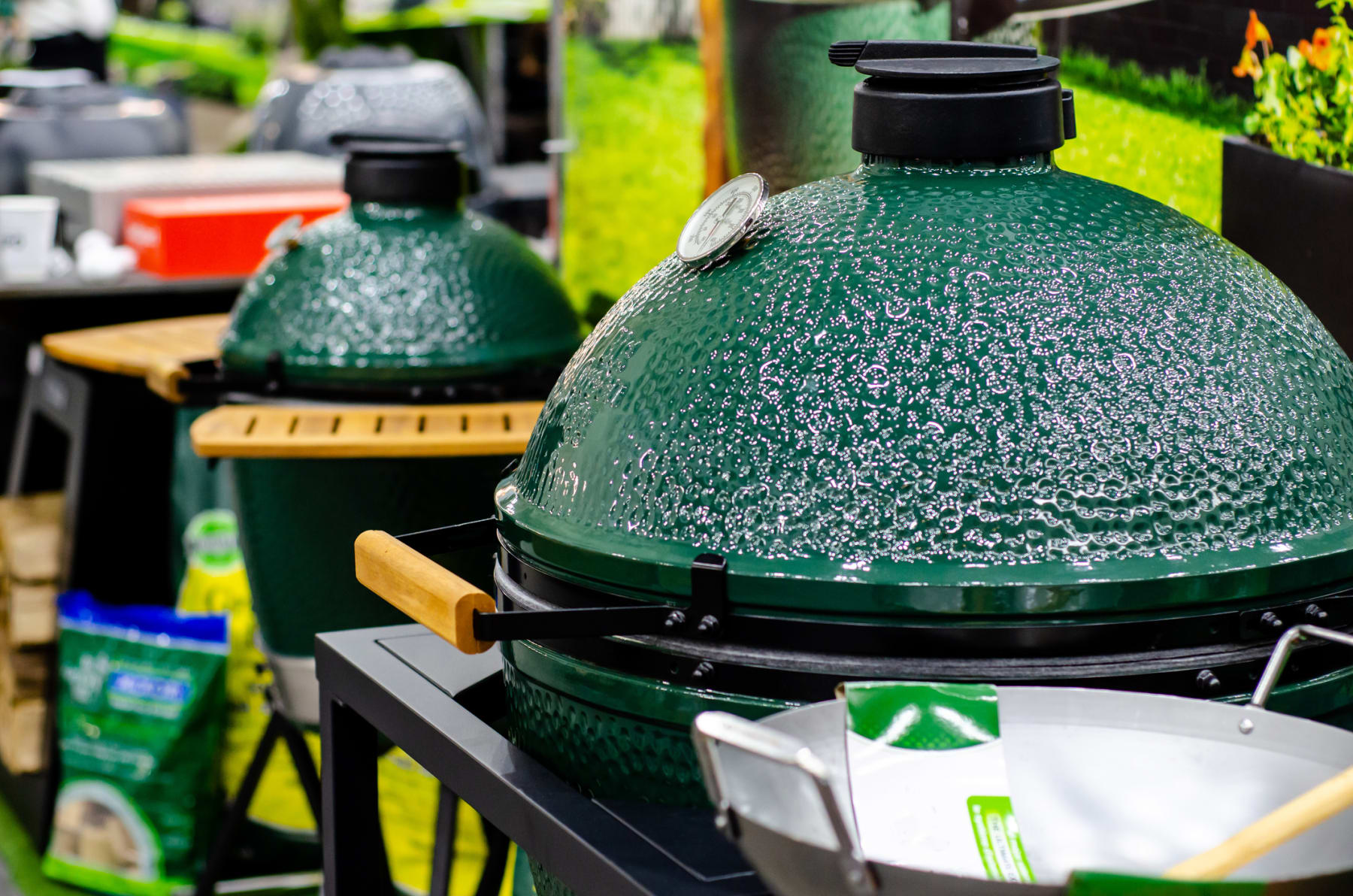 Grill Buying FAQ
Are Gas or Charcoal Grills Better?
Grilling enthusiasts seem to fall into one of two camps: either charcoal is the way to go or propane reigns supreme. But it really comes down to personal preference. Besides fuel costs and tastes imparted on your food when grilling, consider features like the following:
Size
Portability
Capability
And of course, you'll want to consider size. In general, charcoal rigs tend to be lighter, as they're basically simple vessels you have to fill with your fuel of choice, whereas gas grills are often heavier. The gas canisters add weight to an already heavy piece of equipment and also need refilling, so that's another parameter to consider when deciding on charcoal or gas. That said, plenty of portable cookers are available these days. So whatever method you prefer, there's likely a model to fit your needs and budget.
What Size Grill Should You Buy?
Regardless of the type of fuel you prefer, you're going to want to buy a Goldilocks grill — that is, one that's just right for your needs. A good rule of thumb is to get 72 square inches of cooking space for every person you'll be grilling for. That equates to 216 square inches for three people, 288 square inches for four, 360 square inches for five, and 432 square inches for six.
SEE ALSO: How to Shop Target Lawn Games for More Outdoor Fun
If you're cooking for more than six people, you can find grills to serve your needs. Just check the specs for cooking surface area and do the math to make sure you have the necessary space. Remember that it doesn't have to be on the main level either. Some newer models of grills offer a second tier that can be good for cooking items that don't need to be as close to the flame, and can offer a little extra room to multitask.
How Much Are Grills?
The prices of grills and smokers vary based on elements like size, brand, and fuel source. The retailer is a factor, too, as some have better sales than others. But overall, the prices of grills can be as little as $8 for a 12" tabletop charcoal setup, which is great for people that may not use their grill often or need it to be portable.
At the other end of the range, you can expect to spend more than $1,000 on some grill models. For example, one of our Staff Pick offers last year was a Kamado Joe Big Joe II 24" charcoal grill costing $1,599. That's a high price, but it was a premium model that also came with a cart and side shelves.
Check out the average lowest price we saw for each category below, as well as the overall lowest price we found in 2022. That should give you an idea of what to budget for on the lower end when you're shopping for a new cooker for barbecues.
| Type of Grill | Average Lowest Price in 2022 | Lowest Price in 2022 |
| --- | --- | --- |
| Charcoal | $52 | $8 |
| Gas | $98 | $37 |
| Smoker | $165 | $30 |
Can't wait to shop? We found some of the best grill deals available right now!
---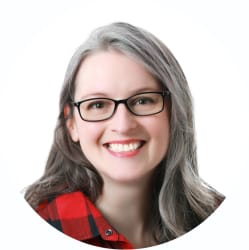 Senior Staff Writer/Consumer Analyst
Julie's work has been featured on CNBC, GoBankingRates, Kiplinger, Marketwatch, Money, The New York Times, Real Simple, US News, WaPo, WSJ, Yahoo!, and more. She's extolled the virtues of DealNews in interviews with Cheddar TV, GMA, various podcasts, and affiliates across the United States, plus one in Canada.
DealNews may be compensated by companies mentioned in this article. Please note that, although prices sometimes fluctuate or expire unexpectedly, all products and deals mentioned in this feature were available at the lowest total price we could find at the time of publication (unless otherwise specified).