7 Things NOT to Do When Planning a Trip
Don't skip the travel insurance, pack too much, or get overzealous with your itinerary.
With vaccinations on the rise and pandemic restrictions lifting in many areas, plenty of people are excited to travel again. However, one of the problems with traveling now is that the industry is trying to recover, and deals can be few and far between.
That can mean planning a trip is pricier now than it would've been a few years ago. But if you have to pay full price for expenses like airfare and lodging, then it's important to save money where you can. Check out our guide below for what not to do when you plan your travel to keep from overspending.
7 Things NOT to Do When Planning a Trip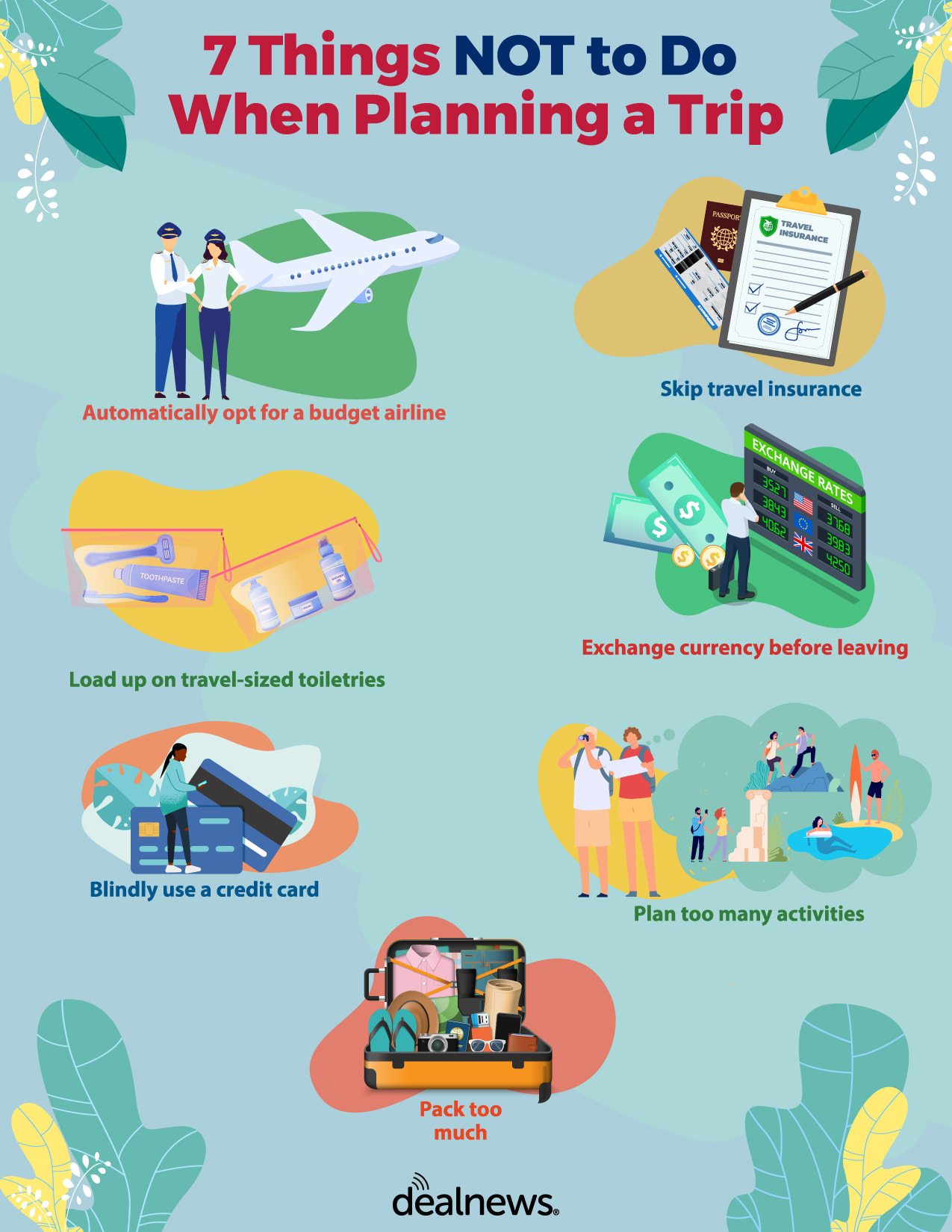 1. Don't Opt for Budget Airlines Automatically
That budget plane ticket may look great at $49 for a 1-way flight, but low-cost airlines advertise those fares because they charge you for everything else. When all is said and done, you could easily end up spending hundreds of dollars on so-called "budget" air travel. Often these companies make you pay for a carry-on, but you can also run into charges for refreshments on board, checked bags, and more. Basically, if they can charge you for something, there's a good chance they'll do so.
2. Don't Skip the Insurance When You Plan Your Trip
Now more than ever, it's important to at least consider travel insurance. While the odds of a trip being canceled due to COVID-19 might not be as high as they were a couple of years ago, that doesn't mean travel will always go off without a hitch.
Travel insurance can help cover costs if your trip is delayed or canceled, there's a medical emergency, or your baggage gets lost.
Yes, travel insurance will add to your vacation expenses. At the same time, it can actually save you from overspending if an unforeseen event happens. For instance, travel insurance can help cover costs if your trip is delayed or canceled, there's a medical emergency, or even if your baggage gets lost.
3. Don't Buy a Bunch of Travel-Sized Toiletries
Travel-sized toiletries are cute and convenient, sure, but they're often more expensive per ounce than their full-sized counterparts. Your best bet is to buy a toiletry set that's approved by the Transportation Security Administration and fill it with the items you need.
SEE ALSO: 5 Reasons Why You Should Still Be Using Groupon
You can purchase a set with clear bottles and a bag to keep them in for less than $10, then just fill them with your favorite products at home. Be sure to label the bottles if they look similar, in order to prevent getting them mixed up once you've arrived at your destination.
Pro tip: Buy two of these toiletry sets, then pack one in your carry-on and the other in your checked baggage, if you'll be using both. That way, if your checked bag is lost, you're covered by your carry-on. But even if your bag arrives without issue, doubling up means you have another round of toiletries if you're taking a longer vacation; then you don't have to worry about buying more while you're away to replenish your supplies.
4. Don't Exchange Currency Before Leaving
Planning a trip outside of the country? You may find better rates by exchanging currency once you reach your international destination. While you may be able to get a good rate in the U.S. by going to your local bank branch, it's best to get enough cash to carry until you get to where you're going; then you can exchange more at a kiosk there. The big thing to avoid is airport exchange kiosks, as they have notoriously terrible rates, and you'll likely end up spending far more than you have to.
5. Don't Blindly Use a Credit Card
Before heading overseas, be sure to read the agreement for your credit card of choice. You'll need to know if you'll be subjected to extra fees for using the card in a foreign country. If so, you may want to consider alternate forms of payment.
Alert your credit card company before taking a trip to prevent card freezes.
In addition to knowing the fine print, if you'll be using a credit card on your trip — whether domestic or international — it's important to alert your credit card company. That way when transactions start coming in from unfamiliar areas, the company won't freeze your card in an effort to prevent what they may think is fraud.
6. Don't Plan an Overzealous Itinerary
It's easy to feel excited about a trip, whether it's a weekend getaway or an epic international vacation. But that excitement can get you into trouble. If you plan too far ahead, you could end up signing up for way more activities than you'll have energy for, which means spending more than you have to. Plus, you may not even enjoy everything if you're feeling stretched too thin.
7. Don't Pack Too Much
Being smart about packing is important, regardless of where you're headed. There's being prepared and then there's being overprepared. Rather than pack for every possible circumstance, pack what you know you'll need, and try to include clothes you can wear multiple times.
SEE ALSO: 25 Pro Tips for Getting the Most Out of DealNews
The biggest reason to avoid overpacking is that it'll cost you when you check your baggage, as you'll have to pay if your luggage weighs over a certain amount. Carry-ons can be an issue, too. With some airlines becoming more stringent toward this type of luggage, you may end up needing to check what you thought was a carry-on bag. Then, if it gets lost on the way to your destination, you'll likely have to purchase toiletries and clothing to potentially get by until the airline finds your luggage. That could turn into a pricey hassle!
Ready to plan your trip? Check out the best travel deals available now!
---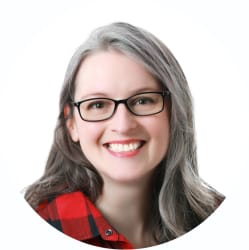 Senior Staff Writer/Consumer Analyst
Julie's work has been featured on CNBC, GoBankingRates, Kiplinger, Marketwatch, Money, The New York Times, Real Simple, US News, WaPo, WSJ, Yahoo!, and more. She's extolled the virtues of DealNews in interviews with Cheddar TV, GMA, various podcasts, and affiliates across the United States, plus one in Canada.
DealNews may be compensated by companies mentioned in this article. Please note that, although prices sometimes fluctuate or expire unexpectedly, all products and deals mentioned in this feature were available at the lowest total price we could find at the time of publication (unless otherwise specified).