12 American Snacks in Unbelievable Flavors You Can Only Find in Japan
Wasabi Kit Kats, tuna salad Doritos, and cherry blossom Fraps are just a few of the twists on American snacks you can find in Japan.
Wasabi Kit Kats? Tuna Mayonnaise Doritos? Cucumber Pepsi? No, these aren't the results of manatee idea balls (we think). These Franken-snacks actually exist (or have existed) for public consumption in Japan. Although other countries in Asia, like Taiwan, have their own interpretations of Western-style snack foods, the de facto world capital of odd flavors is considered to be the Land of the Rising Sun.
But what's the deal with Japan's fascination with novelty, especially when it comes to food? As TIME explains, the Japanese economy is fueled by innovation — something that's apparent in its contributions to technology. On the other hand, Japanese tastes are very fickle, which leads to companies testing the limits when it comes to introducing new and unusual treats to the market. Sometimes, these odd flavors stick around or become an annual tradition; often, they vanish, only to live on in the "craziest snack food" lists that populate the Internet. (Hey...just like this one!)
Below, we've rounded up an assortment of familiar Western-style foods with a Japanese twist. They'll either have you scratching your head in bemusement or wondering how you can procure these goodies for yourself. (Unfortunately, several of these items may have been discontinued.)
Kit Kat
Kit Kats are a popular treat among the Japanese, mainly because the name of the snack translates to a variation of "good luck" in their native tongue. Unlike here in the States, the choice of Kit Kat flavors extends well beyond plain ol' chocolate. Behold some of Japan's more unorthodox Kit Kat offerings:
What is this? Wasabi Kit Kat
Isn't wasabi the green stuff that accompanies sushi? Yes
What's it taste like? This one I've personally tried. It's not spicy, but rather refreshing, almost minty. I brought several packs home from Japan for friends and family to try; most of them were pleasantly surprised by the flavor.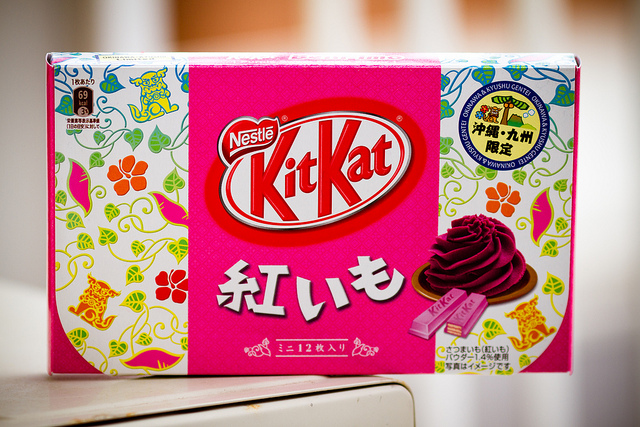 What is this? Beni-Imo Kit Kat
What is that in English? Purple Sweet Potato Kit Kat
What's it taste like? According to Mike Fahey of Kotaku, his tasting notes were as follows: "Too sweet. Lingers far too long. Must drink to cleanse palate. WILL NOT GO AWAY."
What is this? Petit Cheese Kit Kat

Is this still considered candy? I suppose so?!
What's it taste like? Per Oyatsu Break: "The cheese taste is a little milder than you're expecting, but the scent of it is still incredibly strong." Despite the smell, says the review, the primary flavor is that of a sweet white chocolate.
Doritos
Another American-born snack food that the Japanese enjoy is Doritos. Much like Kit Kats, these corn chips have been flavored in ways that no one stateside could have ever imagined. Of particular interest is the Gourmet Doritos (?) line, which has produced these fine variations:
What is this? Tuna Mayonnaise Doritos
Did you PhotoShop this? Even if I had the skills, why?
What's it taste like? As intimidating as it may seem at first, unbrave girl says it's nothing out of the ordinary: "...aside from a slight mayonnaise-y aftertaste, they tasted pretty much like your ordinary corn chips. I couldn't even taste the tuna flavor at all."
What is this? Wasabi Mayonnaise Doritos
Mayonnaise again? Is mayo a thing in Japan? You could say that
What's it taste like? This video review from J-List shows that while they look like your ordinary corn chips, they also pack a bit of a spicy kick, especially if you eat more than one at a time.
What is this? Clam Chowder Doritos
Does it have mayonnaise in it? As far as I am aware, no
What's it taste like? Despite a "fishfoody" smell upon opening the bag, Food Junk claims that the seafood taste of the chips is more subtle and "surprisingly authentic."
Pepsi
Who remembers the long-extinct Pepsi Kona? How about brief 90s sensation Crystal Pepsi? Those are a couple of the soft drink manufacturer's more ambitious endeavors here in America. Not to be outdone, Suntory (which distributes Pepsi in Japan) has dressed this soft drink up in a wide array of flavors, such as the following:
What is this? Ice Cucumber Pepsi
This really exists? Existed, as it was a limited edition flavor in 2007
What's it taste like? Kotaku's Brian Ashcraft has tried it and is not a fan: "This was, in my opinion, a truly horrid drink that didn't taste like cucumbers, but tasted like awful." This YouTube review seems to echo that sentiment.
What is this? Salty Watermelon Pepsi
Salt on watermelon? Really? It's quite tasty, and not terribly uncommon
What's it taste like? "A refreshing taste of summer," boasts the label. Jonathan Gold of The Los Angeles Times describes it as a drink "with the fragrance of melted Jolly Ranchers but a muted, herbal taste that seemed to call out for alcohol."
What is this? Pepsi Pink
Is "Pink" code for something? Strawberry Milk
What's it taste like? Well...like a carbonated take on strawberry milk?! In her video review, Mimei Land says it tastes more like strawberry candy.
Starbucks
In the States, Starbucks and other establishments celebrate the coming of autumn by pumpkin-izing everything (usually too soon). In Japan, spring is synonymous with sakura (cherry blossoms). It's a sure sign that pink blooms are looming when Sutaba locations across Japan start peddling cherry-flavored treats. Below are this year's Starbucks springtime specials:
What are these? Caramelly Sakura Chocolate Frappuccino and Caramelly Sakura Chocolate Latte
Do these have actual cherry blossoms in them? The caramel sauce is made from sakura petals
What do they taste like? RocketNews24 says both drinks are creamy and sweet. For a more potent cherry flavor, opt for the Frappuccino.
What is this? Sakura Chiffon Cake
Do these have actual cherry blossoms in them? The sponge and cream are made of petals and leaves; the bud on top is real
What's it taste like? This light and airy cake, explains RocketNews24, has a "subtle cherry blossom flavor." How about the bud on top? "It's delightfully salty, with a strong and intense cherry blossom flavor."
Want to Try Japanese Snacks at Home?
For those in America who are curious to try some of the more unusually-flavored Japanese snacks and soft drinks, there's good news: finding these items isn't terribly difficult, depending on what you'd like to buy.
Should you not live in the vicinity of an international food market, you can purchase the latest-and-greatest treats from Japan online through sites such as JBox and Amazon. If you like surprises, consider subscribing to Skoshbox, a monthly service that serves up boxes chock-full of sweet and savory snacks straight from Japan.
So, have we piqued your curiosity? Which of the above delicacies would you dare to try? Better yet, have you tried any them — or other fun-flavored foods that weren't present on this list? Share your tasty tales with us in the comments section. Don't be shy!
---
Related DealNews Features:
The 7 Cutest Travel Destinations for Adorable Animal Watching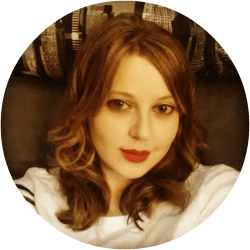 Contributing Writer
Based out of Philadelphia, Alison joined the Blog team as a contributor to share her knowledge and experience as a daily deal-slinger. She also likes cats. You can follow her on Twitter
@alidealnews
.
DealNews may be compensated by companies mentioned in this article. Please note that, although prices sometimes fluctuate or expire unexpectedly, all products and deals mentioned in this feature were available at the lowest total price we could find at the time of publication (unless otherwise specified).