How to Buy Winter Coats: Your Guide to Fit, Fabric, and Quality
Now's the perfect time to buy a winter coat. We look at different materials and styles to help you find the best coat for your budget.
By Témi Adebowale, Contributing Writer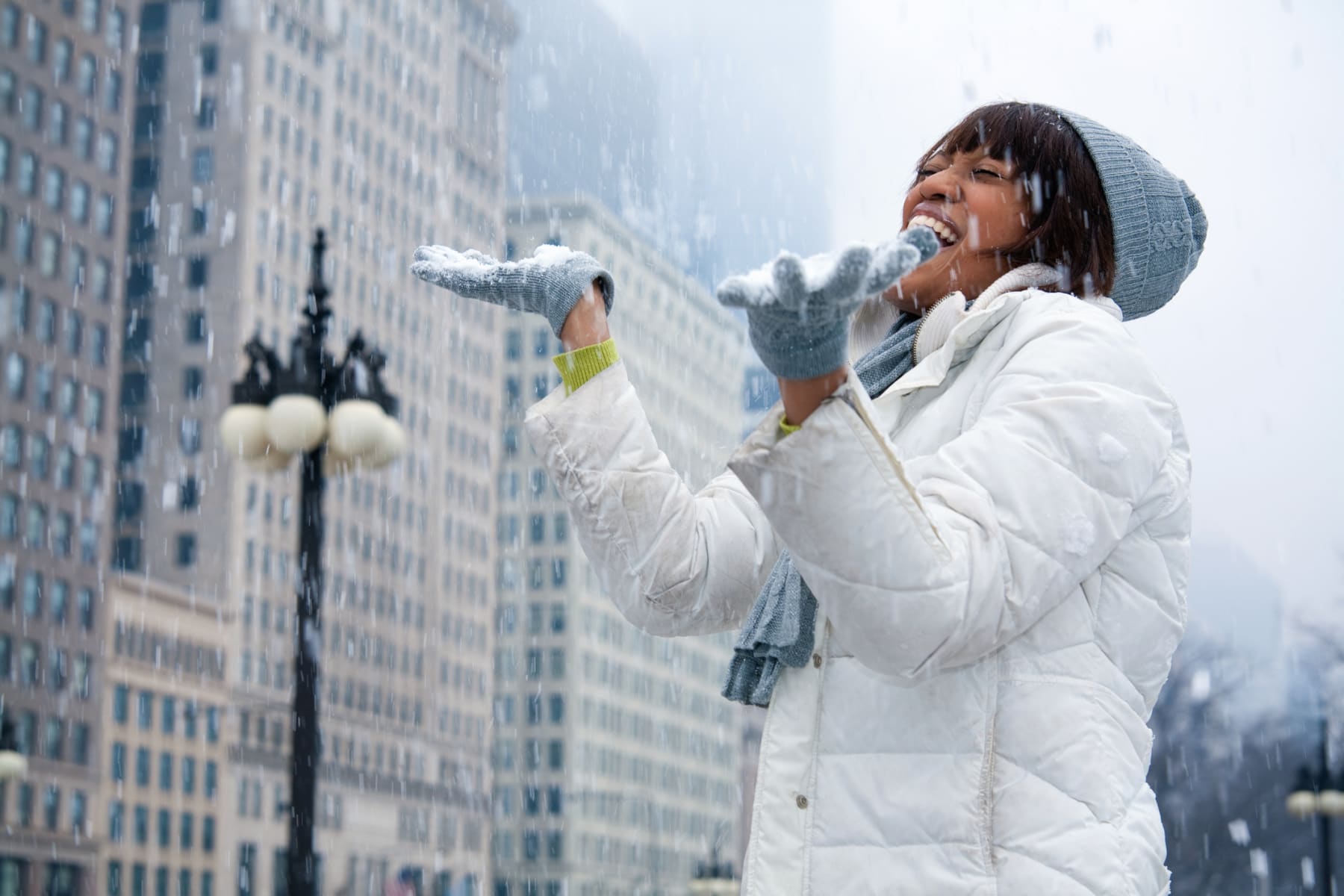 After the holidays, most people look forward to amazing online sales. From decor to electronics, there are good picks for everyone. But what many shoppers don't seem to know is that this is also the best opportunity to buy a winter coat.
However, things get tricky if you decide to take advantage of the sales and pick out a coat online. How can you judge the fit, the warmth, and the quality? Here's what you need to know to choose the best winter coat for you.
Buy a Winter Coat That Fits
We can all agree that there's nothing worse than a tight, uncomfortable coat, so make sure to look for some space in your potential jacket. The best coats should leave room for layering your tops and sweaters underneath.
To ensure you're getting the best fit possible, measure your body against the size guide on the retailer's website — never go off of those arbitrary small, medium, and large designations! For men's winter coats, measure your inseam, chest, and waist. For women's winter coats, check your bust, waist, and hips. Different store websites have their own size guides, but this clothing size website should help, and you can print measuring tape here.
Additionally, be aware of your body shape. Taller people may be able to pull off a calf-length coat, while shorter folks should stick to knee-length options. If you like a roomier chest area, go for double-breasted and button-up styles (like pea coats).
Winter Jackets Are All About Fabrics
One of the best ways to know if a coat is worth buying is to study the fabric. Wool is moisture-resistant, flame-retardant, and long-lasting, making it the best fabric for coats. A pure wool coat can be rather expensive, though.
If you're not willing to spend that much, there are other fabrics you can try. Wool-blend coats are one good option. Combining wool and other materials like rayon and polyester, these coats are cheaper but still pretty warm. Be careful, though. The percentage of wool in these coats can range from a meager 10% to a healthy 70%. Check the online description and label before buying.
When picking wool-blend coats, be careful. The percentage of wool in these coats can range from a meager 10% to a healthy 70%.
Nylon is another great choice for winter outerwear because its dense nature defends against those cold winter gusts. But check the lining, as the best nylon jackets also have insulating down or wool on the inside.
What fabric should you stay away from? Polyester. While polyester is fine when mixed with other fabrics, coats made of mostly polyester won't stand up to the cold. Additionally, polyester isn't breathable and may leave you sweaty if the temperature randomly goes up, or if you have to do a strenuous outdoor activity like shoveling.
Determining the Quality of a Winter Coat
This is the hardest aspect of a coat to judge from behind your screen. Since companies tend to pick the best photos of their coats to post online, you may need to take a closer look at the item once it arrives at your home.
So what should you look for? Confirm that all seams are sealed, because unsealed seams lead to wind cutting through your jacket. And check for hanging threads or down/feathers poking through the fabric. The collar of the jacket should be able to stand up, too, in order to protect your neck from the cold. These minor details are often what separates a winter coat that'll stand the test of time from a coat that will only last a season.
You Can Be Both Stylish and Warm
Many of us want to be trendy when it comes to our coats, but some clothing brands sacrifice warmth for style. If you want to be the coolest kid on the block while still staying toasty, go for a puffer jacket. (Here's an example.) Puffers can be seen on the runways and on celebs, and you can find quality ones that are still inexpensive. Other coat styles that the kids are wearing these days include trench coats and faux-fur jackets.
SEE ALSO: Heading Out on a Winter Hike? Here's How to Dress for the Elements
Consider classic options, as well. Colors like fresh winter white and camel never go out of style, and patterns such as herringbone and plaid are timeless.
Also, don't forget little things like nice buttons, cool zippers, and embellishments. They may seem inconsequential, but these add-ons can make an inexpensive coat look like a million bucks.
Readers, what features are most important to you when shopping for a winter coat? Let us know in the comments, and while you're at it, subscribe to the DealNews Select newsletter to get a daily recap of all our best deals!
---
DealNews may be compensated by companies mentioned in this article. Please note that, although prices sometimes fluctuate or expire unexpectedly, all products and deals mentioned in this feature were available at the lowest total price we could find at the time of publication (unless otherwise specified).