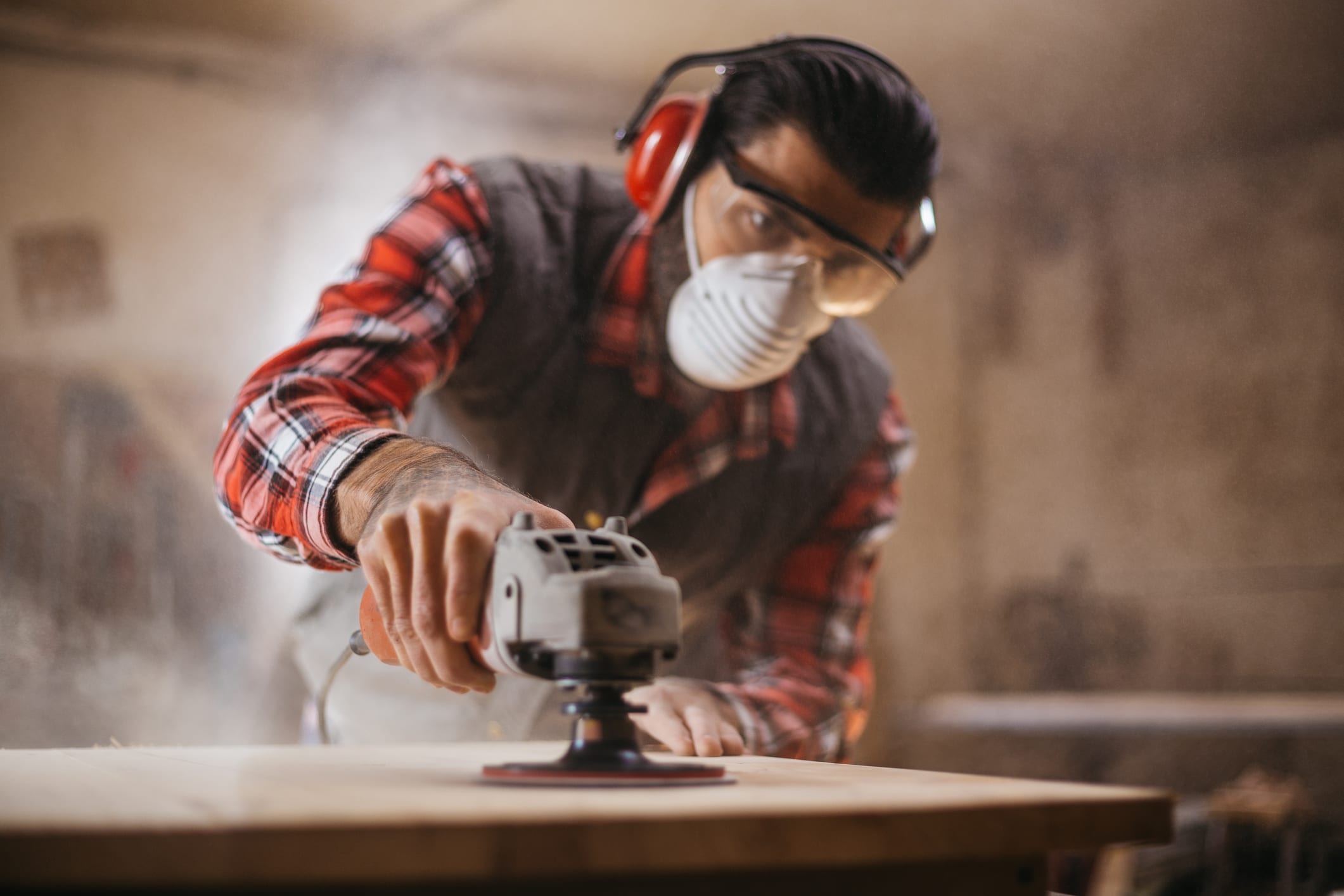 So you have work to do around the house, and you know you need power tools. But what are the power tools every homeowner should have? We're here to tell you which tools will make your DIY life easier.
3 Quick Tips for Buying Power Tools
Before we get to the must-have power tools, here are a few tips on how to shop smart when you're looking to expand your collection.
Pick One Brand of Cordless Tool
For most DIYers — and an increasing number of professionals — cordless tools provide more than enough oomph and longevity to get the job done. But batteries don't swap between brands, so once you buy one tool, it's expensive to switch brands. Buy with intention.
Batteries don't swap between brands, so once you buy one tool, stick with that brand to save money.
Know That Premium Tools May Last Longer
The nature of power tools means you're unlikely to hand them down to your kids, but that's no reason to buy into planned obsolescence. Store-brand combo offers and other cheap tool deals might be tempting — they whisper, "Buy me and you get a flashlight, too!" But you get what you pay for, and power tools are no exception. Spend a little more and keep your tools for years. A few professional-grade brands include Milwaukee, Bosch, and Makita.
Consider 'Bare Tools'
Walk away from the big box stores. A mechanic told us how he buys premium tools for a fraction of the big box price — and sometimes for less than their store-brand counterparts. So how does he do it? He buys on-brand chargers and well-reviewed, off-brand batteries on Amazon, and then looks to eBay for "bare tools" — tools sold without batteries.
SEE ALSO: Everything You Need to Know About Buying Secondhand Tools
The amount you'll save varies, depending on the specific tool you're buying and the specials the big boxes are running. Our research suggests you'll always save at least a couple of bucks — but sometimes as much as 50%.
The 5 Best Power Tools for Homeowners
Enough with the preamble. Here are the essential power tools every homeowner should have, in the order we think you need them.
Cordless Drill
Why You Need It
A drill/driver is one of the most common power tools that every homeowner should have. Drills let you drill holes and turn bolts and screws, and that's about it — but that's also a big part of the DIY projects you'll have around your home.
Need to put shelves up? You'll want this tool. Need to take the cover off your HVAC unit? You'll encounter what seems like 18,000 screws, and you can loosen them all by hand — or take them off in a few seconds with the magic of electrics. Getting into Kreg Jig woodworking? You'll need this.
Which to Buy
Two sorts of drill/drivers are available: brushless drill/drivers and hammer drills. Hammer drills don't just spin, they also hammer — and thus are suitable for drilling into brick and masonry. If you anticipate mostly drilling into wood, drywall, or other relatively soft materials, you don't need to spend the extra money.
Handheld Rotary Tool
Why You Need It
There are so many different uses for rotary tools. You can drill tiny holes, sand/buff/polish, cut pipes, etch glass — and if you run out of ideas, Pinterest has you covered. Rotary tools are handy for everything from automotive field repair to DIY craft projects.
Which to Buy
Dremel may have name recognition, but check out the Wen 2305. It comes with a flex shaft, and can sell for a quarter or half of the price of a Dremel on Amazon. More than 2,700 5-star Amazon reviews probably aren't wrong. (Bonus: It's compatible with some Dremel accessories, so you can buy accessories locally if you need something right away.)
Cordless Circular Saw
Why You Need It
If you need wood to be shorter, you probably need a circular saw — especially if you don't have room in your house for a table saw (and who does?). Whether you use it to cut long sheets of plywood, cut boards for shelves, or cut two-by-fours down to size, the circular saw is your friend.
Circular saws chew through batteries, so stock spares and a charger for big jobs.
Which to Buy
Circular saws come in a variety of sizes. The most popular size for cordless saws is 6 ½", and it's the size you should buy. Useful options include laser guides (see what you're about to cut) and electric brakes (stops the blade faster after you release the trigger). Note: Circular saws chew through batteries, so stock spares and a charger for big jobs.
Palm Sander
Why You Need It
Random orbit sanders measuring 5" and smaller are typically referred to as palm sanders, but you can call them elbow savers. If you need to sand any amount of material, you're going to want one of these. It'll replace hours of scrubbing and sore elbows with a tool that's almost fun to use.
Which to Buy
You can get cordless palm sanders, but they bring more weight and bulk to a relatively small tool. We recommend corded versions; handle a few and see which one you prefer. Buy more sandpaper than you think you'll need.
Wet/Dry Vacuum
Why You Need It
This might not fit the definition of a traditional power tool, but try sucking up water from a burst pipe with your cute bagless vacuum — and then check out our vacuum cleaner deals, because you're about to buy a new one. A quality wet/dry vac will handle all the messes you make with your other power tools, plus multi-gallon liquid spills and stain dilution.
SEE ALSO: What Kind of Lawn Mower Should You Buy?
Which to Buy
Shop-Vac is the iconic brand, but we've seen solid products from other brands, as well. Check Armor All, as it had a 2.5 gallon wet/dry vac that received rave reviews a few years ago, and cost notably less than the Shop-Vac vacuums. Great models are out there that won't cost you a fortune — you just have to do a little research ahead of time.
What do you think, readers? What do you consider to be the must-have power tools? Let us know in the comments!
---