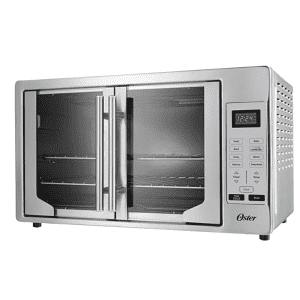 Features
Single door pull opens both doors with 1 hand ease and convenience
Digital controls provide precise cooking time and temperature to take the guesswork out of cooking
Turbo convection baking technology cooks faster and browns more evenly
Two racks provide maximum cooking flexibility; This oven control allows you to slowly cook your food at a preset temperature of 150F for an adjustable time of upto 6 hours
Extra large interior accommodates 2 16 inches pizzas; Preheat setting gets oven temperature up to where you need for precise cooking
90 minute timer with signal turns oven off automatically
Model: TSSTTVFDDG
UPC: 034264477735
↑ less
Toaster Ovens: The Basics
Meet the big brother of the conventional 2-slice or 4-slice pop-up toaster: the toaster oven. Not restricted to purely browning bread for your breakfast, the toaster oven boasts a variety of extra features that cause it to be an upgrade. So if you're looking to up your cooking game, check out the deals our resident experts here at DealNews have sussed out, plus a variety of buying advice and resources to help you decide what appliance is the best fit for you.
Toaster or Toaster Oven?
There are a few factors to consider when deciding whether to purchase a toaster or toaster oven for your kitchen.
Amount of Free Space. Toasters tend to be rather small and compact, but Consumer Reports notes that the smallest toaster oven they found during their testing was 11" wide by 16" deep, while the largest was a whopping 23" wide by 17" deep.
Your Budget. The most budget-friendly toasters will run you around $10, if you don't want any bells and whistles. Toaster ovens, on the other hand, are essentially small countertop ovens, so they inherently come with more cooking modes and therefore a higher price tag. Prices can range from around $30 to over $500 , depending on the brand and built-in features.
Cooking Time. If toast is all you're after, a basic toaster will not only save you some cash, but also get you your breakfast quicker. Consumer Reports also notes that toaster ovens tend to take twice as long to brown bread.
Benefits of Toaster Ovens
Still need some convincing that the upgrade to a toaster oven is right for you? There are a variety of reasons why some users claim toaster ovens are worth the added cost.
Extra cooking space. Prepping for a holiday or a large family meal? It never hurts to have an extra oven on hand, whether it's used to keep dishes warm or cook some sides.
More efficient cooking. If you're simply warming up some leftovers or cooking the kids some chicken nuggets for a quick lunch, it'll cost you significantly less to heat up a countertop toaster oven than your full-size oven. In fact, the Energy Star Market & Industry Scoping Report on toaster ovens touts that you'll use approximately " 1/3-1/2 less energy than a conventional electric oven for cooking small meals. "
Less heat in the kitchen. The old adage of "If you can't stand the heat, stay out of the kitchen" needs an update. No one wants to spend their day sweating while cooking, but fortunately Compact Appliance notes that toaster ovens generate far less heat than standard ovens, making them ideal for warmer climates or homes without air conditioning.
Easier to clean. Toaster ovens feature removable crumb trays that can spell quick and easy clean up versus standard ovens, which often require high heat or harsh chemicals to clean.
More cooking options. Toaster ovens typically feature bake, broil, and toast options, even on budget models, compared to just toast — and sometimes defrost — options on 2-slice or 4-slice toasters.
Types of Toaster Ovens
So you've settled on a toaster oven — now you need to decide what kind to buy. The first decision to make is where you want to place your new appliance. Toaster ovens come in both countertop and under-cabinet mounted models, though the countertop versions tend to be more common.
From there, you can choose between various cooking methods for your toaster oven. There are basic countertop ovens, as well as convection toaster ovens, and infrared toaster ovens. Convection models feature an added high-speed fan over the heating element that both speeds up cook times and leads to more even cooking temperatures. And infrared versions utilize light energy to evenly and quickly heat up food, with little preheating time needed.
How to Shop for Toaster Ovens
With so many brands and types of toaster ovens out there, it can be hard to decide which one is the right fit for your needs. Thankfully, many experts have put in the time and effort to test them out and offer suggestions based on price and functionality. Here are a few buying guides to get you started:
Popular Stores for Toaster Ovens
If you're looking to shop in-person and test all the knobs and buttons before you buy, check stores like Walmart , Target , Best Buy , and Bed Bath & Beyond . Otherwise, an online retailer such as Amazon is perhaps your quickest bet both for comparing multiple brands/models and for receiving your appliance after purchasing.
Related Categories
If you want to get back to basics, check out our page of Toaster deals.
Check out deals on other small appliances and their accessories.
Check Out These Cooking Posts from our Blog Team