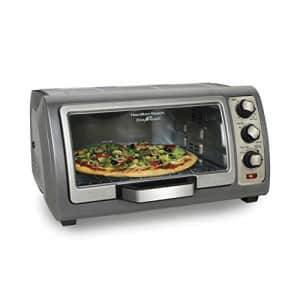 more
Features
Easy access to food and countertop the roll top door moves up and out of the way so you can have safe, easy access to your food before, during and after cooking
Easy to keep clean door is up and out of the way of messy spills and drips
Convection, bake, broil & toast 2 rack positions and included bake pan makes it easy to get started on cooking a variety of foods
Fits 6 slices of toast, 12 inches pizza and 9 inches X11 inches bake pan Spacious interior gives you room for cooking everything from snacks to side dishes
Easy to use contoured knobs not only is this new design easier to maneuver, but theyre safer too
Model: 31123DA
UPC: 040094311231
↑ less
Toaster Ovens: The Basics
Meet the big brother of the conventional 2-slice or 4-slice pop-up toaster: the toaster oven. Not restricted to purely browning bread for your breakfast, the toaster oven boasts a variety of extra features that cause it to be an upgrade. So if you're looking to up your cooking game, check out the deals our resident experts here at DealNews have sussed out, plus a variety of buying advice and resources to help you decide what appliance is the best fit for you.
Toaster or Toaster Oven?
There are a few factors to consider when deciding whether to purchase a toaster or toaster oven for your kitchen.
Amount of Free Space. Toasters tend to be rather small and compact, but Consumer Reports notes that the smallest toaster oven they found during their testing was 11" wide by 16" deep, while the largest was a whopping 23" wide by 17" deep.
Your Budget. The most budget-friendly toasters will run you around $10, if you don't want any bells and whistles. Toaster ovens, on the other hand, are essentially small countertop ovens, so they inherently come with mor