Every year it's becoming easier and more affordable to turn your home into a smart one, but joining the Internet of Things still requires at least a small investment.
Fortunately, smart gadgets will almost definitely see discounts this Black Friday. Even better, we expect bundles to be popular, which will make starting up a smart home even simpler, as you'll have everything you need in one purchase. Read on to learn what we expect for smart home Black Friday deals in 2020, from smart plugs to smart speakers.
Click here to see our latest Black Friday smart home deals.
Smart Light Starter Kits Will Cost as Little as $30
One of the simplest ways to ease into the Internet of Things is by utilizing smart lights. While you can find kits that typically include a hub and a couple of bulbs, around Black Friday they go a little further.
Snag $5 Amazon Smart Plugs on Black Friday
Amazon's smart plug is technically affordable at $25. But costs can add up quickly if you're outfitting more than one outlet. Black Friday smart plug deals to the rescue! Around the shopping holiday, we're expecting bundles and huge discounts for this gadget.
New Amazon Echos Could Get a $40 Discount
Amazon introduced the 3rd-generation Echo smart speaker last September, and we saw discounts on it as soon as Black Friday. The best one hung around for a week and took $40 off the $100 list price. The next discount after that one wasn't nearly as impressive, though it was still decent.
Popular Smart Displays Will Cost Around $55
Whether you prefer Amazon or Google, odds are you'll find a smart display from these big players for around $55 this Black Friday. And if you prefer other brands, like Lenovo or Facebook, you can expect their devices to be around $30 or $80, respectively.
Previous-Generation Smart Speakers Will Be $50 or Less
The Google Home is a few years old now, and we've seen steady discounts on the speaker, so for it and the Google Home Mini to drop below $50 is no big deal. But the 3rd-generation Echo is only a year old, so seeing it that low would be notable.
The Apple HomePod Will Be $200 (Again)
By now we know the kind of discount to expect for Apple's smart speaker. Refurbished models could drop lower, but for any brand-new ones, we don't expect to see the price fall lower than $200.
Ring Products Will Be Bundled With Echo Devices
You can use Ring security products to keep an eye on your home from anywhere. Most often, Ring's video doorbells allow you to see and interact with someone on your doorstep without opening the door. (They also provide ways to check on your home and ensure things are okay.) So it makes sense that they'd be bundled with Echo devices, particularly those with displays. We expect these bundles to see modest discounts for Black Friday.
Check out our full Black Friday smart home preview.
Best Smart Home Deals so Far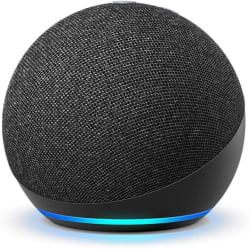 Amazon Echo Dot
Store: Amazon
Price:

$79.99

via code "DOT2PACK"
Shipping:

Free shipping

Looking for the latest Amazon tech? Add two Echo Dots to your cart and apply coupon code "DOT2PACK" to save $20. This item will be released on October 22, 2020. Under "Pick a version," you can also get it with an LED clock or the Kids Edition for $59.99 before coupon; the coupon takes $20 off when you buy two of any model. Features include a 1.6" front-firing speaker, dual-band 802.11ac wireless, and 3.5 mm line out.