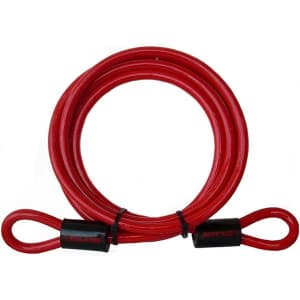 Tips
Available at this price in Dark Blue, Green, or Navy Blue.
The Sky Blue is $16.89 ($9 off) after same code.
The Purple is $18.84 ($10 off) after same code.
Sold by Sifvo via Amazon.
Features
impact resistant EPS foam core
removable inner padding
removable visor
solid PC shell
adjustable fit
15 air vents
↑ less
Bicycling: The Basics
Cycling is a great hobby, a green form of transportation and a wonderful way to get fit. This activity can burn between 250-400 calories per hour on average and is an excellent way to tone your legs and glutes. Whether you choose to cycle as a hobby or competitively, it can be a bit daunting trying to find the perfect bike and bike accessories at a reasonable price, but be sure to check our website for bike deals that won't break the bank.
Types of Bikes
There are many types of bikes to choose from. Your intended use of the bike will help you narrow down which bike is right for you. Some popular forms of bicycles include:
Road Bikes: Easy to identify by the thin tires, road bikes are lightweight and have drop handlebars that make it easy to ride on smooth pavement.
Mountain Bikes: Mountain bikes are made for rugged terrain with knobby tires, suspension systems, and low gear range (designed for uphill riding).
Hybrid Bikes: Hybrid bikes combine the best of road bikes and mountain bikes to create a versatile bicycle that can be used on pavement or bike paths that aren't too rugged. The tires are medium-width and semi-smooth, which makes riding on pavement smooth while providing traction on unpaved bike trails.
Cruisers: Cruisers are considered a subcategory of hybrid bikes. These bikes are known for their wide seats and high handlebars, offering a smooth and comfortable ride.
BMX Bike: BMX bikes have small frames that make stunt and trick riding easier.
Electric Bike: Electric bikes have become more popular in recent years. Electric bikes, or "e-bikes" are just bicycles with an added motor for ease of riding — basically any bike style has an e-bike equivalent.
How to Pick the Right Bike
Now that you know some of the more popular styles of bikes, you may still be trying to decide which one suits your needs. Your answer to these three questions should help narrow your choices:
Where will you be riding?
This is one of the most important questions for helping you decide which bike is right for you. If you plan on using your bike for your commute, then a hybrid or road bike is the optimal choice. A casual rider who sticks to a paved path or something not too rugged may opt for a cruiser for the added comfort. Outdoors enthusiasts should consider a bike with more tread like a mountain bike.
What is your budget?
Obviously you can find some of the best bike deals here on DealNews, but it's still important to know your budget when purchasing a bike. Bicycling.com notes that a quality adult bike typically runs between $300 and $400. As with many other things, price often determines the quality and longevity of your purchase. If you're serious about your purchase, a couple hundred extra dollars could buy you a better ride for a few more years.
How often do you plan on riding?
A lot of features for high-budget bikes tend to go beyond just comfort and ease of ride to durable long-lasting parts. If you're only going to be riding your bike on weekends, you may not need a bike that costs $800. On the other hand, if you plan to use your bike for a daily commute — or your weekend plans involve long, rigorous rides — that higher price may eventually pay for itself.
Ultimately, you should buy what feels right for you. New riders definitely benefit from going to a bike shop and speaking with professionals about features they should be considering. Once you've discovered what you want or need, check out our deals on bikes and maybe set an alert for your dream bike!
Bicycle Terms to Know
Frame: This is the metal body of the bike. Frames come in different sizes to fit riders of different heights.
Wheels: Bike wheels include the tire, rim, and hub. There are a variety of tires and rims to choose from. Consult your bike manual or local shop for recommendations.
Suspension: Just like a car, the suspension system on a bike makes a ride smoother. If you're likely going to encounter rough terrain (like mountain biking), a quality suspension system is worth reviewing.
Drivetrain: A bike's drivetrain is the gear system — it ranges from 1 to 30 gears. This includes the chain, cassette, derailleur, and chain wheel.
Brakes: Bikes have many different styles of braking systems. Some of the more popular ones are coaster hub brakes, rim brakes, and disc