Streaming of a White Christmas: 10 Holiday TV Specials Available Free or Cheap Online
From current hits to old favorites, some of the best Christmas episodes of TV shows are available with a streaming subscription, or even for free.
With the temperature dropping and family and friends gathering close, what better way to pass the time than watching some seasonal programming? (It's better than hearing about Uncle Morty's thoughts on politics.) You don't need a cable subscription to enjoy your favorite holiday episodes from hit TV shows; many are available online with a Netflix or Hulu Plus subscription, or even for free. (Hulu has a whole page of holiday hits, many available without a subscription.) So come all ye un-entertained, and enjoy some of our favorite streaming holiday TV episodes.
30 Rock, "Ludachristmas"
When Jack and his venomous mother Colleen end up spending Christmas with the ever-sunny Lemon family, Colleen sets out to prove that they are in fact just as bitter and messed up as everyone else. And she succeeds, making for an odd-but-sweet mother-son bonding moment. Just remember what Lemon family patriarch Dick Lemon says: "Wouldn't be a Lemon party without old Dick!"
Available On: Netflix
Frasier, "Merry Christmas Mrs. Moskowitz"
Frasier's new girlfriend and her mother show up unexpectedly on Christmas Eve, mistakenly believing that Frasier and his family are Jewish. Frasier tries to play along. But Eddie is dressed like Santa and Niles is dressed like Jesus. Hilarious hijinks ensue.
Available On: Hulu Plus
The West Wing, "Noël"
It is very difficult to pick just one holiday episode of The West Wing. Even excluding the inferior non-Sorkin years, that still leaves "En Excelsis Deo," "Noël," "Barlet for America," and "Holy Night." Each features a ton of drama (Mrs. Landingham's sons, Josh's PTSD, Leo's Congressional testimony, Toby's father) and excellent use of music ("Little Drummer Boy," The Whiffenpoofs, Prelude to Bach's Cello Suite No. 1) along with gorgeous holiday settings.
But top place has to go to "Noël." Its singular focus around Josh's meeting with a psychiatrist, unraveling the truth of what happened to him through flashbacks, is amazing writing. Throw in Yo-Yo Ma, a killer speech by Leo, and a haunting rendition of "Carol of the Bells," and this is a truly powerful hour of television.
Available On: Netflix
The Office, "Christmas Party"
This one is for anyone who has had to suffer through an awkward office holiday party. Secret crushes, rivalries, and ego all come into play when Michael demands a Yankee gift swap, because he's not happy with the present he received. And the Jim-and-Pam tension is reaching a boil as Jim tries to present Pam with a sentimental gift.
This was another tough series from which to choose just one holiday episode. Morroccan Christmas, though perhaps less realistic, wins for sheer absurdity and awkwardness (when Meredith lights herself on fire, the party becomes an impromptu intervention). "Benihana Christmas" contains the unforgettable moment of Michael "marking" his new girlfriend; and what about being introduced to Belsnickel in "Dwight Christmas"?!
Available On: Netflix
Downton Abbey, "Christmas at Downton"
Coming at the end of the second season (or "series," for those real Anglophiles among us), the first Downton Abbey Christmas special is also the only one where nothing goes tragically, horribly wrong. (Well, except for Bates, but let's just ignore that for now.) Not one, but two star-crossed sets of lovers are finally united, with more good news on the way! And who can beat Christmas at a massive castle?
Available On: Amazon Instant (Free with Amazon Instant Prime)
Community, "Abed's Uncontrollable Christmas"
This is one of the most imaginative and entertaining episodes of a massively imaginative and entertaining series. The 30 minutes of stop-motion animation simultaneously parodies and pays tribute to classic Christmas musicals. And amazingly, this episode can hit you right in the feels too. "Sad Quick Christmas Song," anyone?
Available On: Netflix
The Simpsons, "Simpsons Roasting on an Open Fire"
Long before it reached its current 26th season, even before it became the longest-running sitcom in American history, The Simpsons showed its brilliance by kicking off the whole series with a "Christmas special." That's right, the show's very first broadcast episode got the whole holiday thing out of the way. It introduced the world to the whole family, as well as Bart's trouble-making ways, and their blue-collar roots. The episode also marks the first appearance of the family's pet dog, a last-minute Christmas gift named — what else — Santa's Little Helper.
Available On: Simpsons World
Doctor Who, "A Christmas Carol"
No list of holiday episodes would be complete without a parody of Charles Dickens' classic A Christmas Carol, and this long-running BBC series has one of the best. The Eleventh Doctor (BAFTA-nominated Matt Smith) must convince the miserly Kazran (Michael Gambon) by visiting him with visions of the past and future. It is respectful of the source material — despite the cryogenics and flying sharks.
Available On: Netflix
Family Guy, "Road to the North Pole"
Not for the faint of heart, this two-part episode features a plot to kill Santa, inbred elves, and a gift-giving home invasion that goes horribly wrong. The dirge-like song "Christmastime is Killing Us," sung by Santa and his elves, was nominated for a Grammy. Seriously.
Available On: Netflix
Futurama, "Xmas Story"
Wow, these animated shows are pretty harsh on Santa! In Matt Groening's dystopian future comedy, Santa is a murderous robot. At the end, everyone sings "Santa Claus is Gunning You Down."
Available On: Netflix
What do you think, reader? Did we miss your favorite holiday episode available on Netflix or Hulu? Let us know in the comments below.
---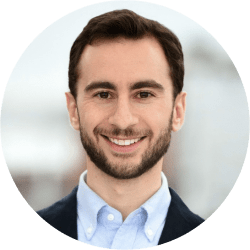 Contributing Writer
Ben was Features Editor at DealNews from 2014 to 2017, when his shopping insights were highlighted by Good Morning America, Reuters, the Washington Post, and more. Though no longer in consumer news, Ben still loves getting a great deal (and writing about it!).
DealNews may be compensated by companies mentioned in this article. Please note that, although prices sometimes fluctuate or expire unexpectedly, all products and deals mentioned in this feature were available at the lowest total price we could find at the time of publication (unless otherwise specified).