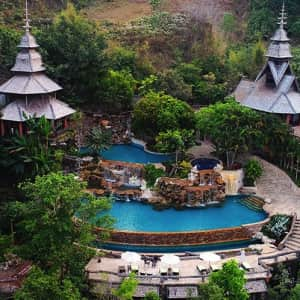 That's the best price we could find for this secluded mountain spa resort by $173. You'll stay in a High Mountain Deluxe room, and get a host of extras, including Thai massages and daily breakfast. Plus, get a full refund in case travel plans change. Buy Now at Travelzoo
Tips
Book this travel voucher for stays through December 28, 2022
Until the voucher's expiration date, Travelzoo will offer a full refund if you can't find suitable travel dates. Once a reservation has been made, cancel at least 30 days in advance of your stay to receive a refund.
Features
daily breakfast
60-minute Thai massage per person
airport transfers
complimentary WiFi
discounted spa treatments, dining, and additional nights
The 4.5-star Panviman Chiang Mai Spa Resort has an Expedia rating of 88% based on 257 reviews.
↑ less
Want to know the moment we post a great deal on Travel & Entertainment?
Create an Alert
Don't miss a single chance to save. Here are more Travel & Entertainment discounts.