What Streaming Box Is Right for You?
You'll need to consider your budget, smart home devices, and desired features.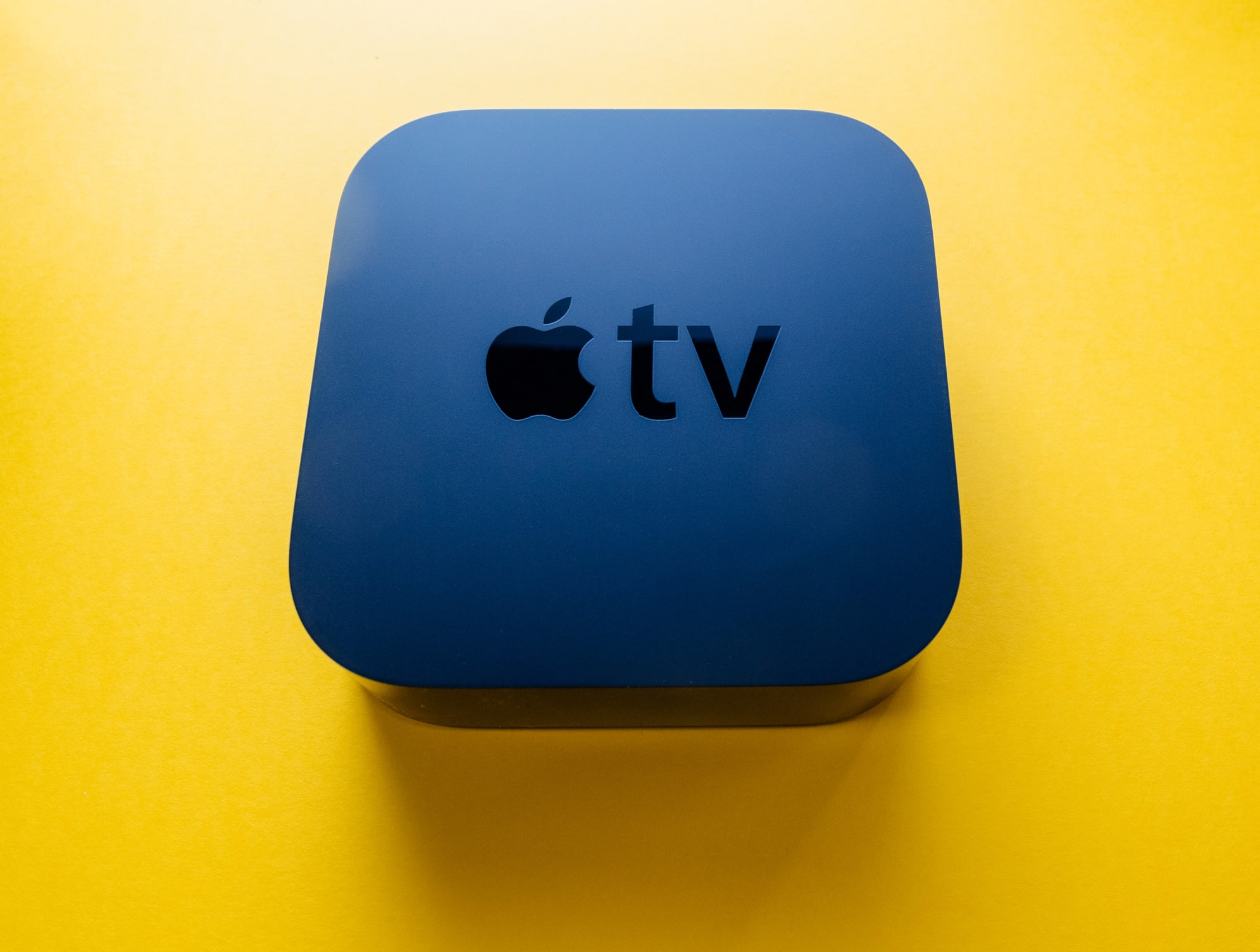 If you're shopping for a streaming media player, know that you have lots of options — and most of them are good ones. That can make picking the right player tough. But whatever your needs are, you can find some streaming boxes that shine.
Here's a rundown of the best streaming boxes on the market, and what to consider before buying one.
What to Know Before You Buy a TV Streaming Box
What You'll Spend on a Streaming Box
You can pick up a basic HD streaming player for $30 without even hunting for sales. But if you wait for a sale, you can get a player for half that. We've seen the basic Fire TV Stick on sale for $15, while the Chromecast and Fire TV 4K can both drop to $25 on sale.
You'll find the most streaming player sales in November around Black Friday, though great Amazon Fire TV sales also happen on Amazon Prime Day.
Which Streaming Services Do You Use?
Streaming service availability is less of a concern than it once was, as most modern streaming players will let you watch any streaming service. Some brand-specific services are a little harder to find, but both Amazon Prime Video and Apple TV (including iTunes and Apple TV+) are now available on Amazon, Roku, and Apple devices. Still, before you buy, check the available channels.
SEE ALSO: All the Top Video Streaming Services, Compared
The Google Chromecast is a bit of an oddity in the streaming world, because it can stream just about anything. Instead of being a player with different streaming apps, Chromecast simply "casts" streams from your mobile device or Chrome browser to your TV. Most streaming players on Android and iOS support casting, and if they don't, you can always cast from your web browser. It's a little more complicated — and requires a secondary device — but offers wide compatibility.
Do You Want a Streaming Stick?
Streaming sticks or dongles are smaller than the standard streaming box, and they plug directly into your TV's HDMI port. Though they still need a power cord, they limit the number of cables you have to run. That can make them a good choice for wall-mounted sets where you don't have much space and want to limit cable clutter.
The Roku Streaming Stick+, the Google Chromecast, and the Google Chromecast Ultra all fall into this category. You'll spend a bit more — particularly if you want 4K — but it's not a bad investment. The Roku Streaming Stick+ is a great streaming player regardless of whether you care about the cables.
Does Speed Matter?
Most streaming players advertise processor speed as a selling point. A faster processor — like the quad-core and hexa-core processors you find on most 4K players — mean apps will load faster and menus will be more responsive. More speed is certainly nice, but not an essential feature.
Dual-band MIMO players have better WiFi speed and stability, which means smoother streams with less stuttering.
WiFi speed, however, does matter. Dual-band MIMO players have notably better WiFi speed and stability, which means smoother streams with less stuttering. Though your stream quality will always be limited by your internet speed, faster WiFi means your home network won't slow you down.
Do You Need a Stand-Alone Streaming Box?
Before you spend money on a streaming player, you may want to think about whether you really need one. Many of your audio/video gadgets could have smart TV features built in, including TVs, soundbars, Blu-ray players, and game consoles.
But most streaming players offer more channels and, usually, a better interface. They also tend to have more features, like smart home integration. However, some A/V devices will have Roku or Fire TV features built right in — giving you all of the advantages of a stand-alone player without the player.
Smart Home Integration
If you have a smart home setup, it can be worthwhile to look for a streaming player that works with it. Devices compatible with Amazon Alexa, Apple HomeKit, or Google Assistant can be controlled by the same smart home devices you use every day.
Roku is compatible with Alexa and Google Assistant. But if you want Apple HomeKit support and Siri voice control, you'll need an Apple TV.
Every player should work with some smart home system, but they won't work with every smart home system. That means you might want to stick to the player that works with what you have: Amazon Fire TV works with Amazon devices, Apple TV works with Apple devices, and Google Chromecast works with Google devices. Roku is the exception, supporting both Alexa and Google Assistant. However, if you want Apple HomeKit support and Siri voice control, you need to get an Apple TV.
What About Games?
All of these streaming players offer some games, and you can usually add a game controller for a better gaming experience. But the selection of titles on most is limited, and it's difficult to recommend a device based on gaming — you'll always be better served by a game console.
SEE ALSO: Everything You Need to Know About the Latest TV Technologies
However, the Apple TV does offer an interesting gaming option with Apple Arcade ($5 a month). This subscription offers an all-you-can-eat selection of games, most of which you'll only find on the service. If you use other Apple devices, you can play the same games on iPhone, iPad, and Mac.
Find the Best Streaming Box for You
When shopping for a streaming box or stick, you'll want to consider both your budget and the features you want. In the graphics below, you'll find the prices and specs of the the top budget, mid-range, and high-end streaming boxes, so you can pick out the best TV streaming box for you.
Best Mid-Range Streaming Boxes
For the best mix of price and features, the Amazon Fire TV Stick 4K, Roku Streaming Stick+, or Roku Premiere offer a similar feature set for just $40 to $50. They offer all the features you're likely to need, and their prices are still pretty reasonable.
If you need a hardwired internet connection, which is faster and more reliable than WiFi, your options are limited. Amazon Fire TV Stick, Fire TV Stick 4K, and Google Chromecast offer Ethernet with a $15 adapter. The Amazon Fire TV Cube, Roku Ultra, Apple TV 4K, and Google Chromecast Ultra all have Ethernet built in.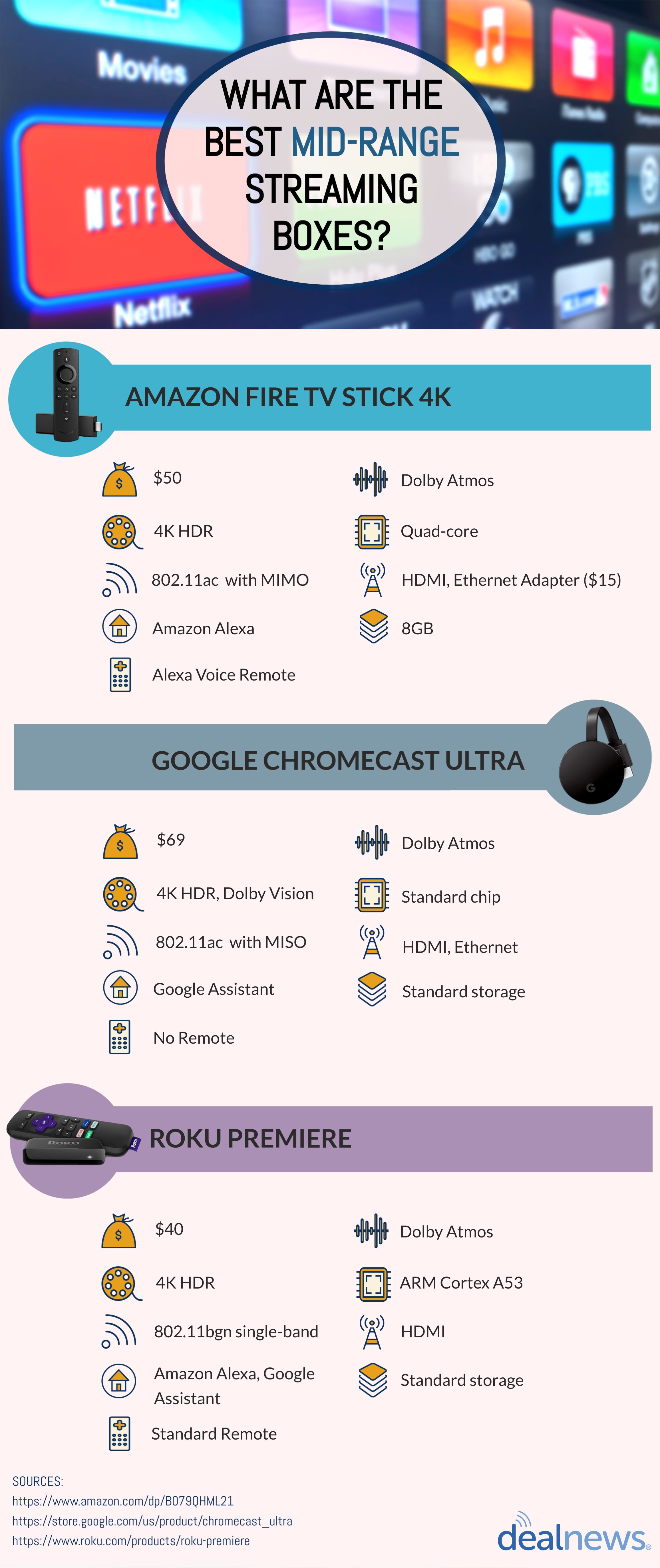 Best Budget Streaming Boxes
If budget is your biggest concern, the Roku Express ($30) is the lowest-cost player you'll find any time — but the Amazon Fire TV Stick tends to go on sale for as little as $15. For a budget-friendly 4K player, the Roku Premiere ($40) is your best option, though the Amazon Fire TV Stick 4K will go on sale for as little as $25. Check for sales on Black Friday and Amazon Prime Day.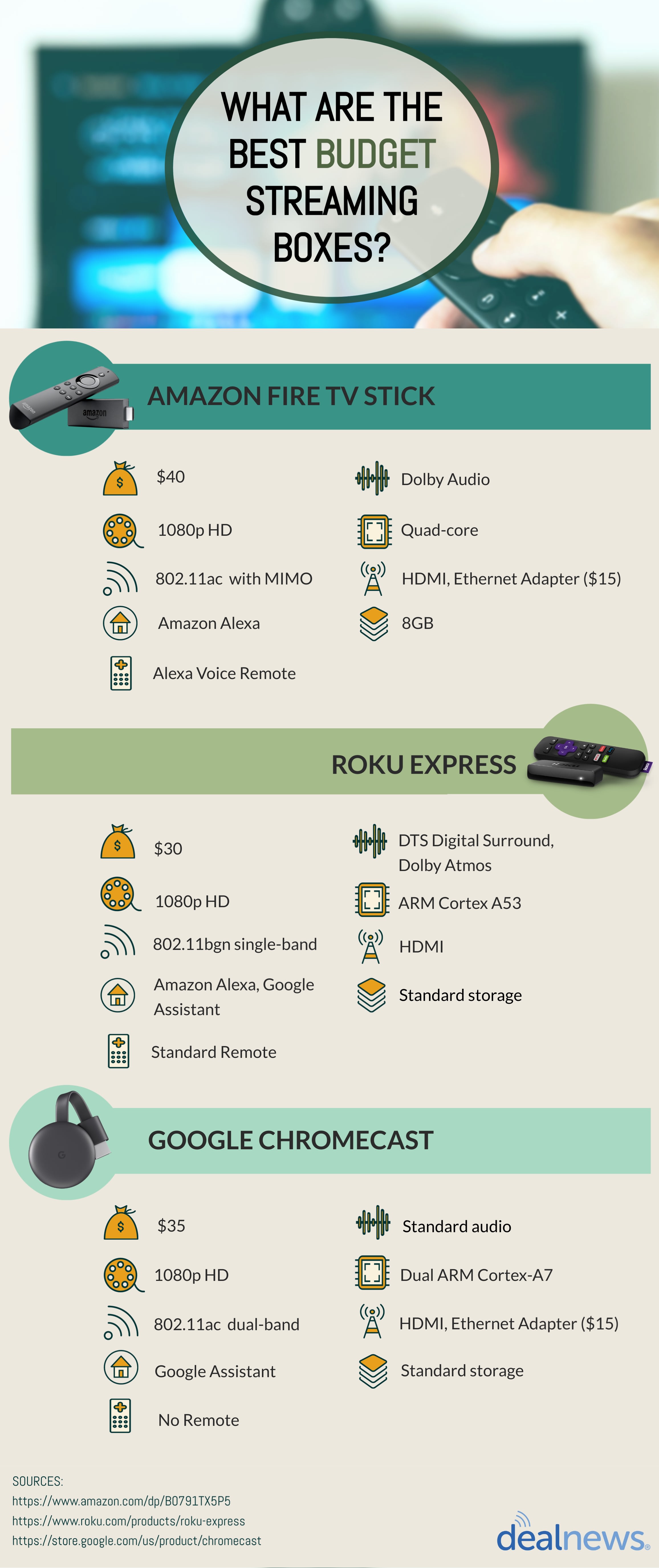 Best High-End Streaming Boxes
If you want high-end features (and don't mind spending more), the Apple TV 4K ($180) is a solid choice for Apple users because of its easy integration with other Apple devices and services. It also supports AirPlay, still a rarity on non-Apple devices, letting you cast content from your iPhone, iPad, and Mac to your TV.
SEE ALSO: Everything You Need to Know About Streaming Video
The Amazon Fire TV Cube ($120) also offers unique advantages. It has a built-in Alexa smart speaker for voice control without a secondary device, and connects to the rest of your A/V system, which can all be controlled through the Fire TV Cube.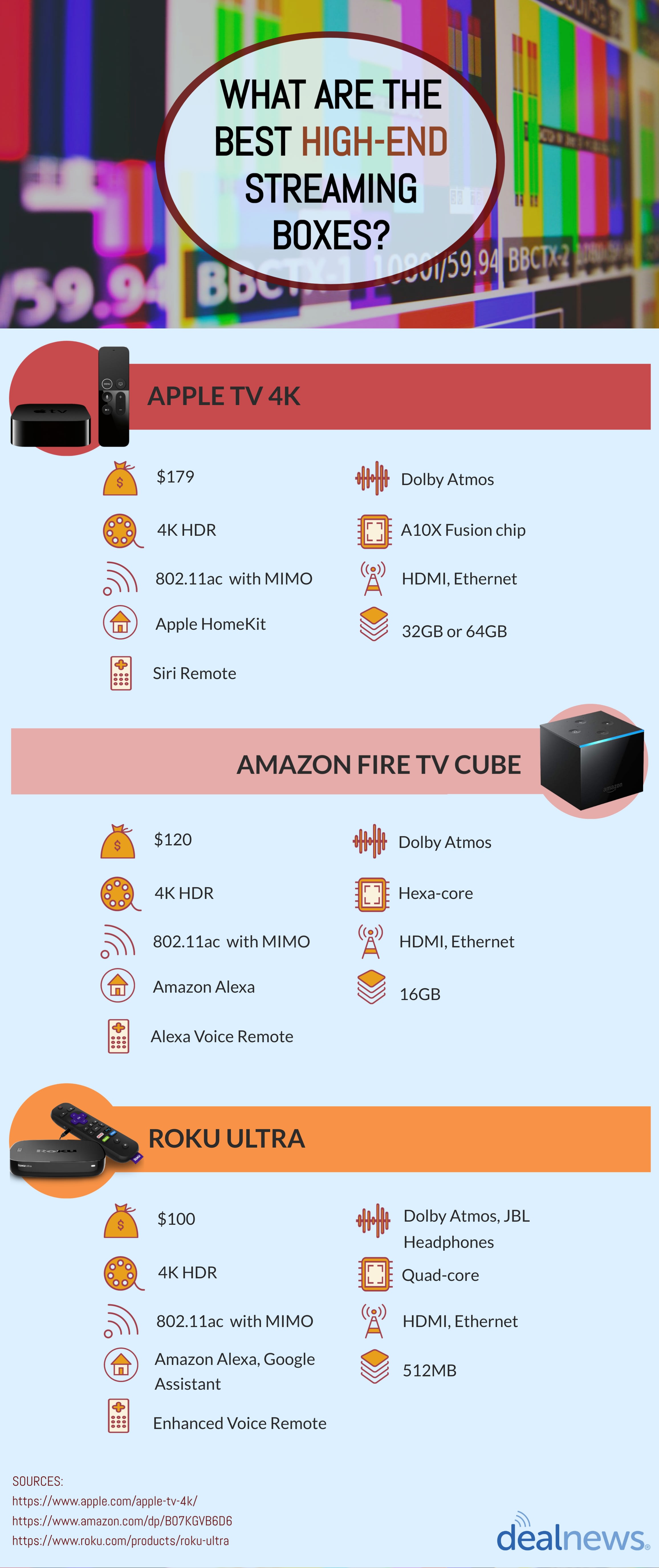 Readers, what streaming media player are you most interested in? Let us know in the comments below!
---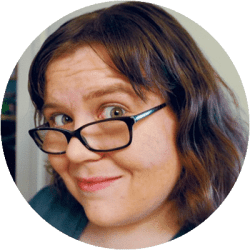 DealNews Contributing Writer
Originally working in IT, Elizabeth now writes on tech, gaming, and general consumer issues. Her articles have appeared in USA Today, Time, AOL, PriceGrabber, and more. She has been one of DealNews' most regular contributors since 2013, researching everything from vacuums to renters insurance to help consumers.
DealNews may be compensated by companies mentioned in this article. Please note that, although prices sometimes fluctuate or expire unexpectedly, all products and deals mentioned in this feature were available at the lowest total price we could find at the time of publication (unless otherwise specified).