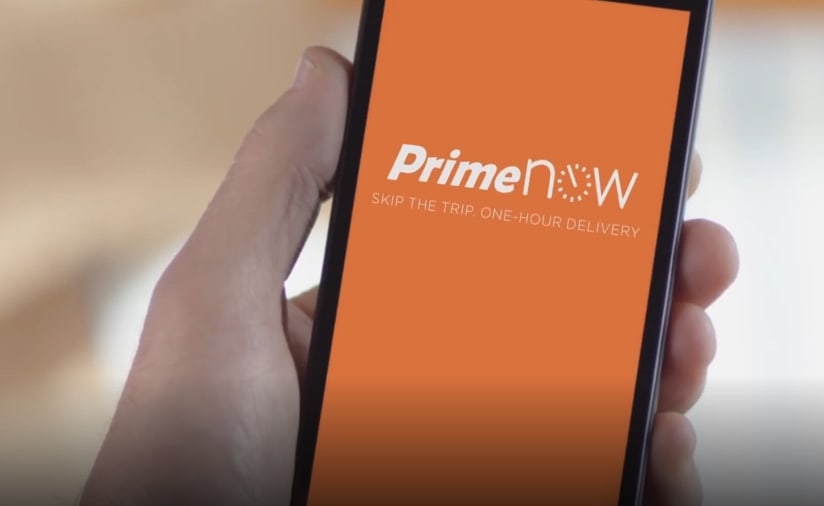 Do you need groceries, but have no time to hit the store? With Amazon Prime Now, you can order online and have them hauled to your doorstep within a few hours.
SEE ALSO: Amazon Quietly Killed a Popular Prime Shipping Perk
Read on to learn what makes Prime Now stand out from other delivery services, and all the cities where it's available.
What Is Amazon Prime Now?
Prime Now is Amazon's 2-hour delivery service that's exclusively available for Prime members. First launched in Manhattan in 2014, Prime Now is currently available in dozens of U.S. cities — the list is growing all the time!
Prime Now is Amazon's 2-hour delivery service that's exclusively available for Prime members.
To see if it's available in your area, head over to the Prime Now website, or download the Prime Now mobile app for iOS or Android and enter your ZIP code. You can also check out the full list below!
How Does Amazon Prime Now Work?
According to Amazon, Prime Now delivers "tens of thousands of items across dozens of categories." You can order everything from workout gear to toilet paper to fresh avocados.
SEE ALSO: Amazon Prime Shipping Is the Perk We Love to Hate
In select cities, Prime Now also offers deliveries from nearby stores, including Amazon-owned Whole Foods. The service is available seven days a week, with hours that vary by location.
To place an order, you'll need to use the stand-alone Prime Now site or app — not Amazon.com. Just browse, select what you want, choose a delivery window, and then local Prime Now couriers will head your way. Though Prime Now still boasts mainly 2-hour delivery, in some cities delivery in 1-hour or less is even available.
What Does Prime Now Cost?
Prime Now is a free service for Prime members. There are requirements that must be met, though — your order must total at least $35, or you'll be charged a delivery fee. According to Amazon, even if you meet the threshold in certain areas, or if you order from local stores, you could still be charged a fee.
Prime Now is free for Prime members, but orders must be at least $35.
Amazon also adds an optional tip, which you can change up to 24 hours after your order. And while delivery fees vary, it's safe to expect to pay to shorten the 2-hour delivery window to one hour or less.
Of course, to take advantage of Prime Now you'll need an Amazon Prime subscription, which costs $12.99 a month or $119 a year.
Is Prime Now Worth It?
If you live in a Prime Now delivery area, the service can be extremely convenient. Availability is growing, but it's somewhat limited still. Plus, expect to pay a tip for the luxury of having groceries delivered. And you may wind up also paying a delivery fee if your order is less than $35, if you want to shorten your delivery window, or because of local stores or the area you're delivering to.
SEE ALSO: How to Get Free Shipping on Amazon
Reviews of Prime Now vary. On the App Store and Google Play, the Prime Now app is currently rated 2.5 and 3.3 stars out of 5, respectively. Shoppers largely seem to appreciate the service, but aren't fans of the apps. Others complain the app is buggy, even after all these years, while some are wishing for quality of life improvements comparable to what the Instacart app offers. Specifically, one reviewer mentioned not being able to add or remove items after placing an order, even if the shopper hasn't begun shopping the trip yet, is an issue.
Prime Now vs. Instacart vs. Walmart Grocery Delivery
If Prime Now isn't available in your area and you're in need of a quick grocery delivery, try same-day delivery service Instacart, which soared to new heights of popularity in 2020 due to the pandemic. In fact, it noted that customer order volume was up year over year by more than 500% as of May 2020.
Instacart orders must be at least $10 and involve a delivery fee; it varies depending on the size of your order, the delivery time you choose, and whether the service is experiencing high demand. Expect to pay at least $3.99, though. If you like the service, you can upgrade to Instacart Express ($99 annually, or $9.99 monthly) for unlimited free deliveries on orders of at least $35. You'll also receive reduced service fees and no busy pricing fees during peak delivery hours. Another perk is being able to shop multiple stores and receive free delivery on the entire order.
Walmart offers grocery deliveries in more than 40 states.
Walmart has also been beefing up its grocery delivery game. The big-box retailer offers grocery deliveries in more than 40 states, including Alaska and Hawaii.
As of November 2019, Walmart was reported to charge a delivery fee between $7.95 and $9.95 per order, according to Business Insider. Orders must also meet a $35 minimum threshold. However, you can upgrade to the Delivery Unlimited service for $12.95 per month, or $98 per year, and waive delivery fees on your orders.
Amazon Prime Now Cities
Prime Now is currently available in dozens of U.S. cities. Check the table below to see if yours is eligible! Don't see yours on the list? Be sure to enter your ZIP code via the website or app — your area may now be included.
| State | City |
| --- | --- |
| Alabama | Birmingham |
| Alabama | Huntsville |
| Alabama | Mobile |
| Alabama | Montgomery |
| Arizona | Phoenix |
| Arizona | Tucson |
| Arkansas | Little Rock |
| California | Los Angeles and Orange County |
| California | Palm Desert |
| California | Sacramento |
| California | San Diego |
| California | San Francisco Bay Area |
| California | Santa Rosa |
| Colorado | Colorado Springs |
| Colorado | Denver and Boulder |
| Colorado | Fort Collins |
| Connecticut | Fairfield County and White Plains |
| Connecticut | Hartford |
| Florida | Destin |
| Florida | Fort Lauderdale |
| Florida | Jacksonville |
| Florida | Miami |
| Florida | Naples |
| Florida | Orlando |
| Florida | Tallahassee |
| Florida | Tampa |
| Florida | West Palm Beach |
| Georgia | Atlanta |
| Georgia | Savannah |
| Idaho | Boise |
| Illinois | Chicago |
| Indiana | Indianapolis |
| Kentucky | Lexington |
| Kentucky | Louisville |
| Lousiana | New Orleans |
| Maryland | Annapolis |
| Maine | Portland |
| Maryland | Baltimore |
| Massachusetts | Boston |
| Michigan | Ann Arbor |
| Michigan | Detroit |
| Minnesota | Minneapolis and St. Paul |
| Mississippi | Jackson |
| Missouri | Kansas City |
| Missouri | St. Louis |
| Nebraska | Omaha |
| Nevada | Las Vegas |
| New Hampshire | Manchester |
| New Jersey | Central Jersey |
| New Jersey | North Jersey |
| New Mexico | Albuquerque |
| New York | Buffalo |
| New York | Long Island |
| New York | Manhattan and Brooklyn |
| North Carolina | Asheville |
| North Carolina | Charlotte |
| North Carolina | Greensboro |
| North Carolina | Raleigh |
| North Carolina | Wilmington |
| Ohio | Cincinnati |
| Ohio | Cleveland |
| Ohio | Columbus |
| Ohio | Dayton |
| Oklahoma | Oklahoma City |
| Oklahoma | Tulsa |
| Oregon | Portland |
| Pennsylvania | Allentown |
| Pennsylvania | Philadelphia |
| Pennsylvania | Pittsburgh |
| Rhode Island | Providence |
| South Carolina | Columbia |
| South Carolina | Charleston |
| South Carolina | Greenville |
| Tennessee | Chattanooga |
| Tennessee | Knoxville |
| Tennessee | Memphis |
| Tennessee | Nashville |
| Texas | Austin |
| Texas | Dallas and Fort Worth |
| Texas | Houston |
| Texas | San Antonio |
| Utah | Salt Lake City |
| Virginia | Charlottesville |
| Virginia | Richmond |
| Virginia | Virginia Beach |
| Virginia | Washington, DC Metro |
| Washington | Seattle and Eastside |
| Wisconsin | Madison |
| Wisconsin | Milwaukee |
---