You Won't Believe People Actually Wanted These Black Friday Doorbusters
Remember that time Toys "R" Us offered us a Black Friday alarm clock? Or when Walmart slashed an astonishing 75 cents off the Nintendo Wii? Oh, fond memories!
Wait... Where Are All the Black Friday 2019 Deals?
Looking for updated info on Black Friday 2019? Check out our Black Friday Sneak Preview, where you'll find all the latest Black Friday ads, rumors, predictions, and more!
SEE ALSO: Black Friday Sneak Preview 2019: See All Our Deal Predictions!
Call us sentimental, but we like to sit around sipping a mug of herbal tea and reminiscing about the good old days, when things were simpler. You know, 2003? See, back then, Black Friday wasn't as big of a deal as it is today, but merchants still tried to entice people to line up in front of their stores.
Many of those olden-timey deals were, in hindsight, ridiculous — proving that not everything old deserves your respect. (Sorry, Grandma!) Let's take a look at 16 of these historical (hysterical?) Black Friday "deals" from back in the day, and mock them cruelly.
Black Friday 2003: Check the Tape
Over a decade ago, RadioShack (which was still a place that people shopped at, like, for realsies) honestly believed you would part with your Black Friday dollars if it offered a DVD-VCR combo for $119.99. Heck, these days, you won't pay that much for a Blu-ray player... with 3D capabilities... and WiFi!
Also worth remembering is that by 2003, VHS had already been solidly replaced by DVDs, so this promo is even more mind-boggling. It could be argued that this deal was aimed at the "we still have our kids' old dance recitals on VHS and want to bring out the tapes any time they bring home a new boyfriend" market — you know, your mom and dad.
Black Friday 2004: Must-See CRT
Eleven years ago, Walmart thought you'd be tempted to wait outside in the cold for hours to get your hands on an HP Pavilion computer for $498. What made it a smokin' deal? It came bundled with a 17" CRT television set, which, to our 2016, 4K eyes, just seems barbaric. Even in 2004, LCDs were on the rise (though they wouldn't overtake CRT sales until 2007).
SEE ALSO: The Top 5 Stores for Black Friday Deals Online in 2016
Amusingly, Walmart also used Will & Grace Season 1 on DVD for $12.99 as a lure for Black Friday shoppers, which, to our 2016, Netflix-watching eyes, just seems barbaric!
Black Friday 2005: Silly Storage and Dancing Robots
In 2005, Staples notably offered a Maxtor 200GB internal hard drive for $29.94, which would have made a regular person living then say, "Sweet! There's no way I could fill up that much space!" Well, time has made liars of us all, as we fill up terabytes of space and worry about running out.
Were we ever so simple as a nation that we believed the pinnacle of robotics technology was the Robosapien?
Speaking of amusing storage capacities, the office supply store also offered a Palm E handheld device bundled with a Creative 256MB MP3 player for $149.94. Excitingly, that MP3 player touted it could hold over 100 songs! We again shake our heads at how hard life used to be, even though we thought we were so futuristic. (And, yes, we're just going to skip over the fact that the Palm E was a thing.)
It should be noted that as we scanned these ancient ads, we were shocked to see that Linens 'n Things stores... well, still existed, but also that they offered the Robosapien for $39.99. Were we ever so simple as a nation that we believed the pinnacle of robotics technology was this mechanical dancing monkey? "Look, we'll investigate their use as caregivers for the elderly later. For now, let's tweak the booty-shakin' algorithm!"
Black Friday 2006: Put All Your Money in CDs
The year was 2006 and Circuit City was offering a Canon Mini DVD digital camcorder for $349.99 to lure shoppers into its stores. Apparently we used to think recording video directly onto a DVD was the way of the future? (And $350 seemed like a "bargain" to do so?)
Moreover, the iPod was already on the market for five years by the time Circuit City was going to sell the Memorex portable personal CD player for $9.99 during Black Friday 2006. Quite a steal — as long as you overlooked the digital music revolution.
Black Friday 2007: Shaun of the Dead Formats
Media store F.Y.E. thought we'd all love to buy Shaun of the Dead on HD-DVD for $16.99. Try not to laugh too hard at this sale, because even though Blu-ray was clearly winning the format war, the retailer probably didn't know the HD-DVD Group would officially kill off the format just three months later.
Speaking of dead formats: That year, Target stepped up to the Black Friday plate and took a swing at offering a Dane-Elec 512MB secure digital card for $7.97. In today's terms, that's an astonishing $15.94 per GB.
Part of Finish Line's Black Friday promo touted Heelys for $29.99 each, which was the cheapest way for your kid to get from point A to the hospital.
The year 2007 was when stores started to really push digital picture frames on Black Friday. Several years later, a study would find that everyone hates them. Yet, we all thought they would make excellent gifts, so it's just another of those weird glitches in America's history, where everyone buys something, even though we should all know better.
Like dancing Coca-Cola cans, "Bazinga" T-shirts, or (also from 2007) wheeled shoes for kids! Yep, part of Finish Line's Black Friday promo touted Heelys for $29.99 each, which was the cheapest way for your kid to get from point A to the hospital.
Something else that tickled our post-Thanksgiving wishbone in 2007 were the multiple stores that had deals on "candy bar" cell phones. The Apple iPhone had just been announced, essentially making every other cell phone ("deal" or not) look like a steamy pile of... stuffing. But that didn't mean the stores wouldn't give it the ole' college try. For instance, Best Buy was hawking theVerizon LG Chocolate Cell Phone for $49.99 and, at the time, that was about as desirable as non-iPhone cell phones got. It didn't have a mobile web browser in it, nor could it run apps at all! Ah, simpler times.
Black Friday 2008: America's Funniest Home Injuries
It was just eight years ago that the world was introduced to the joys and horrors of the split skateboard — the manual kind, not this new-fangled "hoverboard" thing. Twice as hard to ride as a normal skateboard, the two-piece Razor RipStik Caster Board sold for $59 as one of Target's Black Friday deals that year. We wonder how many kids woke up on Christmas morning expecting they'd be spending Christmas night in the ER? It's the gift that keeps on giving (your child concussions).
SEE ALSO: Toys "R" Us Black Friday Ad Analysis: Must-Have Drones and Nerf Blasters
Usually merchants use Black Friday as a platform to show off their toys and get parents to buy holiday gifts for their tots. But then there was that time in 2008, when Toys"R"Us offered an AM/FM clock radio for $4.99. The only thing "fun" about it was that it came in purple (which, as everyone knows, is only the fourth most fun color). Now, sure, $4.99 was — and is — a great price, but it's still the most boring gift you could ever give a child.
A slightly better gift idea? The High School Musical Bike for $69 at Walmart, but what parent would have been willing to wait in line for that? After all, it was the High School Musical 3 bike and not, like, based on one of the good High School Musicals. And Walmart was one of the first stores to offer a discount on the Nintendo Wii, selling it for $249.24. That's a whopping 75 cents off the $249.99 list price. Talk about savings!
Walmart was one of the first stores to offer a discount on the Nintendo Wii, selling it for $249.24. That's a whopping 75 cents off the $249.99 list price. Talk about savings!
After looking back on the olden days, we can conclusively say that people sure bought and sold some terrible tech back then! Surely the people of 2026 won't be looking back at us in 2016 and saying the same thing... right?
Either way, we hope you enjoyed this eye-rolling trip down Black Friday Memory Lane. Care to share with us the most hilarious Black Friday deal you were ever proud to have snagged? We'd love to know, so tell us in the comments below!
Excited for Black Friday? Check out the DealNews Black Friday hub for the latest updates! You can also subscribe to the DealNews Select Newsletter, download the DealNews apps, or read more buying advice.
---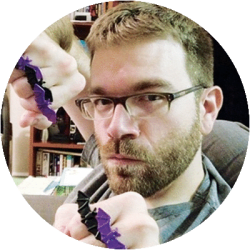 Contributing Writer
Jeff Somogyi is constantly trying to come up with ways to surprise and delight audiences the world over. He takes humor seriously ... too seriously. (Honestly, we've never seen him laugh ... it's kinda creepy.)
DealNews may be compensated by companies mentioned in this article. Please note that, although prices sometimes fluctuate or expire unexpectedly, all products and deals mentioned in this feature were available at the lowest total price we could find at the time of publication (unless otherwise specified).