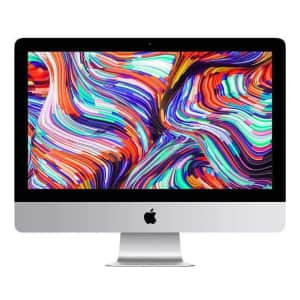 Tips
Add this to your cart to see the discount.
Features
Intel Core i3-8100 3.6GHz Coffee Lake quad-core CPU
21.5" 4096x2304 Retina 4K display
8GB RAM; 256GB SSD
AMD Radeon Pro 555X 2GB GPU graphics card
Mac OSX 10.14.4 (Mojave)
Model: MHK23LL/A
↑ less
Tips
A 1-year warranty applies, although it's unclear who backs it.
Sold by Quick Ship Electronics via eBay.
Features
10th Gen Intel Core i5 3.1GHz 6-Core CPU
27" 5120x2880 (5K) Retina display
8GB RAM & 256GB SSD
AMD Radeon Pro 5300 4GB GPU
MacOS
Model: MXWT2LL/A
↑ less