The Best Tool Deals

We've rounded up the best deals on tools, accessories, combo kits and more – from beginners to hobbyists to pro-am and beyond, look no further for your cheap tool needs.
Best Saw Deal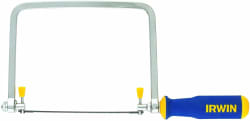 Irwin ProTouch Coping Saw
Store:
Amazon
Price:
$8.98
Shipping:
Free shipping w/ Prime
Lowest By:
$1
It's fun to imagine that this "coping saw" is some kind of emotional support mascot, literally there to help you "cope" with "things" that leave you feeling out of joint by applying jagged metal teeth to comparatively soft materials. Instead, it's about using jagged metal teeth to cut coping joints into comparatively soft materials, which is a lot of the same words, but with a vastly different meaning.