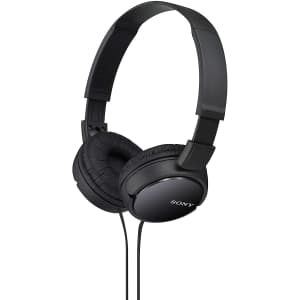 Tips
In Black or White.
This item is currently out of stock, but can be ordered now at this price.
Features
30mm drivers
Swivel design
47.25" tangle free wire
Model: MDRZX110
↑ less
Headphones: The Basics
Whether you're working out, working from home, on a commute, or just kicking back, there's a style of headphones that suits your needs. Here are a few helpful tips to finding the best headphone deals that will hit all the right notes.
Headphones for Your Workout
When bumping some tunes for motivation at the gym or on a run, you'll be best suited to get a pair of bluetooth headphones. This will avoid that cable snaking its way from your smartphone to somewhere unsafe.
There are many form factors to choose from, including True Wireless Headphones, such as the popular Apple AirPods and Samsung Galaxy Buds. More traditional styles from Bose, Beats by Dr. Dre, and Sony are also a great choice.
Headphones for Your Commute
If you're looking to block out a busy subway or loud engines, be on the lookout for headphones that either offer Active Noise Cancellation or passive isolation. Active Noise Cancellation digitally "cancels" a fair amount of background noises. In-ear monitors (IEMs) or closed-back over-ear headphones will offer varying levels of passive noise isolation.
Less noise from the outside world makes it easier to use your headphones at lower volumes — thus ensuring years of ear health. A couple popular options include the Bose QuietComfort series, and Sony's top-of-class (albeit awkwardly named) WH-1000XM3.
Headphones for Your Office
Using your headphones in the office, or seated near your home stereo? While the options here are nearly unlimited, it's worth considering your fellow coworkers. A closed-back, over-ear pair may be bulky, but they will ensure your cubicle cohabitants (or family members) don't have to hear whatever music you're jamming to.
It's also worth noting that many of these larger headphones benefit from dedicated headphone amplifiers, standalone digital-to-analog converters (DACs), and other peripherals.
Whatever your main use will be, it's important to note that there are headphone models and options across all ranges of budget, from a few bucks to hundreds — or even thousands — of dollars. And many times, one style of headphone will work for more than one use case.
Check Out These Popular Headphones Brands!
Check Out These Blog Articles About Headphones!
Frequently Asked Questions
What is Active Noise Cancellation?
In a nutshell, Active Noise Cancellation, or ANC, is a technology that uses small microphones (typically in the headphone's shell) to monitor external noises. These mics then digitally create and project an opposite waveform, effectively lowering the perceived volume of the external noise. As such, it works best when the distracting noise is a constant hum (such as an airplane's engines) rather than an uneven and unexpected noise, like a talkative neighbor.
What's the difference between earbuds and earphones?
Earbuds commonly refer to a style of portable headphone that rests just inside your ear, whereas earphones (or In-Ear Monitors) are designed to be carefully inserted into the ear canal. While some folks have an aversion to this idea, some benefits of IEMs include greater isolation and a better seal, resulting in improved sound quality. Additionally, the increased isolation from the outside world means you can listen comfortably at much lower (and safer) volumes.
What's the difference between over-ear and on-ear headphones?
As the names imply, Over-Ear (or circumaural) headphones feature deep cups and earpads that completely surround the ears, whereas the earpads of On-Ear (or supra-aural) headphones will rest on your ear. (Seems, obvious, right?) Some listeners find over-ear more comfortable and less fatiguing to wear than on-ears, due to the less pressure exerted on sensitive ear cartilage.
What's the difference between open and closed headphones?
You'll often see "open-back" or "closed-back" used to describe a pair of headphones. This refers to the design of the cup, and how much air is allowed to move behind the driver. Generally speaking, in addition to isolation from external noises, closed-back headphones tend to offer better bass response. Open- or semi-open sets generally produce a wider soundstage and more realistic imaging.
By: William Lardinois, Travel Editor & Staffwriter
William has been a part of the DealNews team since 2014. He started as a content writer, and has worn hats in a myriad of roles ever since - eventually becoming the head of the Travel team. In that role, he researches airfare, cruise, hotel, and vacation deals galore, and keeps tabs on industry trends. When he's not sharing travel tips, William is the DealNews resident audio expert — often helping coworkers find the perfect set of headphones or speakers.