Look. At that. Dog. Do you want to let him down by putting off this year's Valentine's Day gifts until you inevitably forget and have to rush it? Take a hint from one our five best early Valentine's Day deals, which include a bouquet with various optional extras, a box of chocolates, or an entire steak dinner.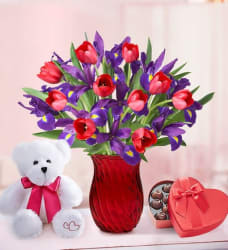 Bunches of Love Tulip & Iris Bouquet
Store: 1-800-Flowers
Price: from $26.99 EXPIRED
Shipping: $15 shipping
Lowest By: $30
Expiration: February 27

The classics are classics for a reason. You can't go too far wrong with a thoughtful bouquet of flowers, and you only get increasingly right as you add vases, flowers, and chocolates to the equation. Depending on how extravagant you go, you're saving anywhere from $18 to $30. (That does mean you're ethically obliged to spend the savings on secondary gifts.) Delivery is available through Valentine's Day, but select delivery days require an additional fee.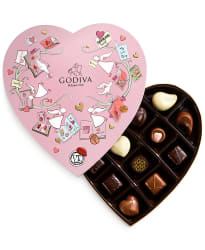 Godiva Valentine's Day 14-Pc. Paper Heart Candy Box
Store: Macy's
Price: $26.21 via code "YAY" EXPIRED
Shipping: Free shipping
Lowest By: $9
Expiration: February 3

We'll stick with the classics, in both a broader chocolates sense, and a more specific Godiva sense. Dive back into the 1980s with this ad for some nostalgic sentimentality as you enter the coupon code "YAY" – it'll make saving $9 on these chocolates seem like a grand romantic gesture in your head. This heart-shaped box includes a variety of classic pieces along with limited edition Valentine's Day chocolates.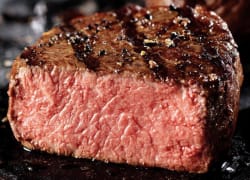 Omaha Steaks Valentine's Day Steakhouse Favorites Meal
Store: Omaha Steaks
Price: $89.99 EXPIRED
Shipping: Free shipping
Lowest By: $69
Expiration: February 14

Bring the goodness of an expensive steakhouse dinner to the intimacy of your own dining room with this Omaha Steaks selection. It includes four 5-oz. Omaha-cut ribeyes, four 5.5-oz. stuffed baked potatoes, four 4.2-oz. chocolate molten lava cakes, and a signature seasoning packet. If you're not sure how to best take those steaks to their medium-rare best, this Bon Appetit guide should give you a few ideas.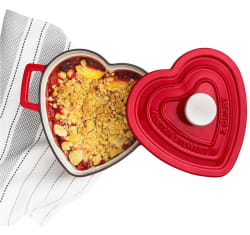 Martha Stewart Cast Iron 2-Qt. Heart Casserole
Store: Macy's
Price: $39.99 via code "YAY" EXPIRED
Shipping: Free shipping
Lowest By: $60
Expiration: February 3

If the idea of home cooking sounds good, but you don't want to be necessarily locked into a steak dinner, this Martha Stewart Dutch oven is a good substitute, in either of two ways. First, and most safely, use it to cook your better half something low and slow, so by the time you're serving it, both the tenderness and the vessel are appropriate to the day. Second, and you really must use your best judgement here, give it as a gift, paying close attention to your tone as you do it. More "Imagine all the meals we'll cook during our long lives together" than "Imagine all the meals you'll cook for me with this, starting tonight please". We really don't need any more blood on our hands.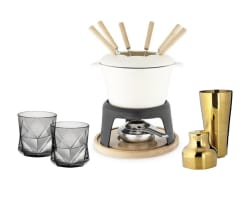 Amazon Valentine's Day Home Gift Guide
Store: Amazon
Price: from $10 EXPIRED
Shipping: Free shipping w/ Prime
Expiration: March 20

If we haven't struck gold for you above, don't despair – you've got an entire Amazon sale to peruse yet. And this sale has plenty choose from, including yet more kitchen and culinary items, through to loungewear, artwork, decor, and even themed pet apparel. We're not sure a watering can strikes the exact same romantic tone as the flowers it would water, but hey, no river long enough doesn't contain a bend.