It's National Girls and Women in Sports Day, and we wanted to celebrate this festival of female fitness with some top-notch deals. So here's a selection of the five best sports and fitness deals for women from the last week, including some comfortable tights from The North Face, and a 6-pack of discounted CamelBak water bottles.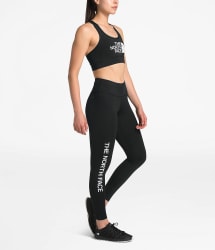 The North Face Women's NSE Infinity Train Mid-Rise Tights
Store: The North Face
Price: $45.50 EXPIRED
Shipping: Free shipping
Lowest By: $20
Expiration: March 2

No matter what sport you're into, no matter what gym day you're heading into, comfort is going to be key. These The North Face mid-rise tights should do the job, while also saving you $20 in the process. They come in Black/White or Black/White Camo, in select sizes from XS to XL.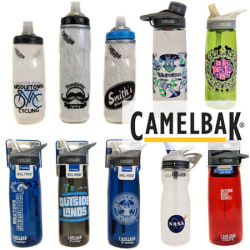 CamelBak Water Bottle 6-Pack
Store: That Daily Deal
Price: $29.94 EXPIRED
Shipping: Free shipping
Lowest By: $26
Expiration: February 18

Forget what we said about comfort being key. That was misguided. It's important, yes, but we've consulted with Dr. N. Ternet, and it turns out hydration is key. So stocking up on six CamelBak water bottles while they're going cheap at That Daily Deal is an investment in your own future health. It boils down (water pun) to $5 per bottle, which works out as an overall savings of $26. They'll ship in random styles, each with at least a 24-oz. capacity.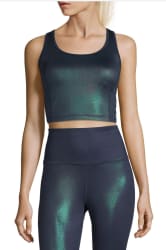 Xersion Women's Racerback Sports Bra
Store: JCPenney
Price: $14.39 via code "FRESH20" EXPIRED
Shipping: Free same-day pickup, $3.95 in-store pickup, or $8.95 s&h
Lowest By: $18
Expiration: February 7

Little known fact about this Xersion sports bra: it's hugely popular in the niche, but definitely not invented for the sake of this reference, "Seven of Nine fights The Rock in Star Trek: Voyager circa 2000" cosplay scene. It's also discounted to a little under half price thanks to the code "FRESH20". If you're lucky, you'll find it for free same day pickup; otherwise, you can pay $3.95 for ship-to-store pickup, or $8.95 to have it shipped directly to you. It comes in select sizes from S to XXL.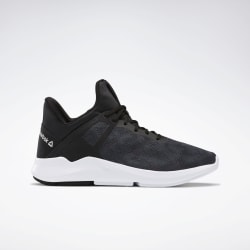 Reebok Women's Gazura Training Shoes
Store: eBay
Price: $29.99 EXPIRED
Shipping: Free shipping
Lowest By: $21
Expiration: March 23

It always pays to keep one eye on your favorite brands' eBay stores as well as their own storefronts – they'll often have the best prices in their third-party marketplaces for reasons we won't question on account of gift horses and mouths. These Gazura training shoes are available for a cool $21 less than you'd pay elsewhere today, in four colorways and a huge range of sizes.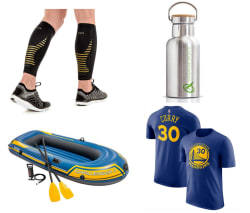 Amazon Outlet Sports Deals
Store: Amazon
Discount: It's Amazon, baby
Shipping: Free shipping with Prime
Expiration: February 10

As is tradition, if we haven't found exactly what you're looking for, odds are you'll find it at Amazon. These outlet deals include everything from reflective bands to swim goggles to flintlock pistol replicas. (That last one isn't relevant, but it really strange, and we couldn't pass it by.) You may have to do a little digging to find the right deal for you, but there's nearly 1,000 items, so we like your chances.