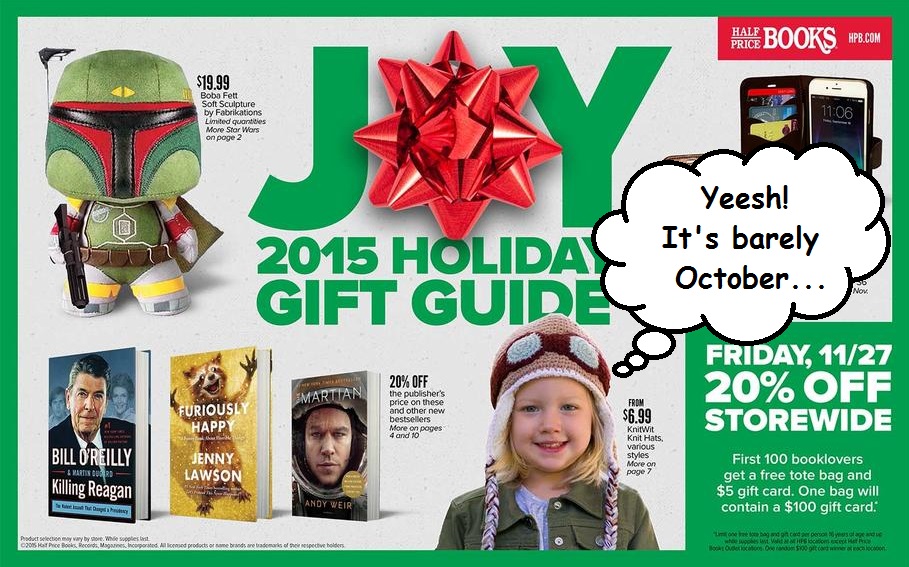 It's a good thing we just posted our Black Friday predictions, because the very first Black Friday ad is here!
To kick off the holiday season, reading retailer Half Price Books released its 2015 Gift Guide. And the first page of this 12-page circular includes a brief mention of the store's classic Black Friday promotion, which includes an in-store tote bag giveaway and 20% off storewide.
Black Friday Creep is Alive and Well
For the record, this ad leak is pretty darn early. Last year, the Harbor Freight Tools ad was leaked on October 14. In 2013, JCPenney broke the seal on Black Friday by releasing its snow globe promo on October 12. So while we're used to seeing the first ad in October, no one was betting the first ad would come this early.
To find out which retailers we're likely to see ads from next, we reviewed the DealNews archives. Harbor Freight Tools is a likely candidate, not only for last year's early leak, but because the hardware chain was tied with dollar-store Fred's in 2012 for that year's first leak, too.
Although we're accustomed to seeing the first Black Friday ad in October, no one was betting that this year's first leak would come this early.
Last year, Belk and Newegg were the other early leakers, with their ads appearing at the end of October. Traditionally, Ace Hardware will also drop its ad in late October, although it waited until November 1 last year — which is the same day Amazon dropped its first ad.
However, if you're wondering about retail giants like Toys "R" Us, Best Buy, and Walmart, then you've got some waiting to do. These vendors typically leak their ads in early to mid-November.
---
Related DealNews Features: