4K TV Deals May Be Awesome, But You'd Be Stupid to Buy One
Update: We've changed our tune!

A lot has changed since we originally published this feature; more content providers offer 4K streaming, and prices have gotten even cheaper — including sizable discounts on high-end sets. Click here to read more about why it may be time to buy a 4K TV. Or, check out our 4K TV deals here.




It's probably safe to say that unless you happen to be ungodly wealthy, the thought of buying a 4K or Ultra HD television has, until recently, never really crossed your mind. Just this past January, at CES 2013, representatives from Sony, Toshiba, and LG were showcasing 4K TVs in the $20,000 price range. (That's $20K, by the way.) Sure, a near pixel-free viewing experience is titillating, but such technology is still prohibitively expensive — or at least it was.

SEE ALSO: Do You Need a Smart TV?

Just three months later, the cost of 4K TV prices have dropped to a point that doesn't seem outrageously irresponsible for a budget-minded shopper. Sony unveiled 55" and 65" sets in its XBR series; at $5,000 and $7,000, respectively, they're significantly more affordable than their 84" predecessor ($25,000) shown at CES. Then, with consumers perking up to 4K TV prices, little-known manufacturer Seiki put its 55" 4K TV on the market for $1,500 — and it has since fallen to as low as $1,099 (currently $1,445.99 with free shipping at Amazon, a low by $54).
4K TV Prices Are Great, But You Won't Notice the Higher Resolution
That latter price point is especially within the financial reach of many people, but is it really the right time to buy a 4K TV? While Seiki's 4K set may seem like a bargain in comparison to Sony's latest offerings, it's still more than twice the cost of most 1080p HDTVs of the same size. Still, there are factors besides price (like Smart TV capabilities) that you may want to consider before purchasing a 4K TV.
Even those who have been dazzled by 4K picture quality at close range will admit, the advantages of 4K may be entirely superfluous. As resolution increases, the benefits are only noticeable by increasing viewing distance and screen size proportionately. As most viewers have continued to watch television at an average distance of nine feet even after switching from analog television to digital HD, it is presumable that they will not change their viewing habits (i.e. move closer) after going 4K. Thus, unless consumers are planning to purchase a ridiculously large screen of 80" or more, all the extra pixels will more than likely be completely lost on them.
There's Nothing to Actually Watch on Your 4K TV
While the "more is better" hook makes 4K TVs an easy sell — and it is probably inevitable that 4K will become a commonplace technology — you're going to have a hard time finding stuff to watch on your souped-up set at the moment. Content is a concern that Sony (a manufacturer that seems more gung-ho about 4K than anyone else) is looking to address. The company has already announced that it will ship a 4K media player, the FMP-X1, this summer with a MSRP of $699. The player will link up with Sony's on-demand 4K movie download service scheduled to launch this fall. Pricing for the content itself is still unknown.
In the meantime, users can watch the 10 movies with which the 4K media player comes loaded, including The Amazing Spider-Man, Total Recall (the 2012 version...), and Taxi Driver, as well as three Blu-rays (Spider-Man, Ghostbusters, and Angels & Demons) that come with Sony's 4K sets on Blu-ray (while supplies last). Labeled "mastered in 4K," these films don't actually have 4K resolution, but they have been enhanced to take advantage of the increased picture quality.
Given that Sony also sells two UltraHD video cameras used for shooting films and television, as well as the 4K projectors used in cinemas to project such movies, it's not surprising that they're making a big investment in the technology. They've already struck deals to film and potentially broadcast this year's Wimbledon and next year's FIFA World Cup tournaments in 4K.
While Blu-rays are capable of holding 4K content, most agree that the future of the advancement lies in streaming, which is possible with a Smart TV or streaming media player. Netflix, which already shoots its successful original series, House of Cards, in 4K told The Verge that it plans to deliver 4K content within the next two years.
Technology Is Changing, So Your TV Might Be a Useless Antique Soon
Many plans are afoot for the future, but 4K content is still largely nonexistent. And when it does become available, some worry that today's sets won't be able to handle its content: it will likely be compressed using HEVC, which current HDTVs aren't equipped to decode. Elsewhere on the 4K horizon, there's speculation that the next MacBook Pro will be capable of creating and editing UltraHD content, and Panasonic is hoping to go 4K in a big way in 2014. But none of this has come to pass yet.
So while the allure of having enough extra pixels to watch 3D content in HD — or being able to sit just a few feet away from your TV (something our moms always told us would hurt our eyes) — without experiencing pixelation is certainly strong, the tech world's overwhelming consensus is suggesting consumers hold off on purchasing a 4K set for at least a year or two, especially since we will no doubt see plenty of innovations — and price cuts — during that time. Like any brazenly new technology that requires seismic shifts within the industry, we think good things will come to those who wait.
---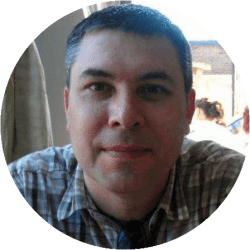 Contributing Writer
Stephen has been writing for such national and regional publications as The Village Voice, Paste, The Agit Reader, and The Big Takeover for 20 years. He covered consumer electronics and technology for DealNews from 2013 to 2018.
DealNews may be compensated by companies mentioned in this article. Please note that, although prices sometimes fluctuate or expire unexpectedly, all products and deals mentioned in this feature were available at the lowest total price we could find at the time of publication (unless otherwise specified).