Can Apple Make Mobile Payment Work, and Can it Save You Money?
Apple Pay may have better security and a more powerful brand than previous attempts at mobile pay, but is that enough to get millions to use it? And is it better for the consumer?
The iPhone 6 and Apple Watch got much of the attention at yesterday's Apple keynote address, but Apple's mobile payment platform Apple Pay could be the real game changer in the retail world to emerge from the event. It could benefit consumers like you with savings, speed, and security — if Apple can succeed where many others have failed.
In a lot of ways, Apple Pay is like many of the other mobile-based payment systems available, like Google Wallet and Softcard (formerly Isis). It stores credit and debit card information on your phone, simplifying mobile payment; and also uses Near Field Communication (NFC) to allow users to pay at participating retailers just by placing their phone next to a reader device.
Mobile Payment: Great Idea, No Momentum
Why hasn't mobile payment caught on yet? A lot of reasons, but probably the main one is that no single service had achieved a "critical mass" of users and merchants to make it easy enough to use. Google Wallet famously flopped when Verizon, T-Mobile, and AT&T all refused to support it on their networks, in favor Softcard, their own payment system. This fractured the market for both players, meaning the function really wasn't that convenient. In a vicious cycle, consumers won't use it if it's not accepted at retailers; and retailers won't spend money upgrading their payment systems if consumers aren't demanding it.
In addition, security concerns have become prominent, especially with all the breaches in the last year.
Same Experience, Better Security, Apple Muscle?
So what's so special about Apple Pay? The security features are a big step up. Verification to use Apple Pay is connected to the iPhone's Touch ID fingerprint reader; and though this has been proven fallible, it still adds one more layer of security. In addition, users' credit card information will never be transmitted, as a one-time encrypted payment code will be generated every time Apple Pay is used.
As for customer experience and convenience, it actually seems about the same as what was previously available.
"For the [tap-and-go] payment transaction... it's not radically different from what's been available to date," said Doug Brown, senior vice president and general manager of payment technologies provider FIS Global, in an interview with DealNews. He added that he was surprised that Apple CEO Tim Cook's keynote address did not mention anything about coupons, offers, or other incentives that could really differentiate the NFC and mobile payment consumer experience.
And Apple Pay doesn't appear to overcome the "critical mass" problem- at least not yet. Cook boasted that Apple Pay will be accepted at 220,000 retail locations in the US right out of the gate — but "that's about 2.4% of the roughly 7 million to 9 million merchants in the U.S. that accept credit cards," writes Time; by comparison, Google had 300,000 retailers with it's partnership with MasterCard for Wallet.
However, if anyone can make that upgrade look worthwhile, it's Apple and the 41% of the US market that has an iPhone. Apple already announced several major companies that will accept Apple Pay, including "Bloomingdale's, Disney Store and Walt Disney World Resort, Duane Reade, Macy's, McDonald's, Sephora, Staples, Subway, Walgreens and Whole Foods Market." And carriers won't be able to block Apple Pay like they did with Google Wallet on Android, because Apple makes both their own hardware and OS.
For Consumers: More Deals, More Impulse Spending
As Brown mentioned, mobile payment could open the door to a new world of savings, as retailers seek to offer the most targeted deals ever.
On the other hand, by making mobile payment easier than ever — both online and in brick-and-mortar locations — Apple is making spending money easier than ever. And that could make you wallet slimmer than an iPhone 6.
At Bloomberg Views, Harvard law professor and behavioral sciences expert Cass Sunstein writes: "When payment becomes easier, and when people don't see the money they're handing over, they tend to spend a lot more. And as payment becomes more automatic, people become less sensitive to what they're losing." He goes on to cite studies that people spend significantly more when using cards as opposed to cash.
Apple Pay's biggest effect, therefore, might be in the world of shopping on mobile devices. A full 50% of online store visits now come from mobile devices, but less than a third of orders do. That gap might close fast as smartphone and tablet users have a fast and safe way to checkout.
However, what's good for retailers isn't necessarily good for consumers, so be carefully with your brand new ability to buy things with a single tap on your iPhone. With great power comes great responsibility.
What do you think of Apple Pay? Will you use it to get targeted offers and coupons, or are you keeping your credit card far away from hackable phones and impulse buys? Let us know in the comments.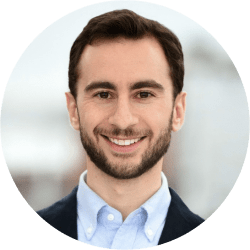 Contributing Writer
Ben was Features Editor at DealNews from 2014 to 2017, when his shopping insights were highlighted by Good Morning America, Reuters, the Washington Post, and more. Though no longer in consumer news, Ben still loves getting a great deal (and writing about it!).
DealNews may be compensated by companies mentioned in this article. Please note that, although prices sometimes fluctuate or expire unexpectedly, all products and deals mentioned in this feature were available at the lowest total price we could find at the time of publication (unless otherwise specified).