Amazon Black Friday Sale Preview: Bringing Competitor Doorbusters Online
Amazon's Black Friday offerings include some solid HDTV deals, but overall a lot of promotions we've seen elsewhere.
Amazon has finally sent around a press release teasing its upcoming Black Friday Sale. Starting on Sunday, November 24 (that's a whole day earlier than last year), Amazon will post a new deal every 10 minutes for eight days straight. That's a lot of deals.

We've already looked over the (relatively) small selection of deals that were included in the announcement to see what you should keep an eye out for and pounce on immediately, and the filler deals you should skip. We're betting that Amazon will offer even better deals as Black Friday draws nearer. After all, why give away all the surprises early?
TVs
Electronics & Gadgets
Google Chromecast Streaming Media Player for $29.99
With a $35 sticker price, we didn't expect there to be any deals on this device because it's already so affordable. Yet here we are, with both Amazon and Best Buy offering it for $5 off. At $20 less than an entry level Roku, it's the cheapest way to get streaming content to your TV.


Canon EOS Rebel T3 Digital SLR Camera for Under $400
The quality of this deal really depends on how much "under $400" Amazon is talking. So far, we've seen several merchants offering this camera for $400 on Black Friday — several of them even throw in an bundled item like a free SD card or carrying bag. The more "under $X" it is, the better deal it becomes. Remember that when you add this SLR to your cart.


Jawbone JAMBOX Bluetooth Speaker for $99.99
Not only is Best Buy offering the Jambox for the same price, but neither are the lowest total prices we've seen. We listed this same unit several times this year for $90.


HTC One Smartphone for 1 cent
With availability on Sprint, Verizon, and AT&T, not only does this deal come with more carriers options than Sam's Club's mention, but it's also the lowest total price we've seen by a full buck.
Toys & Games
Xbox 360 250GB Holiday Value Bundle: Halo 4 & Tomb Raider for $189.99
Though this offer meets our Black Friday expectation of seeing previous-gen console holiday bundles priced 33% to 37% off, Best Buy has this bundle and it throws in Batman: Arkham City and Darksiders II. Of course, you have to wait on line for the Best Buy deal; with Amazon, you'll know it's sold out without having to leave your couch.


PlayStation 3 250GB Bundle: The Last of Us & Batman Arkham Origins for $199
So far, $199 is best Black Friday price for this bundle by a buck. However, the other deal is from Sam's Club: you've gotta be a member to score that one. Amazon has no such restrictions and will take anyone's money.


Popular Video Games: Grand Theft Auto V & Batman Arkham Origins for $34
In our predictions, we claimed that you'd see these and other popular titles for as little as $30. However, every merchants' Black Friday ads seem to be keeping the recent releases priced around $35. With that in mind, Amazon's sale might not be a bad deal to jump on if you're in the market for a newer game. Also keep in mind that video game deals tend to evaporate after Cyber Monday, so this could be a now-or-never situation.


Call of Duty: Ghosts for $39.96
Probably the most anticipated game of the season, there's no reason for stores to discount it at all because customers are gonna buy it anyway! Yet Amazon, Walmart, and eBay all offer this game on sale for $40.


Skylanders Swap Force Characters: Buy 2, Get 1 Free
This Amazon offering isn't the best Black Friday deal we could find; opt for the buy one, get one 70% off deal at Toys "R" Us instead. Pass up on this Amazon deal because the Swap Force characters are cheaper elsewhere, and because the best time to buy toys in mid-December.


50% off LeapFrog LeapPad 2 Learning Tablet Doc McStuffin's Bundle
If Amazon means 50% off list price, then that's $65 ... which, up until this week would have been an amazing price for a LeapPad 2. However, in what was possibly the opening salvo of its annual Black Friday price wars, Walmart put this item on sale for $40 (since expired, but will again be available on Black Friday for $54.) Before now, seeing a LeapPad for $80 was considered a great deal, now, we'd advise you not to pull the trigger on one unless it's around $40. Thanks, price wars!
TV Shows & Movies, Books, and Music
Amazon is advertising price cuts of up to 53% off popular books, up to 63% off 8,000 popular movies and TV shows (including Dexter, Jack Reacher, and The Heat), up to 80% off over 440 movies and TV shows (presumably not popular ones, as those are receiving up to 63% off), and up to 60% off popular albums (including New by Paul McCartney, Blurred Lines by Robin Thicke and Blunderbuss by Jack White). While these are certainly impressive discounts, there is no indication of which titles are receiving what discounts, nor what the final prices are going to be. Still, Amazon has an impressive track record for discounting media during Black Friday (and throughout the holidays), so we're sure that you'll find at least a few gems in there.
Kitchenwares
Baby Items
According to Amazon, you can save 50% or more off Philips AVENT Infant Starter Gift Sets; 40% or more off on BABYBJORN Organic Baby Carriers; and up to 30% on select Skip Hop Diaper Bags. With the exception of diaper bags, each of these promotions are the biggest percent-off sales we've seen all year. (The diaper bag deal happens to tie a Toys "R" Us Black Friday sale; however, the brands they are selling are unknown.)
Fashion & Apparel
Up to 60% off Jackets & Coats
We've seen Amazon offer greater discounts on coats (a selection of wool coats went on sale for 70% to 76% off earlier this month), but such broad sales seem to be few and far between. In fact, we've not seen Amazon offer a similar sale the rest of the year.


Up to 65% off Sweaters & Fleeces
Amongst the Black Friday ads that we've seen, it appears that $10 to $15 will be de rigueur for men's and women's sweaters. If Amazon's 65% sale includes a cozy top for more than $15 off, then it's a good deal.


Up to 60% off Pajamas & Robes
As part of its Black Friday sale, Sears is cutting a flat 60% off all women's sleepwear. On one hand, this Amazon sale will save you up to 60% off, but on the other hand, this offer also includes men's items. The solution: Shop Sears for women's PJs and Amazon for men's.
Plus Apps, Too!
Throughout the season, Amazon will be cutting 50% to 90% off select apps in its Appstore and offering many for free as well. The deals will include popular titles like Super Why!, Where's My Mickey, Monopoly, Angry Birds Star Wars II, NBA2K14, Wheel of Fortune, and OfficeSuite Pro, among others. Knowing this, you should put off buying these apps until they are on sale. For all other apps, unless it's a must-have download (though, what's must-have about Where's My Water 2?), it might be worth waiting to see if a deal comes around. The apps will still be there in January.

Beyond (Before?) Black Friday Deals
While Amazon also touts it's running a lot of "Black Friday Countdown Deals" in the days leading up to Black Friday there aren't many specifics available. Our advice is therefore not treat them all of them as super-hot deals. Watch DealNews and see which ones we post, because those will be the truly noteworthy ones.
Another thing to be aware of is that Amazon's sale prices will only be available at select times and be active while supplies last. If past Black Fridays are any indication, most of the really good deals here are going to be the blink-and-you'll-miss it type. Stay alert, though, and you just might make off with a ridiculously cheap TV!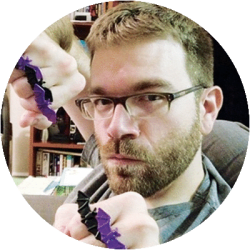 DealNews Contributing Writer
Jeff Somogyi is constantly trying to come up with ways to surprise and delight audiences the world over. He takes humor seriously ... too seriously. (Honestly, we've never seen him laugh ... it's kinda creepy.)
DealNews may be compensated by companies mentioned in this article. Please note that, although prices sometimes fluctuate or expire unexpectedly, all products and deals mentioned in this feature were available at the lowest total price we could find at the time of publication (unless otherwise specified).