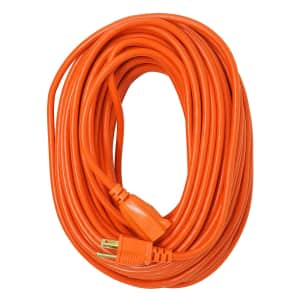 Features
1,250W
weather resistant
Model: 2309SW8803
↑ less
Published 7/26/2021
Verified 7/27/2021

Popularity: 3/5
3 comments
bigpike
my household power is 118v out of the outlet. like blue oak says, a 16g wire is so thin that the demands of start up on motors is so great, the thin wire can't properly power it. buy 12g wire if you want 100ft. it is worth it.
Paradoxx
Thank you for the detailed info. This explains a lot was too why some of my electric tools are messing up.
BlueOak
I consider a 100 foot, *16-gauge* extension cord to be almost useless.

If all you wish to do is run some lights or a radio, fine.

However, I'd never run a device with a motor like a refrigerator, freezer, or power tool on a 100 foot, 16-gauge extension cord. The voltage drop over 100 feet causes the motor to run hot and fail prematurely.

And if for whatever reason your supply voltage starts out low at the receptacle, say 110 volts rather than the proper 120 volts, the overheating problem is even worse.

The smallest 100 foot extension cords we have are 12-gauge (lower number is bigger wire) and we have a 10-gauge one as well.
Enable alerts for this product
Price Analysis
| &nbsp | Discount | Last Deal Price | Current Price | &nbsp |
| --- | --- | --- | --- | --- |
| Amazon | 39% | -- | $24 | Buy Now |