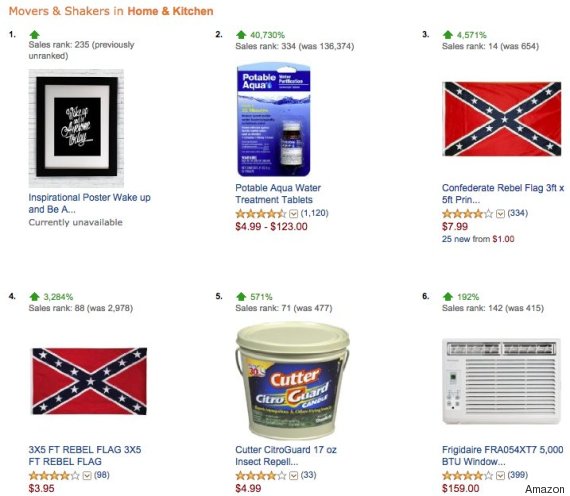 Just two weeks ago, several major retailers in the U.S. were selling merchandise bearing the Confederate flag, with little fear of serious repercussions. But following the racially-motivated shooting in Charleston, South Carolina last week, the industry's leading names have dropped any merchandise bearing the controversial symbol, as support for it has shifted seemingly overnight.
Retailers Drop the Confederate Flag
Sears (which owns Kmart) and Arkansas-based Walmart led the charge on Monday by announcing that they would cease selling Confederate flags, and any merchandise bearing the Confederate flag image. Marketplaces Etsy and eBay joined the group on Tuesday, despite the difficulties of monitoring diverse inventories from third-party sellers.
"We have decided to prohibit Confederate flags and many items containing this image because we believe it has become a contemporary symbol of divisiveness and racism," eBay said in a statement.
Amazon Turns Under Pressure
Amazon's announcement did not come until later on Tuesday, by which time it had been strongly pressured to drop the items by customers and public figures alike. The company's Facebook page filled with threats of boycotts. Also, it's pages selling the flag and similar items had become grounds for supporters of both sides to face off in the reviews section.
At the same time, Amazon's own trending features showed that sales for the top Confederate flags soared by over 4,000%.
Prior to the ban, Amazon had sold thousands of products featuring the symbol, from the flag itself, to hats, jewelry, keychains, and bikinis. As of Wednesday morning, none were accessible on the site.
Even manufacturers are joining in: 133-year-old company Valley Forge Flag, one of the country's most prominent producers, announced this week it would no longer make the Confederate flag.
Deadly Shooting Shifts Opinions
The flag has been a divisive and controversial symbol, but attempts to oppose it have been downright toxic for politicians in the South. All that changed last week when Dylann Roof shot and killed nine black members of the Emanuel AME Church, a historic congregation in the black community, in Charleston, SC. In addition to the discovery of his racist manifesto, Facebook photos soon surfaced of Roof holding the Confederate flag.
Attention quickly focused on the Confederate flag flying at the South Carolina statehouse in nearby Columbia. Gov. Nikki Haley, who had previously supported the flag's placement, on Monday said it "does not represent the future of our great state."
---