2023 Retail Returns Statistics & Behavior Report
Our latest survey provides insights into Americans' retail shopping and return behavior. See the impact of return policies, reasons for returns, and more.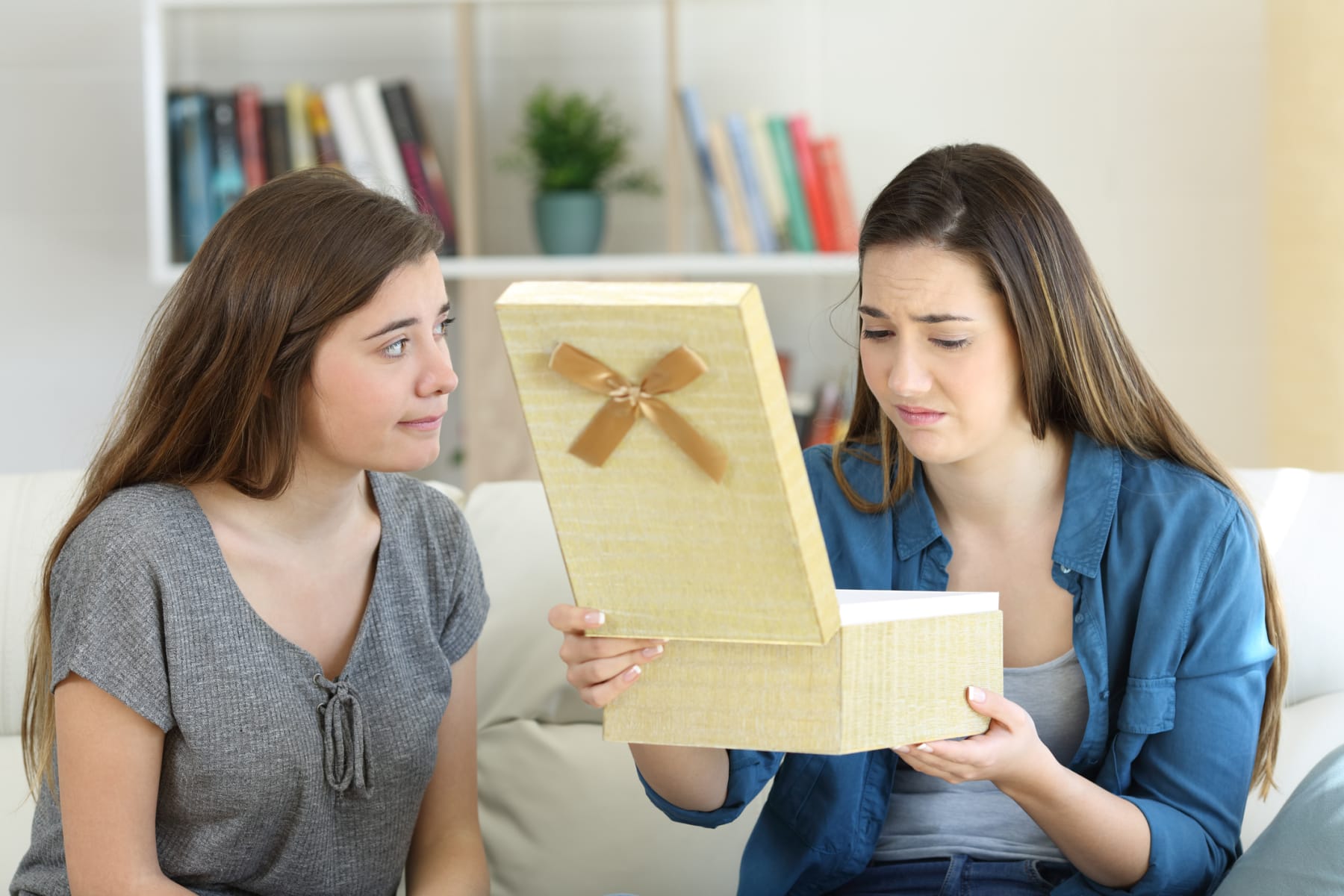 Being able to order anything with just a few clicks is extremely convenient, but what happens when those items don't work out?
Here at DealNews, we recently surveyed 1,000 Americans about their retail return habits. We learned many Americans prefer making returns online, and the majority say a retailer's return policy has an impact on whether or not they'll even buy products. Keep reading for the full survey results.
America's Return Behavior: 2 in 5 Won't Pay for Mailed Returns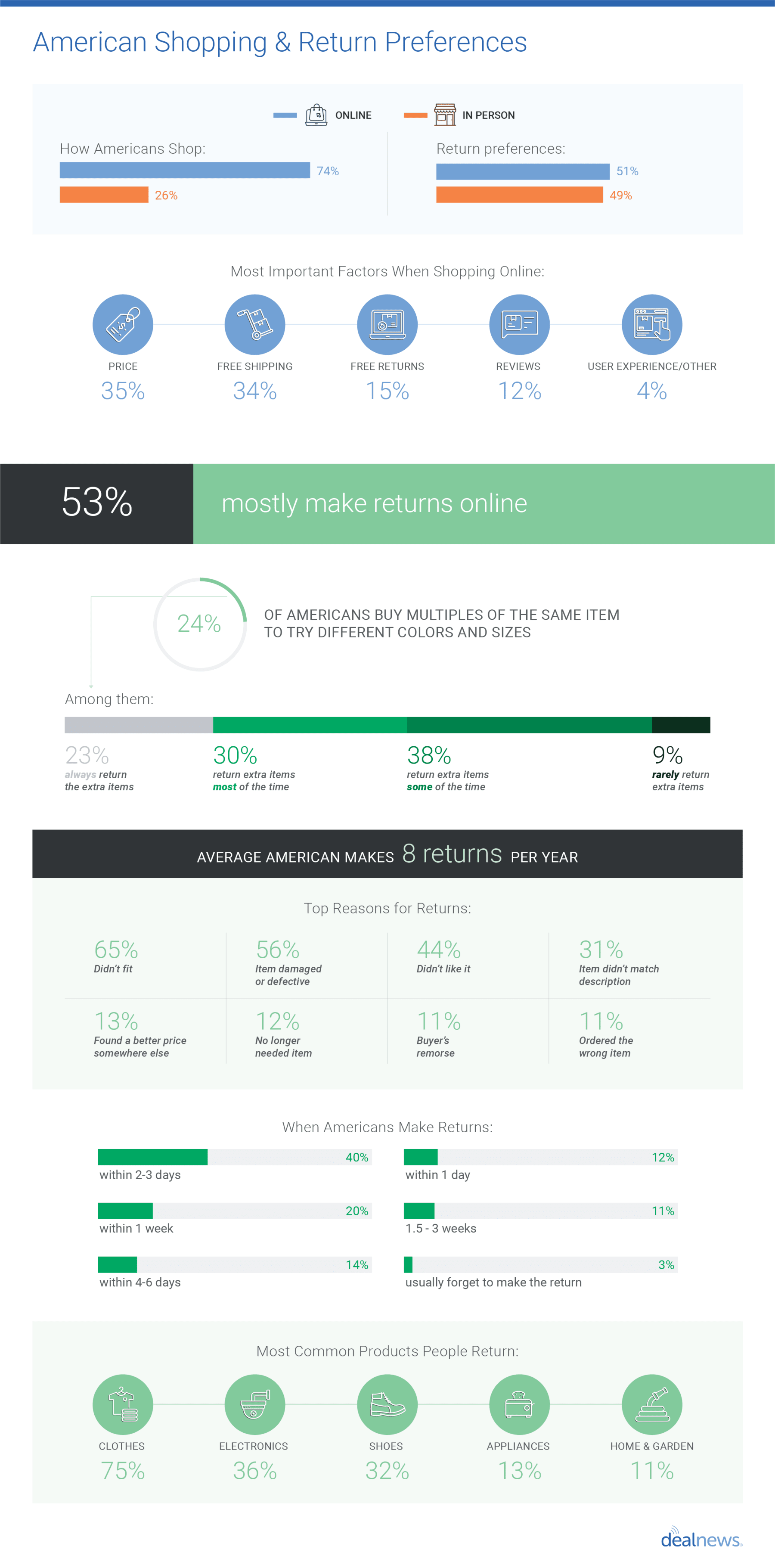 When it comes to shopping preferences, it's no surprise that 74% of Americans prefer to purchase products online. Americans are almost evenly split on their return preferences, with 51% preferring to make returns online, compared to 49% who like to return items in person.
SEE ALSO: 39 Retailers That Let You Buy Online and Return In-Store
The most important factors when shopping online are price (35%), free shipping (34%), free returns (15%), and reviews (12%). It can be hard to know if you'll like something without seeing it in person, so 1 in 4 Americans buy multiples of the same item to try different colors and sizes. Among them, 23% say they always return the extra items, 38% return the extra items some of the time, and nearly 1 in 10 (9%) rarely return the extras.
Knowing that many people would rather shop online than in person, it's no surprise the average American makes eight returns per year. The top reasons for returns include that the item didn't fit, it was damaged or defective, the buyer just didn't like it, or the item didn't match the description. Many Americans try to do their returns as quickly as possible, with 40% usually returning items within two to three days of receiving them.
Almost three-fourths of Americans prefer to do their shopping online now rather than in person.
The most common products people are returning include clothing (75%), electronics (36%), shoes (32%), appliances (13%), and home and garden items (11%).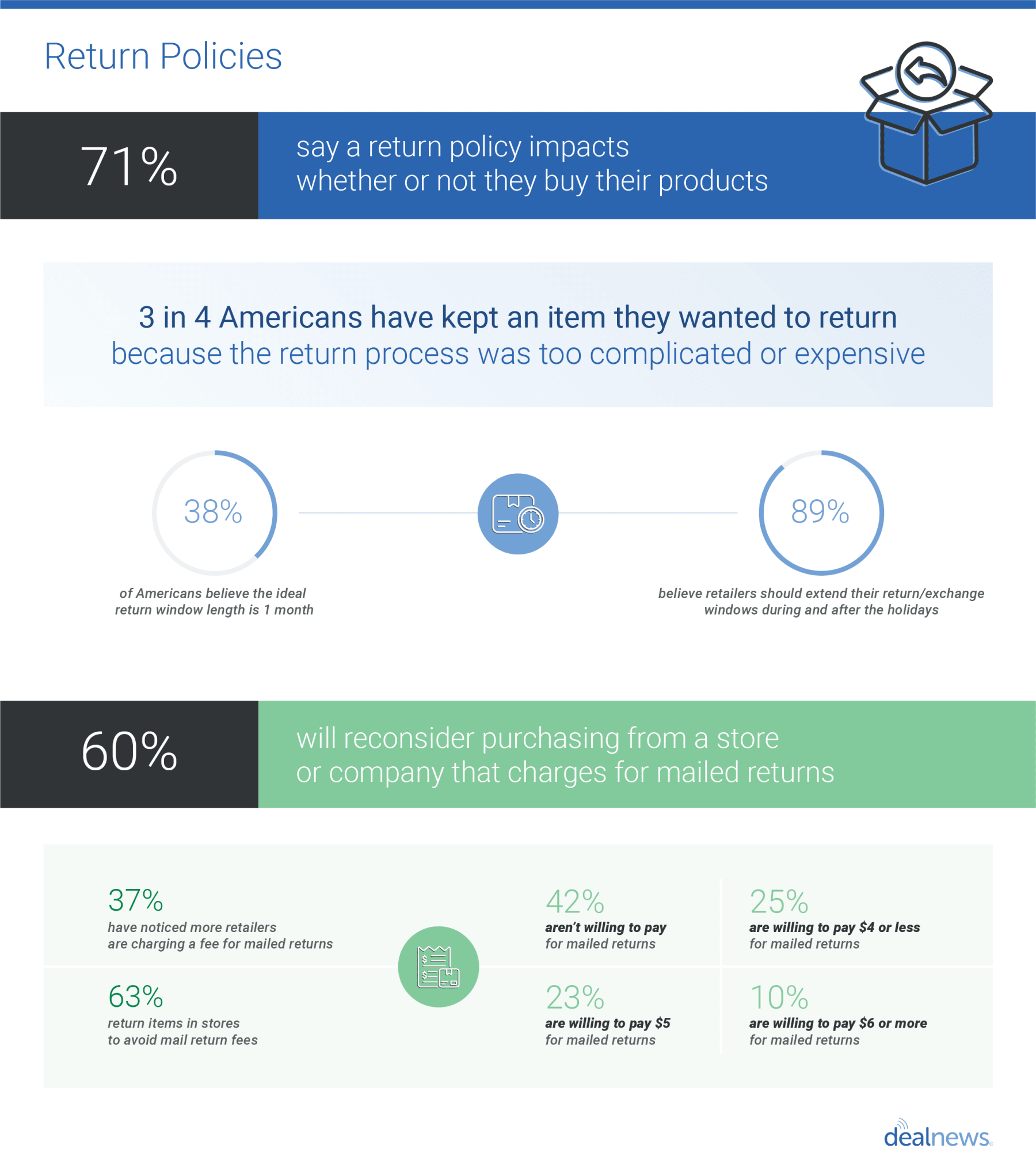 Return policies can vary significantly across retailers. While some may have a strict return window, others may ask consumers to pay for their return. One thing is certain: The return policy matters to customers.
Nearly 3 in 4 Americans (71%) say that a return policy impacts whether or not they'll buy from a company. Additionally, 60% will reconsider purchasing from a store or company that charges for mailed returns. For 38% of people, the ideal return window length is one month, and 89% believe retailers should extend their return window during and after the holidays.
SEE ALSO: Every Major Store's Holiday Return Policy for 2022
If a return process seemed too complicated or expensive, 3 in 4 people have just kept the item to avoid the hassle. More than 1 in 3 (37%) also say that they've noticed more retailers are charging a fee for mailed returns. Interestingly, 42% of people aren't willing to pay for mailed returns, 25% are willing to pay $4 or less, and 23% will pay $5 or less. Only 1 in 10 are willing to pay upwards of $6 to mail a return.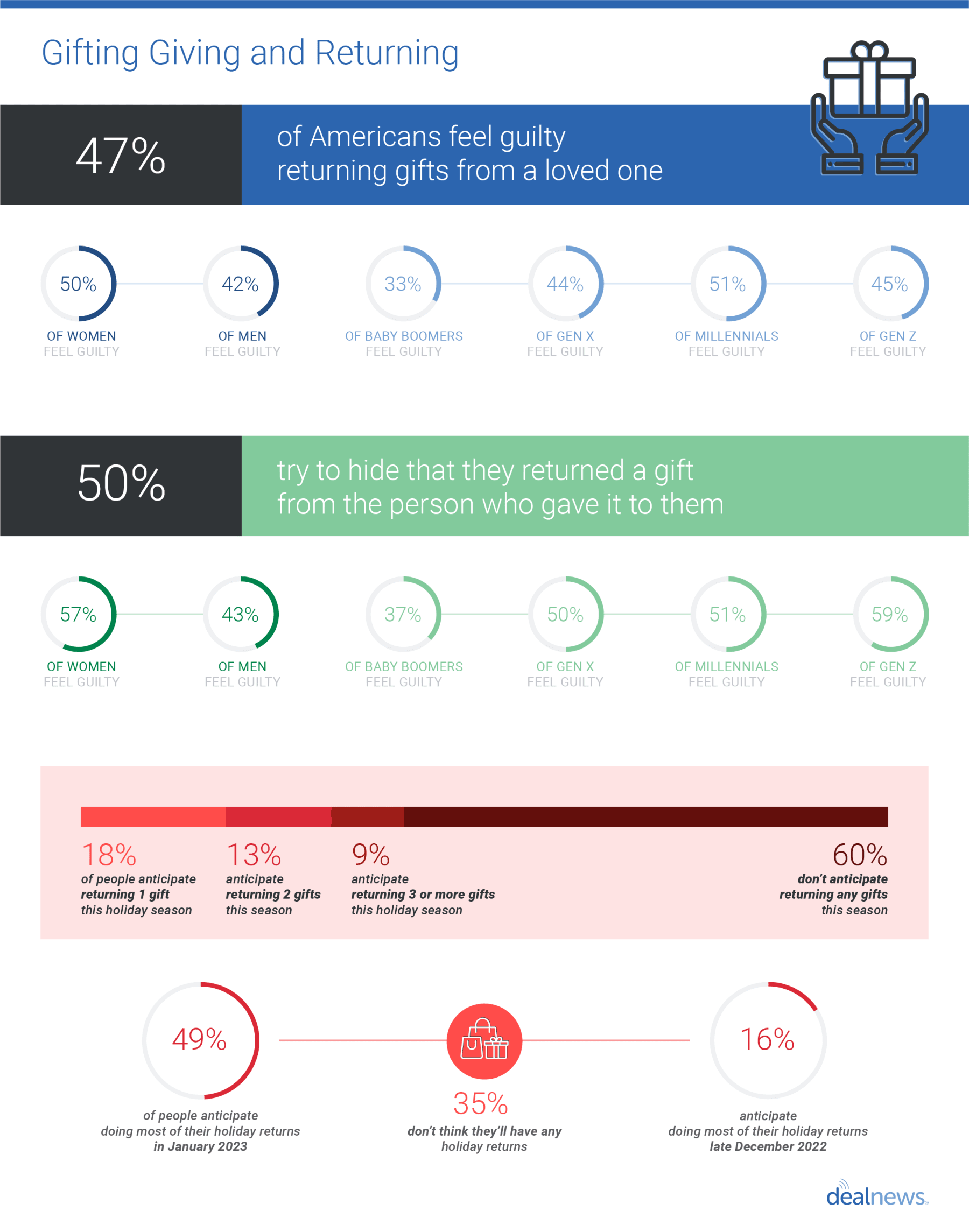 It's no secret that the holiday season (and the weeks after) are a time when many people are making returns. Forty-seven percent of Americans feel guilty returning gifts from a loved one. Women (50%) feel slightly more guilty than men (42%), and among the generations, millennials feel the worst about returning gifts.
Nearly half of Americans feel guilt regarding returning a gift, even to the point of trying to hide it.
Half of people even admit to trying to hide the fact that they returned a gift. Women do this slightly more often than men, and Gen Z does it the most among the generations. However, not everyone may be put in this situation, as 60% don't anticipate returning any gifts during the 2022 holiday season. Nearly 1 in 5 (18%) think they'll likely return one gift after the holidays. Those who think they'll be making returns say they'll likely do so in January 2023.
Whether you're shopping for yourself or someone else, we want to make sure you find the best deals, and before you buy, be sure to read product reviews.
Methodology
In November 2022, a survey of 1,002 people from across the U.S. was conducted. The average age was 39-years-old, with 49% identifying as male, 49% as female, and 2% as non-binary or transgender.
For media inquiries, contact media@digitalthirdcoast.net.
Fair Use
When using this data and research, please attribute by linking to this study and citing DealNews (dealnews.com).
---
DealNews may be compensated by companies mentioned in this article. Please note that, although prices sometimes fluctuate or expire unexpectedly, all products and deals mentioned in this feature were available at the lowest total price we could find at the time of publication (unless otherwise specified).