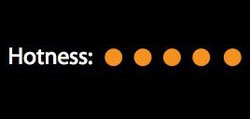 Winners of the dealnews "Make Me the Hotness" T-shirt Giveaway
The winners of the
dealnews
"Make Me the Hotness" T-Shirt Giveaway have been selected! These lucky readers will never have to worry about their perceived Hotness again, thanks to their brand new 5-Hotness tees. Our winners are:
Bahadir M. of Ludlow, MA
Kevin R. of Greenville, OH
Kim C. of North Bend, WA
Jennifer B. of Nashville, TN
What did our readers have to say about winning?
"I can't believe I won this great prize. Thank you for "making me the Hotness". I am a big fan of the site, and thank you for helping us save thousands of dollars every year with those great deals. It will be my honor to wear this T-shirt around. You guys are the best! Keep up the great work!"
- Bahadir M.
"Thank you so much for the T and the daily deals! You are one of my must visit sites, and from now on will be the 1st site I visit!!! Thanks again."
- Kevin R.
"Thank you, thank you, thank you. Love your website and I'll wear my T-shirt proudly!"
-Kim C.
"Wow! Thanks!"
- Jennifer B.
Congratulations to all of our dealnews Hotness T-shirt winners! Thanks for reading and stay tuned for more
dealnews Facebook Fan page
giveaways!
Posted February 18, 2010