Find awesome gifts for kids of all ages in this week's roundup of the best toy deals. Bag a solar-powered robot that's both fun and educational, a Nerf crossbow perfect for little secret agents, and more.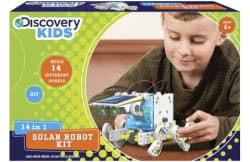 Discovery Kids 14-in-1 Robot
Store: Walmart
Price: $13.99 EXPIRED
Shipping: Free shipping
Lowest By: $4
Expiration: December 9

Encourage STEM learning with this robot kit from Altatac via Walmart. This nifty little toy is an educational pick that will keep kids entertained for hours at a time. This kit transforms into 14 different robots, including vehicles and bugs that can travel over land and water. Plus, this chargeable toy is powered entirely by solar power and requires no batteries.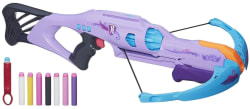 Nerf Rebelle Codebreaker Crossbow
Store: Kmart
Price: $9.99 EXPIRED
Shipping: In-store pickup, or $5.99 s&h
Lowest By: $3
Expiration: December 15

Arm your little one against enemy spies with this Nerf Rebelle Codebreaker crossbow blaster! They can fire eight darts without reloading with the rotating drum, and hit targets up to 75 feet away. Then they'll use the included message dart and decoder to send messages to your allies. The crossbow locks with a secret passcode, ensuring they're the only one who can use it. You'll save $3 on this Editors' Choice toy, but most stores charge at least $25.

Of note, Shop Your Way Rewards members will earn a Kmart credit with this purchase and may be eligible for additional credits and discounts.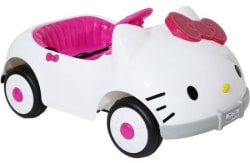 Dynacraft Hello Kitty Ride-On
Store: Walmart
Price: $149 EXPIRED
Shipping: Free shipping
Lowest By: $81
Expiration: September 23

Small tykes will love the freedom of riding around in this adorable Hello Kitty vehicle. This ride-on includes the full Hello Kitty face on the front, a Hello Kitty embossed steering wheel, and sound effects. You'll save $81 on this Editors' Choice battery-powered car, which is sure to become one of your kids' favorites. It features a top speed of 2.5 mph, MP3 cord and speaker, adjustable seat belt, and rechargeable 6-volt battery.

Of note, Amazon charges the same.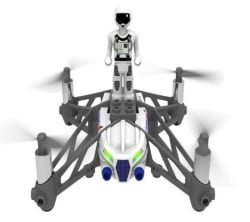 Parrot Airborne Cargo Mars Drone
Store: Lowe's
Price: $49.99 EXPIRED
Shipping: Free shipping
Lowest By: $20
Expiration: December 7

Older hobbyists will love getting into the world of drones with this affordable Editors' Choice pick! This Parrot Airborne Mars Drone purports to have a shock-resistant and durable design that allows it to handle acrobatic flips and stunts. It includes compartments that can carry small cargo, as well as a base for attaching mini items like figures and blocks. It features a VGA camera, two hulls, and up to 9-minute flight time per charge.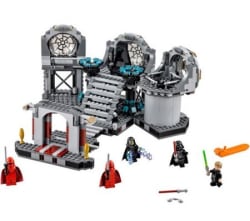 LEGO Star Wars Death Star Final Duel
Store: Target
Price: $50.39 EXPIRED
Shipping: Free shipping
Lowest By: $30
Expiration: December 14

Kids can recreate the final duel scene from Return of the Jedi with this LEGO playset! The set features a collapsible bridge and stairs, Force Jump function, hidden Lightsaber pop-up function, swing-out side sections, and a detachable throne section. This 724-piece set includes five minifigures: Luke Skywalker, Darth Vader, Emperor Palpatine, and two Royal Guards.

Of note, Amazon charges the same.