Get Ideas for Everyone on Your List!

DealNews is here to help you make the most of this year's holiday season. Our gift guide offers need-to-know tips for buying presents this year, as well as the best deals on gifts for everyone on your list.
5 Tips for Holiday Gift Shopping in 2021
Do your shopping ASAP. Supply chain issues are leading to product shortages this holiday season. If one of your must-buy gifts is available — and at a great price, especially — you may want to get it right away instead of waiting. This especially applies to popular toys and electronics.
Make a list of alternative gift options. Write down a few different gift ideas for each of your recipients this year, in case your preferred item is sold out or won't arrive in time. When in doubt, consider eGift cards, subscription service memberships, and other digital gifts.
Include a gift receipt with each present. Your giftee who got three copies of the same video game will thank you!
Be careful with practical gifts. If your recipient asked for a robot vacuum, electric toothbrush, or other practical item, then feel free to buy it without hesitation. But you might want to steer clear of appliances if they're not on their list.
Remember the items that make your gifts work. Are you gifting a remote-control car? Make sure you include batteries as part of the present. How about a new smartphone? Then make sure you include a charging cable. You get the idea!
Ready to shop? Check out the best holiday gift deals below.
Best Tech Gift Card Deal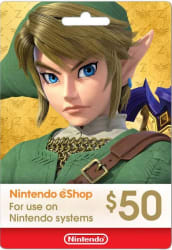 $50 Nintendo eShop Gift Card
Store:
Costco
Price:
$39.99
for members
Lowest By:
$10
It says something about Nintendo's faith in their games and/or stubbornness that nearly 6 years after its release, The Legend of Zelda: Breath of the Wild is still too expensive for a $50 eShop gift card to fully cover it. This doesn't make the gift card any lesser a gift, however – it simply encourages one and all to shake a rugged fist towards Nintendo, and perhaps enjoy a little Schadenfreude at the idea of their precious mascot Mario being portrayed by Chris Pratt in an upcoming feature film, while also enjoying discounted games like Among Us, The Outer Worlds, and Cuphead.