If you've never bought an Apple iPad, you might be confused about which model is right for you. A top-of-the-line iPad Pro could be the first device you gravitate toward, but do you need all of those features, and are there more affordable options that have what you really want?
iPads come in a range of sizes and with a variety of features, and our experts here at DealNews can help you find deals on iPads that fit your budget. We'll go over the different iPad models and accessories available. Once you know what to look for, check out the iPad deals and iPad sales our experts have found below.
Click here to see our latest iPad deals
What iPad Specs Should You Look For?
If money is no object, look for iPad Pro or iPad Air deals with the following specs:
Storage
The iPad Pro is available with up to 1TB of storage direct from Apple, and the iPad Air maxes out at 256GB. If iCloud storage suits your needs for occasional photos and your Apple Music library, the smaller storage options (128GB for the Pro, 64GB for the Air) will do. But if gaming is your thing, or you take a lot of videos, you'll want at least 256GB. If cost isn't an issue, 1TB will pretty much guarantee that you'll never run out of storage space.
Processor
iPad Pro models boast the A12Z Bionic chip, which Apple touts as being faster than most Windows laptops. However, if you're going for maximum video editing and graphics capabilities, the iPad Air will be equipped with the new A14 Bionic chip, which will be the fastest processor in Apple's lineup. According to Apple, the new chip accounts for a 40% boost in CPU performance and a 30% improvement in graphics.
Display
If productive multitasking on your iPad is a must, go for the 12.9" iPad Pro. Side-by-side app use is easier on the eyes with the larger screen, compared to the smaller iPad Pro (11") and iPad Air (10.9").
Camera
Both the iPad Pro and new iPad Air have a 12MP wide camera with ƒ/1.8 aperture. The Air's front-facing FaceTime HD camera has ƒ/2.2 aperture, and so does the Pro's front-facing TrueDepth camera. If you're into selfies, you'll get Portrait mode, Portrait Lighting, and Animoji/Memoji on the Pro's front-facing camera.
LiDAR scanner
The iPad Pro is the only model available with a LiDAR scanner. It might be overkill for some users, but may come in handy for professionals who need state-of-the-art depth-sensing capabilities.
What If You Are Looking for Cheap iPad Deals?
If you want a budget-friendly iPad, look for the 8th-generation iPad. It comes in at the same price point as the 7th-gen iPad — $329 for the 32GB WiFi-only model, and $429 for the 128GB WiFi-only model. But it has an upgraded processor, the A12 Bionic, instead of the A10, giving it a faster maximum frequency. It features a 10.2" 2160×1620 Retina display, Apple Pencil (1st generation) and Smart Keyboard compatibility, and Touch ID.
New iPad Air
If you use iCloud and storage isn't a big priority, you may want to consider the new 64GB iPad Air, to be released in October. It sells for $599 direct from Apple. The 10.9" display is plenty big for most applications, and due to the device's new A14 Bionic chip, it will actually boast faster processing speeds and better graphics than the Pro model, albeit on a smaller screen. The rear camera is also being upgraded from 8MP to 12MP. These new features make the new Air far superior to the previous model, and well worth the extra $100 to $200 you'll pay over a refurbished 3rd-generation model.
Refurbished iPad Deals
If $329 for the new iPad is still too much, try your luck with refurbished iPads. Many discontinued models are still supported. iPad Air 2 goes for $230 and up on eBay, and 5th- and 6th-generation iPads can be found for under $300. Don't waste your time with the first four iPad generations, iPad Air (1st generation), or iPad Mini through iPad Mini 3. They aren't supported, so they offer little functionality beyond eBook and email reading at a very slow pace. (If that's your thing, it'll only set you back $65 to $85 on eBay, which isn't too bad of a price for a 2011 period film prop.)
Refurbished 3rd-Gen iPad Air
Refurbished 3rd-generation models range from $400 to just over $500 from third-party sellers on eBay and elsewhere. Look for 64GB storage and WiFi-only if you want to be budget-friendly; WiFi + Cellular models cost a bit more. This iPad Air has a 10.5" display, 8MP main camera, A12 Bionic chip, and 64GB/256GB storage options. It doesn't look all that impressive next to the new Air, but if you're looking to save a few bucks, it's still a solid design with ample storage options, a decent selfie camera, Apple Pencil support, and a better screen resolution than the base iPad.
Refurbished iPad Pro
The iPad Pro is currently in its fourth generation. If you're not one of the handful of people who need a LiDAR scanner, a 3rd-generation iPad Pro may have all of the features you're looking for. Refurbished 3rd-gen iPad Pro 11" 64GB WiFi-only models can be found from the low $600s from reputable eBay sellers. (Up to 1TB storage models exist.) They feature the ample A12X Bionic chip, 12MP and 7MP cameras, four speakers, five microphones for important business calls, and a Face ID sensor.
Apple iPad Accessories to Get You Started
Apple Pencil
1st-generation Apple Pencil: This device costs $99 new from Apple and is compatible with the 3rd-generation iPad Air, 5th-generation iPad mini, 6th- and 7th-generation iPad, 1st- and 2nd-generation iPad Pro 12.9", and iPad Pro 10.5" and 9.7" models. It pairs and charges with a Lightning connector.
2nd-generation Apple Pencil: It pairs and charges wirelessly, and is compatible with the 3rd- and 4th-generation iPad Pro 12.9", as well as 1st- and 2nd-generation iPad Pro 11" models, and the new 4th-generation iPad Air. It attaches magnetically and allows you to double-tap to change tools. Apple will even engrave it for free.
Keyboards
Apple Magic Keyboard and Smart Keyboard Folio: iPad Pro models and the 4th-gen iPad Air are compatible with Apple's Magic Keyboard and Smart Keyboard Folio. Apple's Smart Keyboard, meanwhile, is the choice for the 3rd-generation iPad Air, 7th- and 8th-generation iPad, and iPad Pro 10.5". The keyboards are available directly from Apple and other retailers like Best Buy.
Aftermarket iPad Keyboard Cases: They're typically much less expensive than Apple's offerings. Search Amazon for brands like Proslife and IVSO, and be sure to check for compatibility with your specific iPad model.
AirPods
AirPods: Currently in their 2nd generation, AirPods go for $159 new from Apple, but we've seen open-box models for as low as $90.
AirPods Pro: They're noise-cancelling as well as sweat- and water-resistant, and retail for $249 new at Apple. We've seen them new for as low as $220 from Rakuten and Verizon Wireless.
WiFi iPads vs. WiFi + Cellular iPads
The WiFi-only iPad is sufficient if you'll be using your iPad exclusively at home or in office environments where WiFi is accessible. If you'll be out and about where WiFi isn't always available, and if you'll be making phone calls with your iPad, you'll want to consider the WiFi + Cellular option, which adds to the cost. For example, an iPad Pro 12.9" 128GB WiFi-only model retails for $999 direct from Apple, while the same model with cellular costs $1,149.
Below are the best deals on ipads right now
Best iPad Pro Deal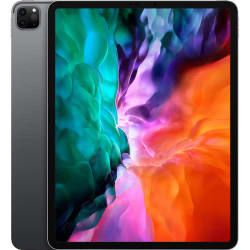 Apple iPad Pro 12.9" 256GB Tablet (2020 model)
Store:
Amazon
Price:
$999
Shipping:
Free shipping
Lowest By:
$60
To get the upper range of what Apple's latest range can offer in the iPad Pro, you'll be paying top dollar, but as we see here, that doesn't mean there aren't deals to be had. It's the most powerful and feature-rich iPad available, with unique additions like a 120Hz display, LiDAR, and four-speaker audio.