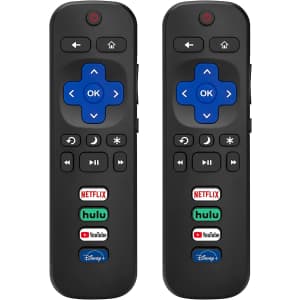 more
If your dog likes to chew Roku TV remotes, and you're tired of replacing them with the brand name remote that costs about $20 at Target, consider this 2-pack for about $7 less. Buy Now at Amazon
Tips
Not for Roku Stick and Box.
Each requires 2 AAA batteries (not included).
↑ less
Published 3/29/2023

Popularity: 4/5
3 comments
Critical Consumer
I assume you are pointing out that the handset must be associated with each Roku - so in that sense, no, they shouldn't work "out of the box"

On my Roku: Settings-->Remotes and Devices-->Remotes--> Add a New Remote

I'm not commenting on these controllers in particular, simply that having to associate a controller with a Roku isn't at all unusual.
RittleMeThis
beware. they do not work out of box. good luck getting any assistance programming them as well