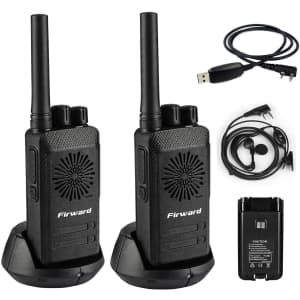 Clip the on-page 20% off coupon and apply code "30FWDRADIOS" to save up to $30. Shop Now at Amazon
Tips
Available in 2-Pack for $19.49 after clip coupon and code.
Available in 4-Pack for $29.99 after clip coupon and code.
Sold by Firward Direct via Amazon.
Features
rechargeable
encryption function
suitable for indoor and outdoor communication
up to 5-mile range in the open, unobstructed, areas
scan, vox, TOT, and battery saving functions
includes rechargeable batteries, charging base, earpiece/headphones, programming cable, belt clips, and hand straps
Model: SED-6
↑ less
1 comment
thequietman44
FYI these are licensed under FCC Part 90, Land Mobile Radio Service which requires a commercial license. They operate on the same frequencies as FRS and GMRS radios, although technically they can't be used under those licenses.
Enable alerts for this product