This week's best home furniture deals includes a 2-piece sectional sofa that's fallen under $500 for the first time.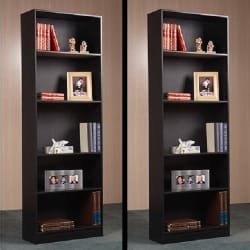 2 Orion 72" 5-Shelf Bookcases
Store: Walmart
Price: $53.02 via Walmart pickup discount EXPIRED
Shipping: In-store pickup
Lowest By: $31
Expiration: April 27

It's rare to find any store that will undercut IKEA's deals on bookcases, but this double pack of 5-shelf units from Walmart is at a super-competitive and Editors' Choice price. Not only is it an all-time low, but it's $31 cheaper than what you'd pay for two of them elsewhere. Each one measures 24.5" x 10" x 72" and features two fixed shelves and three adjustable shelves.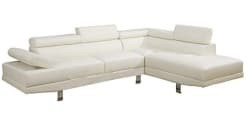 Poundex 2-Piece Sectional Sofa
Store: Amazon
Price: $450.63 EXPIRED
Shipping: Free shipping
Lowest By: $187
Expiration: April 29

Dropping by $59 since last week, this Poundex sectional sofa has reached an Editors' Choice-worthy price low. It's currently selling at the best price we've ever seen and is $187 cheaper than any other store. It features an adjustable arm rest and back supports and faux leather upholstery.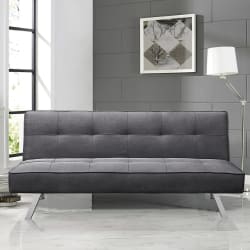 Serta Corey Futon Sofa Bed
Store: Kohl's
Price: $154.99 EXPIRED
Shipping: Free shipping
Lowest By: $165
Expiration: May 1

An ideal addition to a small guest bedroom-free apartment or dorm, this Serta futon deal from Kohl's will save you a massive $165 — if you don't mind making use of the bundled $30 in Kohl's Cash. It measures 29.5" x 66" x 33" as a sofa and 15" x 66" x 38" as a bed.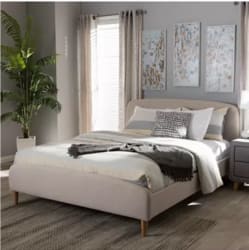 Mia Queen Bed
Store: Macy's
Price: $170 EXPIRED
Shipping: $99.99 s&h
Lowest By: $649
Expiration: April 29

If you're looking for a budget-conscious bed frame, this contemporary number from Macy's is now 79% cheaper than its original list price. It measures about 64" x 86" x 39".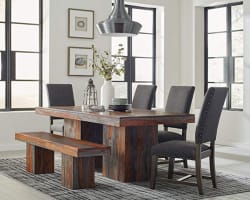 Scott Living Binghamton Dining Table
Store: Amazon
Price: $542.05 EXPIRED
Shipping: Free shipping
Lowest By: $357
Expiration: April 30

This stunning, statement dining table comes unanimously well-reviewed by those who've purchased it already at Amazon. Since it's dropped even further in price and is resting at an all-time low, the piece is now $357 cheaper here than via any other store. It measures 86" x 46" x 30".

Note: The pictured benches and chairs are not included.