We Tested JetBlue's 'Nap Pods' and They Were Only Sort of Weird
The airline recently installed four MetroNaps EnergyPods "sleeping chairs" in a NY terminal. Here's our hands-on (body-in?) review!
JetBlue often comes across as the most customer-friendly airline of them all. While other carriers hit you with fees for this or that, JetBlue hits you with free WiFi and Doritos.
In their pursuit of perks that add value to the customer's experience, JetBlue recently installed four free MetroNaps EnergyPods "nap chairs" in their terminal at John F. Kennedy International Airport in New York City, NY. In fact, though these kinds of chairs have appeared in airports internationally, JetBlue is the first to try them out in the US.
If you're like us at DealNews, you might have heard about these pods and thought, "Are they worth my time?" We tried to sleep on the job to find out!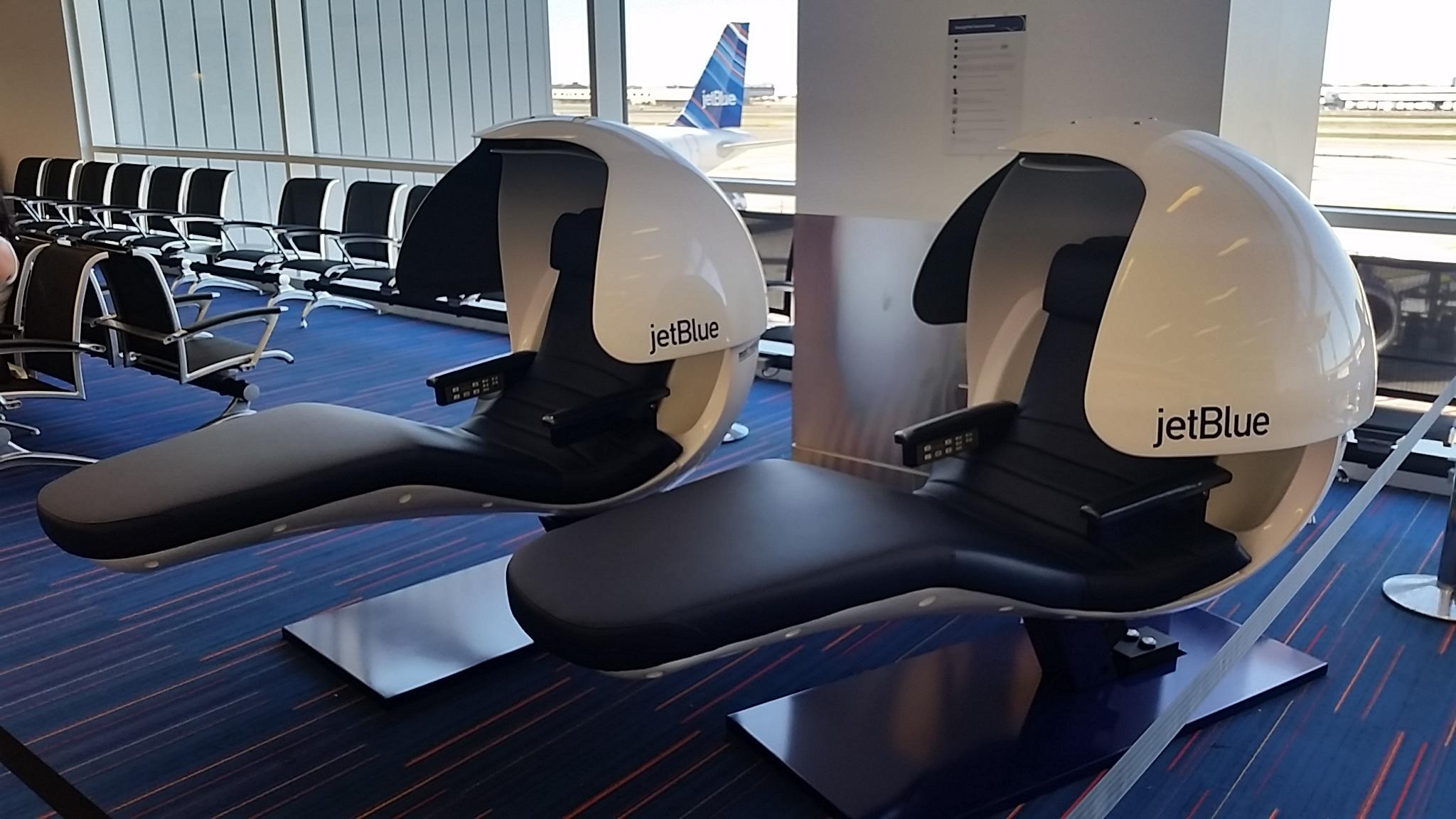 It's a Space Age Alarm Chair
It looks like something out of a sci-fi movie; close the dome to get a bit more darkness and privacy, and you get something that looks more like a spaceship command chair. Adjust the recline angle and you'll even feel like you're prepping for takeoff.
SEE ALSO: The Ultimate Airline Comparison Guide: Reviews, Restrictions, and Fees for 98 International Airlines
The point of the chair isn't to live out your childhood astronaut fantasies, but to facilitate napping for weary travelers. Each unit has a nap timer, and if you press the i20 button, the chair starts a sequence of music designed to put you to sleep, keep you there for a time, and then gently wake you up after 20 minutes has passed.
The (unenforced) 20-minute limit isn't just a great way to encourage user turnover, but it's also based on science that says 20 minutes is the perfect amount of time for a refreshing nap. Don't have 20 minutes until your flight leaves? You can adjust the timer down to as little as three minutes. But if your flight is leaving in less than three minutes, you might not want to consider a nap at all.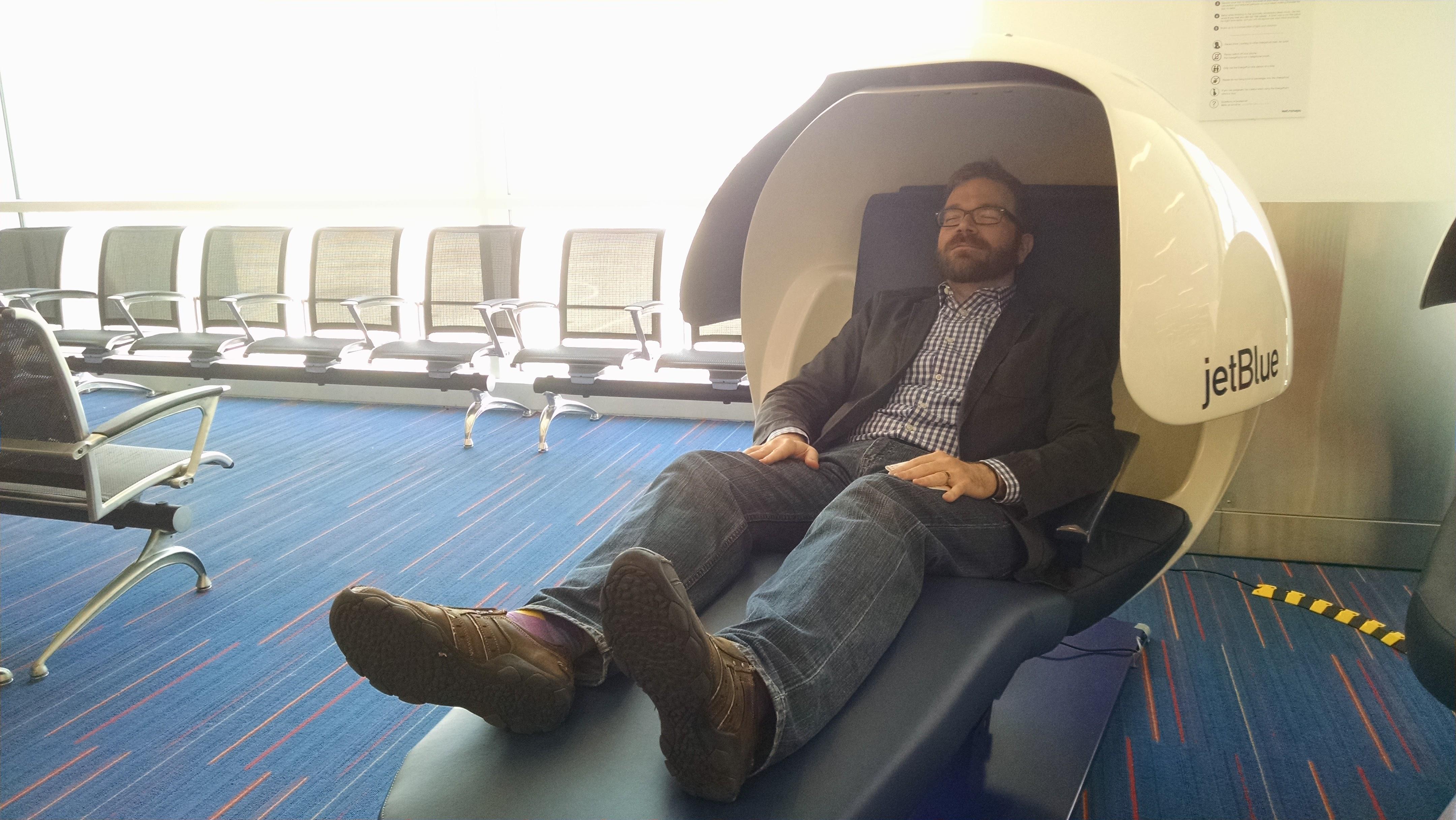 I Put My Butt on It
Sliding into the EnergyPod felt like getting into a dentist's chair, except slightly more squishy — albeit like something I might actually be able to sleep in.
Sliding into the EnergyPod felt like getting into a dentist's chair, except slightly more squishy.
Closing the domed hood (which rotates around from behind the chair), I noticed there was a slightly strange smell. I chalked it up to either that "new pod smell," the last occupant's hair product, or the cleaning solution the terminal uses. Since these pods are cleaned once a day (on the same schedule as the rest of the terminal), I chose to believe it was the last option ... but then I noticed the rather large stain on the dome.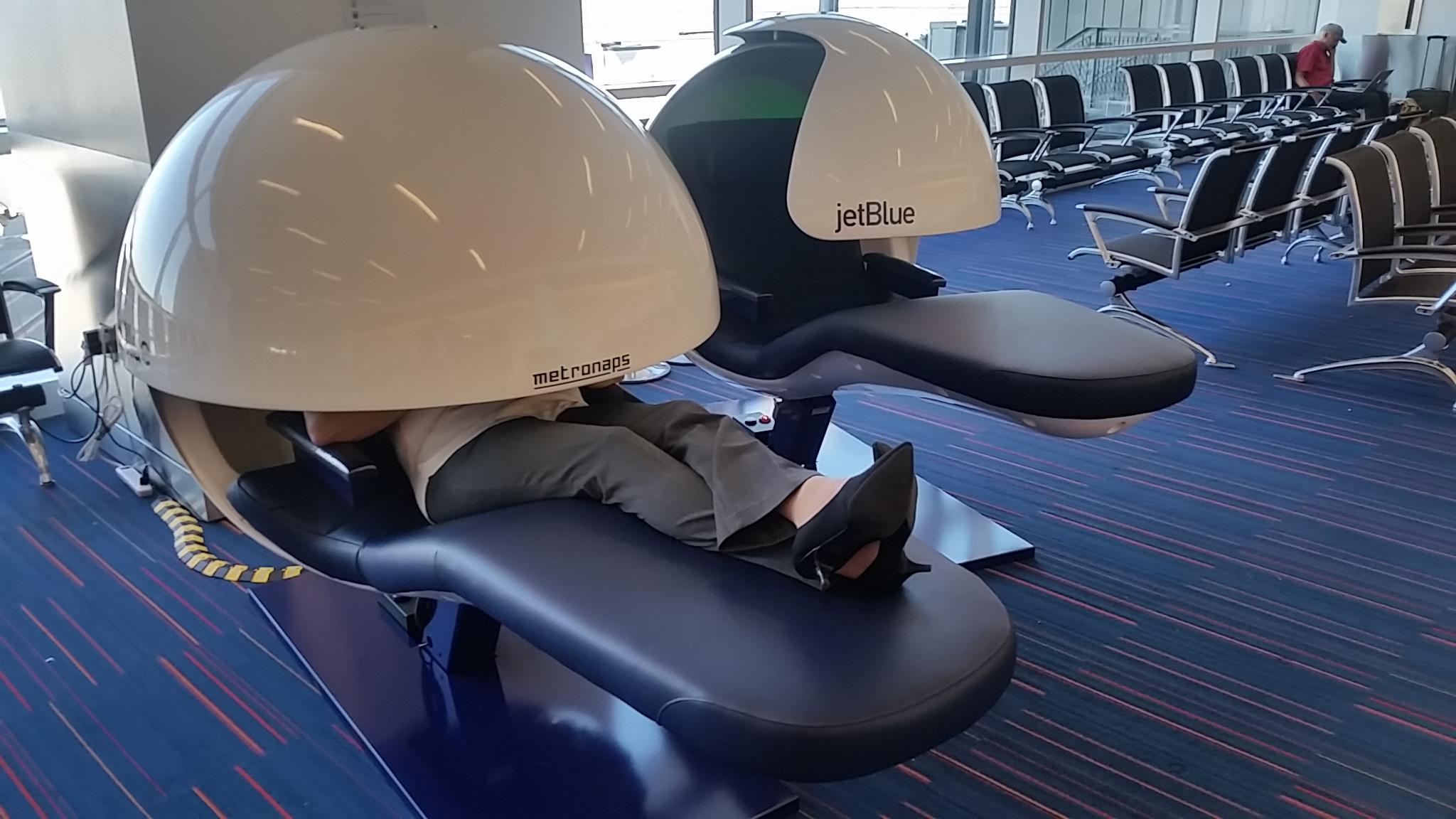 Stuffy, But Not as Germy as You'd Think
As an admitted germophobe, the smear-of-indeterminate nature grossed me out. Then I remembered that, though I wasn't flying anywhere, I was still in an airport. As my JetBlue guide pointed out, "You're traveling. There's germs!" Of course she's right. We shouldn't judge these nap pods against the sterile dentist's chairs they resemble, but against other chairs in the terminal that are also vulnerable to people's grossness.
SEE ALSO: This Airline Wants to Make Your Delay Less Miserable
Stains or no, if you choose to keep the lid/dome closed, you'll encounter the biggest design flaw about the chair: it gets stuffy in there pretty quickly. I only had the dome closed for a couple minutes before it started getting noticeably warm. There are no vents or air ducts piping in fresh air, so without any circulation, you're stuck with your own exhales and body heat.
Unlike my germophobia, this problem wasn't just a personal peeve. A man seated in another pod also closed his chair's dome, only to quickly reopen it, complaining about how hot it had gotten in there. An alternate reason for the temperature rise may be location-based, as the pods were installed next to the big, floor-to-ceiling windows of the terminal, where the sun can hit them directly. Maybe avoid a stuffy nap by flying at night?
No Blankets, No Security, No Security Blankets
As I sat, contemplating the chair I was sitting in (something I don't do nearly enough, I realized), I thought about security. Who'd look after my roll-on luggage, laptop, and/or sweet leather jacket, while I snoozed? The answer is simple: The same person looking after those items if I fell asleep in a regular terminal chair. That is, no one.
It was at this point that I realized MetroNaps and JetBlue are not trying to facilitate a "safe space" for you to let go of all of your cares, but just a comfortable seat. The EnergyPod is no more safe (or less dirty) than the other terminal chairs; it's just a reclined seat that offers you a bit of darkness.
The EnergyPod is no more safe (or less dirty) than the other terminal chairs; it's just a reclined seat that offers you a bit of darkness.
Speaking of being under the hood, even with the lid closed, I was still able to hear the P.A. announcements made in the terminal, as well as the conversation of a couple sitting nearby. This was a good thing. Though a more soundproofed hood could lead to a better nap, I never once felt like the chair would prevent me from hearing gate change announcements or important flight information. Of course, being asleep might cause me to miss something, but that's not the chair's fault.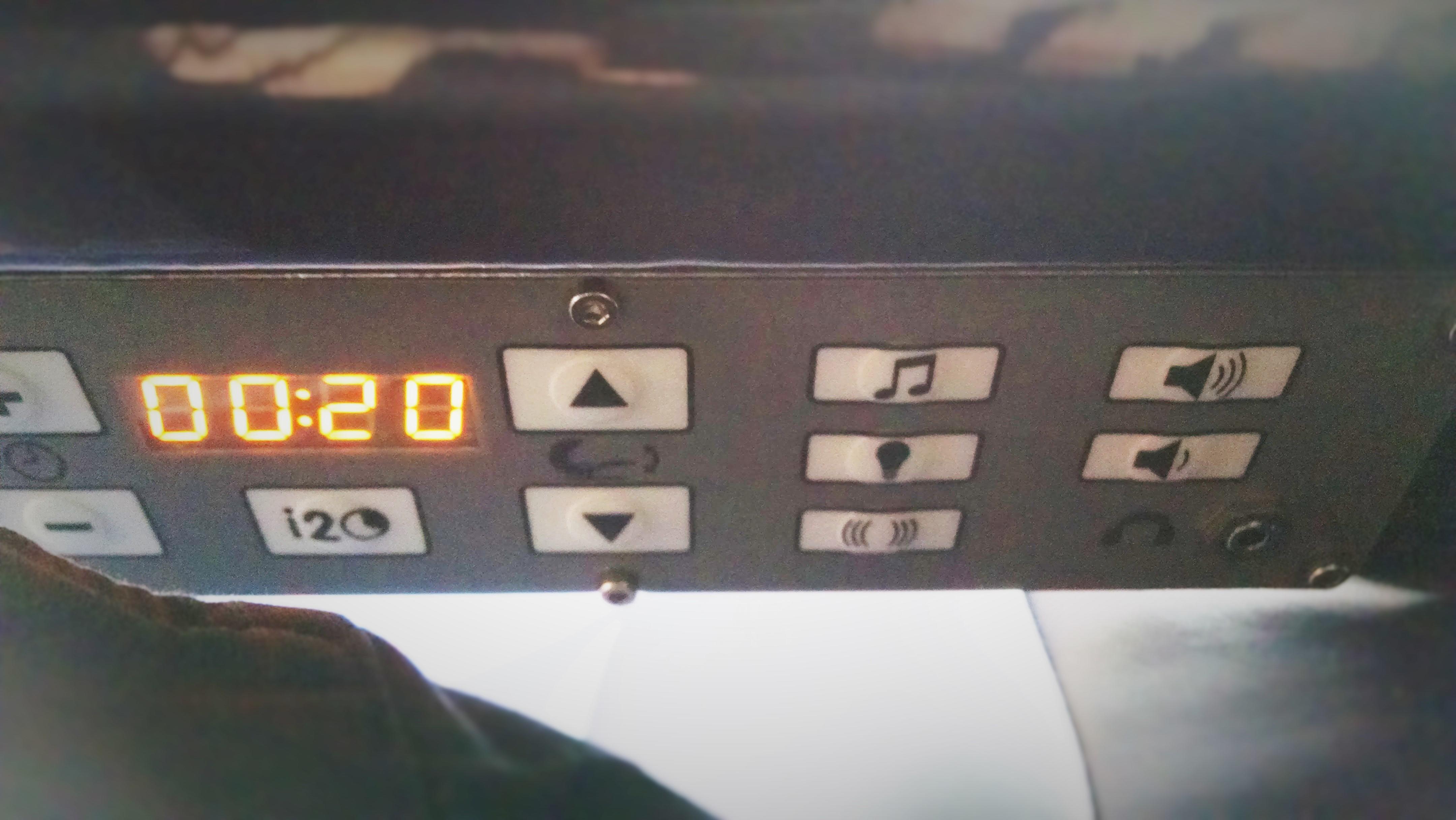 Shake and Wake
The second-nicest feature of the chair (the first being its comfy design) is the built-in wake-up timer. And by "built-in," I mean the whole chair is the alarm. One minute before your time is up, the chair will attempt to wake you by turning on a soft purple light, vibrating, and playing a special music track. The chair will also automatically return to a more upright position, too.
Full disclosure: I did not actually manage to fall asleep at the time (it's hard to nap with a JetBlue PR rep watching you). However, after experiencing the pod's wake-up regiment firsthand, I can say it would definitely get me up — especially since I'd be napping in an airport, not at home in my bed.
Is This Just a Popular Gimmick?
While it's easy to dismiss these pods as a gimmick, they're also drawing the attention of travelers. In fact, when I showed up for my hands-on (body-in?) review, both pods were already occupied. However, the people keeping me from carrying out my difficult task of napping for the sake of this report were not, themselves, napping. One pod was taken up by a lady working on her laptop, the other by a man who admitted he just needed to get away from his family for awhile. He was playing on his phone.
SEE ALSO: Are Airlines Conspiring to Keep Ticket Prices High?
That they were in use is a big win for JetBlue, but it highlights the issue that there's nobody to police the turnover of these chairs. If someone (like me) really wants a nap, but a kid is sitting in it reading a comic book, there's nothing I can do about it. There's no mechanism in place to kick him out after 20 minutes so I can have my turn.
Since these are the only chairs in the entire terminal that recline — by default making them the most comfy chairs in the entire building — and with only two placed on either end of a huge terminal, there's a good chance someone could steal your nap spot.
When the very awake laptop lady got up to catch her flight, I realized something. Ultimately, what will limit a person's time in these chairs is the fact that they're not just there to hang out (like I was), but they have a plane to catch. As such, this is a slightly self-regulating system.
The TL;DR
The MetroNaps EnergyPods, with their reclined position and cushy softness, are certainly the most comfortable chairs in the entire terminal. Being able to put your feet up and relax is a very attractive proposition; it's just a shame there are only four of them installed.
The biggest detriment to using one is they quickly get stuffy when the privacy dome is closed. Overall, they're a nice amenity for JetBlue to offer (for free!) to tired travelers. I wish other airlines would follow suit and install these chairs in their terminals, but those other carriers would probably just charge you an extra fee to use them, right?
Readers, would you use a nap pod to pass the time on a layover? Or do you never want to fall asleep in an airport? Let us know in the comments below!
---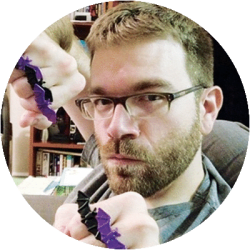 Contributing Writer
Jeff Somogyi is constantly trying to come up with ways to surprise and delight audiences the world over. He takes humor seriously ... too seriously. (Honestly, we've never seen him laugh ... it's kinda creepy.)
DealNews may be compensated by companies mentioned in this article. Please note that, although prices sometimes fluctuate or expire unexpectedly, all products and deals mentioned in this feature were available at the lowest total price we could find at the time of publication (unless otherwise specified).