7 Ways to Save on College Textbooks (and How to Rent Them)
Fight the urge to buy textbooks before classes start, and invest in an e-reader.
College is already expensive, so why spend more than you have to? Some charges can't be avoided — like $995-per-semester mandatory dining plans — but textbooks don't have to be one of them. We've rounded up our seven best tips to make sure you don't overpay on textbooks, as well as ways to avoid purchasing them.
7 Ways to Save on College Textbooks
Don't Buy Books Right Away
Fight the urge to immediately run out and buy all your textbooks as soon as you see your syllabi. Instead, wait until after the first day of class. Most professors will cover how "necessary" that required text actually is. Plus, if you decide to drop the course (or your professor changes the text), you'll save big by waiting.
Don't Buy Books Unless You Have to
If you only need the text for a small amount of material, hit the university library. There's likely to be at least one copy there. If you're unable to check the book out of the library, you can still avoid purchasing it by making copies of the relevant chapters or sections. Just be sure those copies aren't more expensive than buying the book!
If you only need the text for a small amount of material, hit the university library. There's likely to be at least one copy there.
If your professor requires the most recent edition, take the time to ask them what the differences are between the one on the syllabus and the previous version. You could get away with having a slightly older edition, which could be significantly cheaper.
Share With a Friend
If you can, split the cost of the textbook with a friend, as opposed to just mooching off of them. Plus, sharing a book is like having a built-in study buddy!
No friends in class? If you know someone who's taken the course, offer to buy their book off them. In most cases you'll be able to get a much better deal than if you buy from more traditional sources.
SEE ALSO: 7 Unexpected Costs of Being a College Student
If none of your friends have the book you need, and your professor refuses to budge on editions, try exchange websites like Student2Student. Sites like these allow you to pick your university and try to set up a book swap.
You Can't Avoid the Bookstore Forever
Sooner or later, you'll come across material you'll only find at your university bookstore, or one of the off-campus retailers nearby. It'll most likely be something like a lab manual, which tend to be written by professors or teaching assistants, and are only available through university-approved outlets. When this is the case, knuckle down and pay what you must.
Know the Return Policy
No matter where you shop for books, know the return policy. In an effort to make textbooks more affordable, some are available in a looseleaf format at a slightly discounted price. These stacks of pages are shrink-wrapped, and many bookstores are reluctant to accept returns on them once they've been opened.
Know the Differences Between Editions
Newer editions are typically going to be more expensive than their older counterparts. It's frustrating when professors arbitrarily demand students purchase the newest version of a text, but what's worse is that editions may not change much from one printing to the next. Sometimes the only thing a new edition picks up is a new preface.
Math textbooks will change problems from year to year, which means you need the same edition as your professor for your answers to match up.
So how can you find the differences? Sites like Google Books let you can read select pieces of the texts online. There are also conversion sites, but their catalogs aren't very extensive.
Google Books and Hathi Trust have only certain sections available to view, or a limited total selection. If you can persuade your professor to volunteer the differences, you'll save yourself some time. And if you can't, your best bet might be sitting down with two physical copies and trying to discern the differences yourself.
Unfortunately, there will be times that it's probably in your best interest to get the latest edition. Science textbooks are often updated with new research. Math textbooks will change problems from year to year, which means you need the same edition as your professor for your answers to match up.
Get an eReader
Buying digital textbooks can save you a lot of money, as long as you have some kind of eReader to view them on. You can easily download the free Kindle app to your current laptop, tablet, or smartphone, and then read digital texts there. However, if you prefer a Kindle reader, there are four options in a range of prices for you to choose from. For more on the differences between Kindles, check out our guide to the latest high-end version.
Fire tablets are great if you're looking for an affordable tablet option with more functions than just an eReader. There are currently two different models of the Fire, starting at a list price of just $50.
The Top 10 Textbook Rental Sites
Prices will change, so whether you're renting or buying, it's worth doing at least a little research to make sure you find the lowest rate. Prices can change from week to week, depending on demand or how close a semester is to beginning or ending.
Site
Advertised Savings
Benefits
Chegg
90%
Free shipping on $35+
Sell back available
Barnes & Noble
90%
Free shipping on $25+
Returns ship free
Sell back available (must have $10 worth of books to sell in order to participate)
Amazon
90%
Free shipping on select orders
Free return shipping
Sell back available (in form of Amazon gift card)
Book Renter
90%
Free shipping both ways
Can highlight and make notes in rentals
Sell back not available
Bookbyte
80%
Free standard shipping on orders $49+
Expedited shipping for $2 more
Returns ship free
Sell back available, quote is good for 30 days

CampusBookRentals
50% to 85%
Free shipping both ways
Can highlight in rentals within reason
TEXTBOOKRUSH
90%
Free shipping on $35+
Sell back available
Can receive payment via cash, PayPal, or store credit
Receive 5% more back with store credit
knetbooks
85%
Free shipping on every order
ecampus
90%
Free shipping on $35+
Reward program offering up to $20 off books
Sell back available
Receive payment via check, direct deposit, or store credit
Receive bonus with store credit
Bigger Books
91%
Free shipping on $59+
Offers daily deals
Rental Sites With the Lowest Rates
When compiling our research, we checked prices on 32 different textbooks on variety of subjects. We found that the best rental rate came from ecampus.com, with that site having the best prices for 25% of the books in our sample.
As for buying from these sites, Bookbyte had the best prices for both new and used titles, showing the lowest rates for half of the books we checked. Amazon came in a close second for buying new titles, and won out widely for renting and buying ebook copies.
Expect Higher Rates on Comparison Sites
So many textbook rental sites are available that shopping for textbooks can be overwhelming. It might seem like a good idea to use a comparison site, like half.com, Textbook Rentals, Valore Books, or Big Words to narrow down your choices. The problem is that these comparison sites don't always list all the different direct sites, and as we discovered, the prices can vary wildly.
SEE ALSO: 15 Top College Degrees for Return on Investment
For instance, you might find Campus Book Rentals listing a rental for $16.99. You would expect a comparison site to also list that price from Campus Book Rentals — but that's not always the case. We saw some books listed at nearly $10 more through a comparison site than what the direct site lists. In at least one instance, a book was three times more expensive on a comparison site, compared to the direct site's listing.
Sell Your Textbooks Back Early
When the semester is over, university bookstores are usually packed with students trying to sell their books back. However, if you try to sell it back at the same time as the rest of your class, odds are you either won't receive very much or they might not even be taking it back. You're most likely to get the best buyback rate if you sell your books as soon as the university starts the buyback process. This could be as early as the last two weeks of class, or it could be when finals start.
If you don't want to sell to the university or off-campus bookstore, check rental sites. Not only will they be willing to pay more sometimes, but if they're not taking the book at all you can still try to sell it through their marketplace — which is better than donating it or being stuck with a textbook you'll never use again.
Readers, did we leave out any textbook tips? What are your favorite ways to find the best value in textbooks? Sound off in the comments below!
---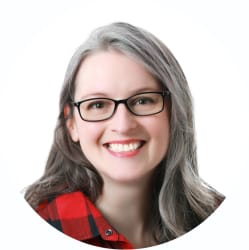 Senior Staff Writer/Consumer Analyst
Julie's work has been featured on CNBC, GoBankingRates, Kiplinger, Marketwatch, Money, The New York Times, Real Simple, US News, WaPo, WSJ, Yahoo!, and more. She's extolled the virtues of DealNews in interviews with Cheddar TV, GMA, various podcasts, and affiliates across the United States, plus one in Canada.
DealNews may be compensated by companies mentioned in this article. Please note that, although prices sometimes fluctuate or expire unexpectedly, all products and deals mentioned in this feature were available at the lowest total price we could find at the time of publication (unless otherwise specified).