Hosting Thanksgiving This Year? 7 Ways to Save Money and Stay Sane on Turkey Day
Opt for a potluck, rethink entertainment, and other helpful holiday tips.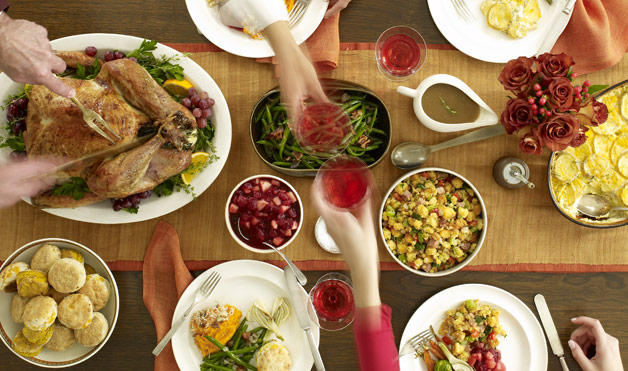 For most of us, entertaining on Turkey Day means one (difficult) thing: juggling. Trying to balance the wave of relatives and friends, all while keeping a budget and loading up the sleeping bag for the Black Friday campout, is a tricky endeavor. So what can you do?
Here, we offer our best tips for how to save on hosting the Thanksgiving meal this year, and ways to entertain without getting drained.
Save Money (and Time) With a Potluck
This idea depends entirely on what kind of friends and such you have: the adventurous, fun kind or those who will bang on the table like gorillas until you serve the big bird. If it's the former, put out some feelers to see how the idea of a potluck strikes them. You can make it easier for them by taking on the turkey task by yourself while others chip in on the trimmings, dessert, etc. Aside from being thrifty, this can prove incredibly festive if you and your crew would otherwise spend Thanksgiving alone, or in small pockets of two or three.
See how the idea of a potluck strikes your guests. You can make it easier for them by taking on the turkey task by yourself while others chip in on the trimmings, dessert, etc.
"Potluck Thanksgiving also serves as a time-saver and allows guests to enjoy a variety of cooking styles," says Rick Castellano, a spokesman with Upromise. It's especially smart if you're a college or graduate student adult doing the hosting.
Share the Love by Sharing Leftovers
If you're the kind who refuses to skimp on a Thanksgiving meal, we're right there with you. But if you're also the kind who gets stuck eating turkey-topped pizza and turkey smoothies for the next three weeks, then you could certainly benefit here. "Be realistic about what you will eat at dinner and what you can consume in leftovers," says Kevin Gallegos, vice president of Phoenix operations with Freedom Financial Network. "Send some leftovers home with guests, and freeze some to enjoy later." Adds Castellano, "As tempting as it is to live off Thanksgiving leftovers for two weeks, consider giving to your local food bank."
Focus on Food Instead of Décor
We're not trying to yank the stuffing plate away — just the impulse to go overboard with decorating your home for your guests. "Keep the focus on the food instead of the decorations," Gallegos advises. Here's an easy way to go cheap and classy: "Gather attractive houseplants in a large basket, bowl, or even a box decorated with fabric or paper for a centerpiece." Want to go classier still on a budget? "Small plants chosen for the occasion could be given to guests as favors when they leave."
Fast-Forward to December Fun by Trimming the Tree
Entertaining guests poses a challenge of extremes: Throwing the Big Game on the big screen doesn't work for those who couldn't care less about football, and hiring a string quartet is excessive, even for Donald Trump. Since most people rush by Thanksgiving to get to the December holidays anyway, give some thought to breaking out the ornaments and having everyone trim the tree (assuming you can put one up this early). It's a novel twist on a holiday pastime and much in the spirit of our next tip.
Revive a Lost Tradition: Ye Olde Song Circle
Think back to a time before smartwatches … smartphones … flat-screen TVs. Can't think back past yesterday's breakfast, eh? Well, in the days before radio, families gathered in the living room after a celebratory meal to sing holiday songs, accompanied by piano, reed organ, or the aptly named parlor guitar. Why not revive a lost custom this year?
Tell your friends and family to bring song lyric printouts, instruments, and the like. Have kazoos or something else fun on hand for those who claim a lack of musical talent. This activity is way cheap, way fun, and gets your guests to interact instead of crawling into the stale cocoon known as cable TV. How many reruns of Seinfeld can your posse watch anyway?
Ditch the Paper Plates and Don't Be Afraid to Borrow
We all want to save on time and labor on Thanksgiving, so there's the possibility of going with paper plates and cups or having food catered. One obvious savings point is to cook the meal yourself, or with help: Look for those close to you who love to help in the kitchen.
"If you are short on place settings, borrow — neighbors, family, and guests usually are happy to share."
But what if you could take what you spend on paper plates and keep it as paper cash? "If you are short on place settings, borrow — neighbors, family, and guests usually are happy to share," Gallegos says. "Or look on Craigslist, eBay, or at thrift stores for extras you can reuse throughout the year."
Avoid Leaving Stuff to the Last Minute
Next to cooking too much, the next greatest risk in entertaining comes when you leave everything until the last minute. As Gallegos sums it up, "If you are just days away from Thanksgiving with nothing planned, human nature says that you will be more likely to run to the store and load up on somewhat random items for your meal and day." And by not planning in advance, you make it more likely you will spend too much.
Readers, how do you save money while hosting for big family meals like Thanksgiving? Share your tips for budgeting, and staying sane, in the comments below!
---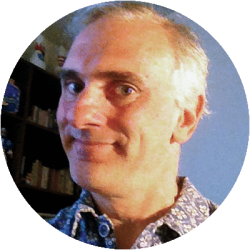 Contributing Writer
Lou Carlozo is a DealNews contributing writer. He covers personal finance for Reuters Wealth. Prior to that he was the Managing Editor of WalletPop.com, and a veteran columnist at the Chicago Tribune.
DealNews may be compensated by companies mentioned in this article. Please note that, although prices sometimes fluctuate or expire unexpectedly, all products and deals mentioned in this feature were available at the lowest total price we could find at the time of publication (unless otherwise specified).