Ways to Bring More Bacon Into Your Life
They say that money can't buy happiness, but money can buy bacon — and bacon is bliss. But how much bacon is too much bacon? We wanted to see what life would be like if we indulged our every porky whim and incorporated bacon into all aspects of our daily life.

Start the day with a bacon eye mask strapped to your head and your stomach growling from the tantalizing scents wafting from the "Bakon" alarm clock. Sling on your favorite bacon-themed top, either the "There are 2 types of people..." T-shirt ($12.98 via coupon "IWILLSHAREHOBONINJA";) or Keep Calm and Eat Bacon T-shirt ($11.98, with $1.99 s&h a low by $13) and head to the kitchen where the real bacon-ing begins.
Love coffee in the morning? And love bacon? Well now you can combine these two morning staples with Maple Bacon Morning Coffee ($5.99 with $6 s&h, a low by $4) and drink it from a mug ($9.99 with $6.49 s&h, a low by $2) with a narwhal impaling bacon on it. (The narwhal doesn't only bacon at midnight!) Accompany all that with the breakfast of champions: Skillet Bacon Spread on toast ($12.98 with free shipping via Prime, a low by $7).
On a normal day, the bacon experience usually winds down after breakfast, but not today! Draw your Bacon Is Meat Candy Shower Curtain ($44 in-cart with $7 s&h, a low by $21) and prepare to get soapy with this Bacon Soap in a Tin ($6.50 with free shipping, a low by $1). Take care of those pearly whites with some delicious Mr. Bacon's Bacon Toothpaste ($6.95 with $4.99 s&h, a low by $3) and Waxed Bacon Floss ($4 with free shipping, a low by $2), then leave your face feeling bacon-y fresh for the day with this J&D's Bacon Shaving Cream ($13.95 with $4.99 s&h, a low by $1).
It's time to suit up. Make sure you make a statement with this Bacon Suit ($53.95 with free shipping, a low by $16) and Bacon Meat Tie ($14.50 with free shipping, a low by $4). And no outfit would be complete without Bacon Socks ($5.86 with free shipping, a low by $3); don't worry though, they're bacon themed but not bacon scented. That would be ridiculous! Complete the look with this bacon briefcase (sadly not for sale) and don't forget your Accoutrements Bacon Wallet ($8 with $1.95, a low by $2) for, erm, bringing home the bacon.
Now that you're dressed for success, it's time to bacon pimp your office so that your colleagues can marvel (cringe?) at your bacon fever. A quirky bacon laptop cover (from $35.94) and mouse pad (from $18.48) will show that you're serious about your bacon obsession. Plus the helpful Bacon Love 2013 Desk Calendar ($7.49 with free shipping, a low by $5) not only keeps you up to date with, well, the date, but it also gives you bacon-related recipes and interesting tidbids to spice up your water cooler conversation. We unfortunately couldn't find the pictured bacon keyboard button for sale, but we suggest taping the word onto a key to add a layer of whimsy to your work.
Let's not forget the lady in your life. Give her the gift of bacon, and she won't go bacon your heart. We're sure she'd love this Darth Vadar T-shirt ($14.99 with $4.99 s&h, a low by $9), especially if you couple it with some delectable Vosges Chocolate-Covered Bacon (from $7.50). We even found Bacon Gift Wrap ($5.18 with free shipping, a low by $1)! If you need help with the card we recommend something simple like "Roses are red, Bacon is also red, Poems are hard, Bacon."
Round off your evening with a dinner from the 50 Shades of Bacon cookbook ($11.68 with free shipping via Prime, a low by $1), which includes some pretty gnarly dessert recipes such as bacon ice cream (Ben and Jerry's doesn't have a bacon flavor yet) or a bacon-latticed apple pie. End your perfect day with some J&D's Bacon Popcorn ($3.99 with $5.99 s&h, a low by $1) and a movie from the king of bacon himself, Kevin Bacon. We highly recommend Footloose or Flatliners.
Finally, a day has been able to live up to our bacon expectations! However, if you follow this shopping guide to a T, be aware that if you start to see a cute unicorn talking to a piece of bacon in Japanese, you have eaten too much bacon and are having what physicians term "bacon hallucinations." There is no known cure, although one traditional remedy is a couple a strips of life-giving bacon.
Readers, what other ways can you integrate bacon into your daily life? What else could be made better with bacon? Share your thoughts with us in the comments section below!
---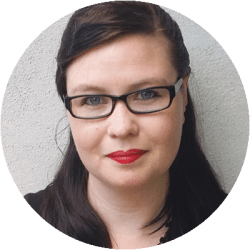 Contributing Writer
Paula Bradley has taught English in Japan and Italy, and she has written for several e-zines aimed at Westerners living abroad. She uses her experience across the six continents to inform her travel features.
DealNews may be compensated by companies mentioned in this article. Please note that, although prices sometimes fluctuate or expire unexpectedly, all products and deals mentioned in this feature were available at the lowest total price we could find at the time of publication (unless otherwise specified).