The Most Dangerous Toys of 2013: What to Get for the Kids You Hate
Toys should be fun, but sometimes they turn deadly. Here, we explore the 10 most dangerous toys of 2013.
Ah, the holidays! They're a wondrous time in a child's life. Lights, songs, presents! So why chance ruining all the fun by getting your kids toys that'll harm them? That's not very cheery and in the spirt of things ... unless you celebrate some weird Cthulhu-type holidays, maybe.
Thankfully, the kind people at W.A.T.C.H. (World Against Toys Causing Harm, Inc.) are watching out for your kids. Just like every other year since time began, this group has put together its list of the season's 10 Worst Toys. Each one on this list has it out for your kid, so you better avoid them at all costs if you don't want to spend Christmas morning in the ER. And with all joking aside, click through to see the quite serious reasons these toys have been banned.
Big Rock & Roll Ball Pit
A giant, inflatable wheel that's filled with ball-crawl balls that your child is expected to climb inside and roll around in. It's like the safer version of playing around in the dryer. And, just like the dryer, the manufacturer was kind enough to throw some balls into the mix, so that your kids come out fluffy after their tumble.
Disney Princess Backpack Fishing Kit
OK. So, Disney took a bold step and created a toy for girls that is not just makeup, a kitchen, or a doll. But then it went and ruined the toy by also throwing in some lead! Though, maybe this is Big Toy's devious plan to keep girls from fishing and instead just buying dolls, as any girl who shows "non-conformist interests" will quickly get lead poisoning? Conspiracies are everywhere, you just have to look hard enough.
Black Widow Folding Slingshot
One of the issues that W.A.T.C.H. has with this item (you know, outside of it also being a potentially deadly weapon) is that Amazon had it labeled as an acceptable gift for kids as young as six months. Now, we highly doubt a 6-month-old is going to have the arm strength to cause much damage with it ... but we get it. It's the principle of the thing. You give one 6-month-old a slingshot, then they'll all want one.
Little Drummer
Sure, The Who once quipped, "Hope I die before I get old," but I don't think choking on a drum stick as a baby is quite what they meant. Heck, even Keith Moon lived to be 32!
Max Steel Interactive Steel with Turbo Sword
Known as Foe-hammer, the hummel-cleaver, this rigid, 2-foot plastic sword is no less deadly than a full-steel blade ... to your mom's knickknacks. Snow Babies, Precious Moments, and Franklin Mint commemorative plates all fall before its might. Legend says that the blade glows ever brighter, as more tchotchkes approach.
Boomerang "Throw & Catch"
When done right, a boomerang is a fun toy that returns to your child's hand, time after time, in a safe and predictable manner. When done wrong, it's nothing more than a hard plastic stick that your kid accidentally whips into the face of an unsuspecting passer-by. We'd be the first to lambaste W.A.T.C.H. for choosing an item that's only harmful due to "user error" if it weren't just so darn hard to get a boomerang to work as advertised.
Disney Baby Snow White
With its tiny headband bow, which can be easily aspirated or swallowed by young'uns, this "My First" doll has the potential to also be a "My Last" doll, too.
N-Strike Jolt Blaster
At this point, we're pretty confident that Nerf sees being included on this list every year as a matter of pride. The year the company fails to place is the year someone's fired. Anyway! Due to this gun's diminutive size, children are instructed to "[h]ide it in your pocket to get the drop on your unsuspecting target!" Grandma is never suspecting that junior's gonna pull out a jammie and squeeze off six.
The Spooner Freestyle Fun Board
But Spooner's already taken the wheels off! How much safer does W.A.T.C.H. want skateboards to get?!
Unless you have a real grudge against a certain child, your best bet is to avoid these toys like Santa avoids the Island of Misfit Toys* and have a safe, choke-, puncture-, and strangulation-free holiday!
*Though, in the end Santa does pick up all those misfit toys and gives them to kids, doesn't he? Hmm. So avoid them like an Island of Misfit Toys that also has the plague. (Hey! Maybe that's what was wrong with that dolly?! You've killed us all, Santa!)
---
Related DealNews Features: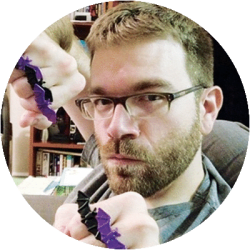 Contributing Writer
Jeff Somogyi is constantly trying to come up with ways to surprise and delight audiences the world over. He takes humor seriously ... too seriously. (Honestly, we've never seen him laugh ... it's kinda creepy.)
DealNews may be compensated by companies mentioned in this article. Please note that, although prices sometimes fluctuate or expire unexpectedly, all products and deals mentioned in this feature were available at the lowest total price we could find at the time of publication (unless otherwise specified).