The Many Faces of Jeff Bezos: We Overanalyze What Amazon's CEO Is Thinking
The face is the window to the soul. Here's what Bezos' face-window is revealing about his inner thoughts during his 60 Minutes interview.
In his recent 60 Minutes interview, Amazon CEO Jeff Bezos chatted about the future of his company — and about flying, package-delivering robot drones. As a trained media spokesman for Amazon, Bezos, of course, answered the questions with grace, humor, and intelligence; but what fascinated us were his many facial expressions! Here's what we think he was thinking, at some key moments in the interview.
Bezos is absolutely shocked! This is in reaction to Charlie Rose's suggestion that Amazon is crushing "the little guy."
This is Bezos's reaction to the follow-up suggestion that Amazon is "ruthless" in its efforts to crush all the mom and pops. To us, the expression says, "I already answered this, but you keep pushing me. I am trying not to lunge across the table and close your mom and pop store, pal!" Recovering quickly, Bezos instead answered politely.
Though animated and emotive with hand gestures during this interview, Bezos never lifted his elbows off the arms of his chair... except this one time! What could make him so exuberant?! After being asked, "How much of the Internet do you run?" (referring to AWS, which provides servers and mainframes for many companies, including Netflix and the CIA), Bezos replied, "That's a good question. It's a lot, though." Then he made this movement. Does it mean he's super emphatic about his answer? Or does it more so reveal that he just raised his hand to wipe his eye and was bringing it back down, mid-answer. We'll never know!
Charlie Rose just asked, "Are you working on a set-top box?" Most people would see his wide-eyed expression as panic, but we see indecision! Bezos knows there is a set-top box coming and he's wondering if he should break the news on the record to 60 Minutes. "Can I reveal this?! Wait. I'm the CEO. I can do anything! Oh, but I shouldn't! What would Tony Stark do in this situation?!" thinks Bezos. In the end, he goes with "I can't answer that question." Bo-RING.
Bezos continued his non-denial denial of an Amazon set-top box with, "I can't talk about the future road map of our devices, so I have to ask you to stay tuned." To which Charlie Rose responds, "Soon?!" This elicits a huge laugh from Bezos that is definitely out-of-proportion with Charlie Rose's jab, but that's because Bezos so desperately wants to tell him that, yes, Amazon does have a set-top box and, yes, it's going to blow our minds!
This was Bezos's reaction to Charlie Rose's question about whether providing cloud services for the CIA caused any conflict for Amazon. His expression seems to say, "Charlie? Do you know how business works? Goods, in this case servers, are sold to clients like the CIA in exchange for money. Honestly, I'm surprised no one has explained this to you in your 150 years on this planet." However, what Bezos does say is, "No."
This is Bezos's reaction to thinking about death. (OK, to clarify, he's addressing the fact that all businesses at some point will be disrupted and replaced by something else. He's just hoping that this happens to Amazon after he's dead. LOL!)
And, finally, here Bezos is thinking, "You CRAZY, Charlie Rose!"
Of course, we could be 100% wrong about all of this, and every one of Bezos' expressions could simply mean "I'm fabulously wealthy and I'm having a good time being on TV." It's possible. What do you guys think? How do you interpret Jeff Bezos' faces? Tell us in the comments below. PS. If you think he looks silly in any of the above shots, just think on this: We all look just as silly talking to our friends every day. We just can't see it. (Now you're going to be totally self-conscious about your hands and expressions during your next conversation!)
---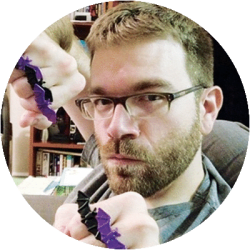 DealNews Contributing Writer
Jeff Somogyi is constantly trying to come up with ways to surprise and delight audiences the world over. He takes humor seriously ... too seriously. (Honestly, we've never seen him laugh ... it's kinda creepy.)
DealNews may be compensated by companies mentioned in this article. Please note that, although prices sometimes fluctuate or expire unexpectedly, all products and deals mentioned in this feature were available at the lowest total price we could find at the time of publication (unless otherwise specified).