Rumor Roundup: Is Apple Projecting? Nintendo Virtually Shuts Down? More?
When the Internet runs out of news, it starts making things up. We think this is funny, so we round up all the lies and speculation and put them here. We call it the "Rumor Roundup" and we do it all for you! This week:
Is Nintendo Discontinuing the 3DS?
All good* things must come to an end.
*eye-crossingly profitable for Nintendo, yet literally eye-crossing
[Always Nintendo]


Will the Next Apple MacBook Air Only Have One Port?
A single USB Type-C port will handle all of your external monitor, peripheral, and charging needs... just not all at once! So, they've managed to design a sleek, thin, "sexy" computer that can only be sleek, thin, and "sexy" as long as it has a gross dongle / splitter thing hanging off the side like some kind of ugly electronic octopus? [TechNewsWorld]


Will Josh Gad Play Roger Ebert in an Upcoming Film?
This news was brought to us by the fine people who work in the "Uh, What Actors Are Kinda Chunky And Wear Glasses, Just Like Ebert Did" school of journalism! It's also being reported that yours truly is rumored to be cast in the biopic of Brad Pitt. (Because I look like Angelina Jolie.) [The Interro Bang]


Is Microsoft Working on Two New Internet Browsers?
One will be lightweight, fast, and modern... and the other will be another Internet Explorer. [MCP Mag]


Will the iPhone 7 Have a Built-In Projector and Face Recognition?
"Oh, it's you again?!" says Siri, with a sneer, when you come within sight of its camera; then she projects embarrassing photos of you onto the nearest wall. This is why I am not allowed to design consumer products. [Design & Trend]


Has the Fifth Season of Game of Thrones Been Delayed?
Can I get away with a "Winter is coming... eventually!" joke? [Ed: Nope. That's terrible and everyone is making that one.] Ok, how about "When you play the game of thrones, you either win... or you wait"? [Ed: Not very good either, and doesn't make much sense.] It's all I have. [Ed: How about, "A Lannister always pays his debts... at a time TBD."] I don't really know any other catch-phrases from the show, I don't watch it. [Ed: You sure you want to admit that? There goes your nerd cred.] Whoops. Too bad I can't edit this, before it goes live. [Inquisitr]


---
Related DealNews Features: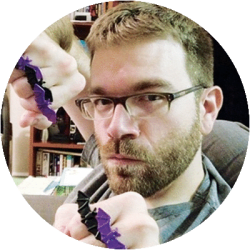 Contributing Writer
Jeff Somogyi is constantly trying to come up with ways to surprise and delight audiences the world over. He takes humor seriously ... too seriously. (Honestly, we've never seen him laugh ... it's kinda creepy.)
DealNews may be compensated by companies mentioned in this article. Please note that, although prices sometimes fluctuate or expire unexpectedly, all products and deals mentioned in this feature were available at the lowest total price we could find at the time of publication (unless otherwise specified).