Rise of Interactive Ads: Your TV Wants You to Buy David Beckham's Underpants
H&M's broadcast Super Bowl ad will feature a pop-up ad that allows Samsung Smart TV viewers buy David Beckham's bodywear line.
As Super Bowl XLVIII approaches, competitors are rolling out their best game plans and gear to battle — for your dollars. This year's Super Bowl ads are already generating buzz, and at the forefront is H&M's spot for the David Beckham Bodywear line.
The 30-second spot, set to air during the second quarter of the game on February 2, features a scantily-clad Beckham. Though we've seen the soccer star's chiseled physique before in H&M Super Bowl ads, this time around viewers will be able to take part in "t-commerce," shopping directly through their televisions.
Those watching on a Samsung Smart TV will see a pop-up menu during the film-style ad directed by Nicolas Winding Refn. The menu will display product information and offers the option to buy Beckham's garb directly or to send the info to another device.
The Use of Smart TVs & Apps for On-Screen Purchases
Tech company Delivery Agent is supporting the commerce function and has created a ShopTV app, accessible on select Samsung Smart TVs, the web, mobile devices, and tablets. But folks with compatible Smart TVs already can shop for items featured on shows and receive "unobtrusive" messages (per Delivery Agent) to let them know this option is available. While watching New Girl, for example, viewers can shop for clothes and accessories worn by Zooey Deschanel's character, Jess, with the click of the remote or through the "Shop the Shows" app, which is available 24/7 through the Smart TV.
SEE ALSO: Do You Need a Smart TV?
The H&M Super Bowl ad, however, will be the first shoppable commercial. At a cost of about $4 million for the 30-second spot, that's a lot of bodywear for H&M to sell. A recent study by Communicus found that only one in five Super Bowl ads are effective at all — a full 20% less effective than the average commercial. According to the research firm, the key to success lies in not only engaging the consumer (with a shirtless Beckham in this case), but also persuading the consumer to buy — and that's the part the ShopTV app is supposed to facilitate.
But such marketing technology isn't new. Way back in October 2012, Target debuted a "shoppable film" to showcase fall fashions. Starring Kristen Bell, the 12-minute, 3-episode film called Falling for You featured a scrolling sidebar that displayed online viewers could click on to buy later.
But in 2014, Delivery Agent's model is different; it's targeting viewers who are already watching a show or a commercial on television instead of creating a film specifically as a marketing tool. Nor does the ShopTV app display a pop-up ad for unrelated content.
The People Want T-Commerce
But are consumers are ready for t-commerce? The answer is yes, at least according to a survey conducted by Delivery Agent. The company polled more than 1,100 active online entertainment shoppers over the course of two months in 2013 and found that 68% were interested in using their TVs to shop, while 82% would be interested in purchasing items seen on their favorite shows. And 76% said they would be interested in buying products and services from commercials, showing the most interest in apparel and entertainment products.
While the H&M ad feature is available only on Samsung TVs, other Smart TVs also feature ads. Some Panasonic TVs include a short banner ad whenever the TV is switched on; newer models also show banner ads when viewers adjust the volume. While these ads can be disabled, some reviews of this feature have not been positive.
But according to an NPD report last year, 87% of U.S. consumers reported using a "second screen" device like a laptop, smartphone, tablet, or e-reader while watching television, and nearly 20% of this activity was to purchase something in an advertisement. And so the adoption of shopping via ones' television may not be so far off.
It's no secret that advertisers are looking for ways to make it easier for shoppers to buy what they're selling, would you buy products directly from your TV? Tell us your thoughts in the comments below.
---
Related DealNews Features: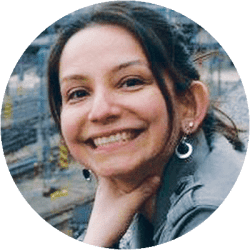 Contributing Writer
Josie Rubio was a Brooklyn-based freelance editor and writer, who interviewed everyone from Britney Spears to ghost experts during her lengthy journalism career. She visited five continents, and loved to write about travel, food, nutrition, health, gardening... and pretty much everything.

Note: Josie Rubio died on December 3, 2019.
DealNews may be compensated by companies mentioned in this article. Please note that, although prices sometimes fluctuate or expire unexpectedly, all products and deals mentioned in this feature were available at the lowest total price we could find at the time of publication (unless otherwise specified).